0 to wow in 3.9 seconds
The smart #1 BRABUS is the beginning of a new chapter in the longstanding history between smart and BRABUS. It is an homage to over two decades of innovation, performance and maximum individuality. United by a shared ambition to go beyond the average, we are once again combining the core elements of the BRABUS 1-Second-Wow design language with the expertise and the renewed, tech-oriented goals of smart.
Become part of smart x BRABUS and order the new smart #1 BRABUS.
Tomorrow is a new dawn for the Urban Sports Car Experience
Creating unique products, tailor made to befit the styles, values and the experience of our customers has always been and continues to be the beating heart of this collaboration. With the smart #1 BRABUS, we are taking the next step. It is an uncompromising city sportscar. A next-level e-mobility platform conceptualized to merge the best of modern design, technology, connectivity, performance as well as BRABUS typical exclusivity. Tomorrow is yours. Explore all-electric urban driving at its best. Explore the smart #1 BRABUS.
Tomorrow is yours.
The smart #1 BRABUS was designed to excel, offering a striking balance of efficiency and cutting-edge dynamics in signature BRABUS fashion.
It is daily driving brabusized – born for the city and characterized by unmistakable styling, agility and unwavering excitement for the future. Embrace tomorrow. The smart #1 BRABUS is an urban companion like no other.
The exterior of the smart #1 BRABUS radiates pure high-energy elegance combining sleek new colors, 19-inch Dynamo wheels as well as a range of brand-new features with our signature BRABUS 1-Second-Wow design cues. The result – a uniquely expressive, exclusive signature appearance guaranteed to turn heads anywhere.
"The smart #1 BRABUS seamlessly continues the longstanding, successful partnership between the two brands. The design is clearly distinguished from the other #1 models by a body kit with performance-inspired, expressive spoilers at the front and rear and striking side sills. Special rims, BRABUS' signature red exterior accents and specific interior trim round out the vehicle." – Kai Sieber, Head of Design smart
Acceleration meets exhilaration.
Take your city-driving experience to the next level. The smart #1 BRABUS ensures maximum convenience, comfort and a hallmark BRABUS feel-good-factor underscored by sporty materials and styling.
Acceleration meets exhilaration. The smart #1 BRABUS accelerates from rest to 100 km/h in just 3.9 seconds courtesy of its dual-motor all-wheel drive system generating 315 kW / 428 hp at 543 Nm of torque. With a battery capacity of 66 kWh, it is possible to charge the vehicle from 10% to 80% within 30 minutes. The newly developed steering wheel control ensures maximum agility and millimeter precise steering. Combined with its sport suspension system, the smart #1 BRABUS delivers unlimited driving fun.
Collaboration
"Over the past 20 years, smart and BRABUS have co-created a high-performance urban legend and won the hearts of countless enthusiasts. We are excited to continue our two-decade partnership with smart into the e-mobility era. At BRABUS we always push forward, more innovation, more performance, more exclusivity, more fun – but also more safety, more eco-friendliness, more sustainability. The combination of these factors makes our two brands the perfect partners." – Constantin Buschmann, CEO BRABUS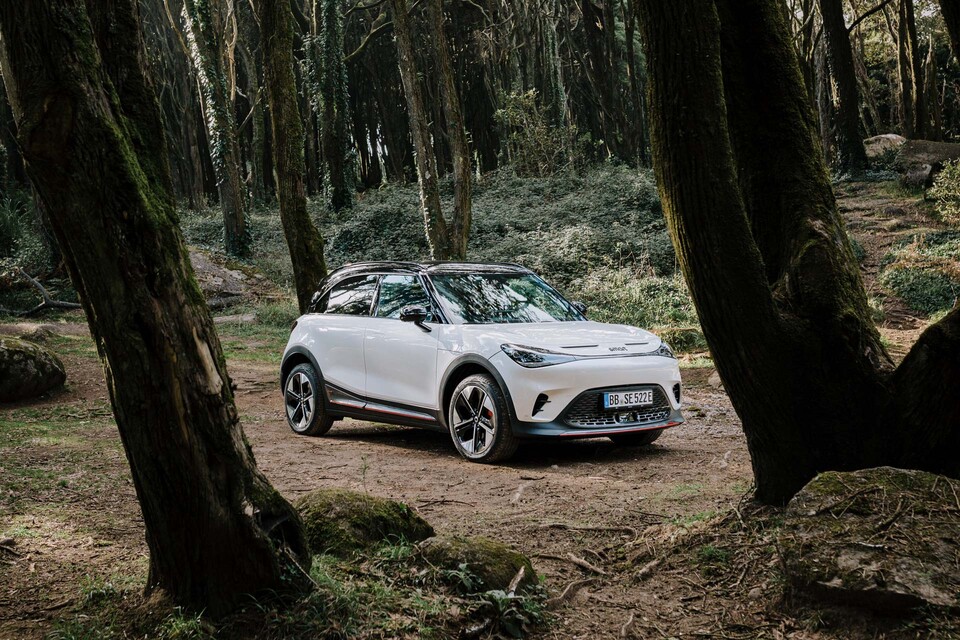 smart #1 BRABUS
Electricity consumption combined in kWh/100 km: --- (NEDC) / 17.9 (BRABUS), 16.7 (Premium), 17.0 (Pro+) (WLTP); CO2 emissions combined in g/km: 0; Electric range (WLTP) in km: 400 (BRABUS), 440 (Premium), 420 (Pro+).