Power 132 kW/ 180 HP | Torque 140 NM | 0-60 mph 3.2 s | Dry weight 194 kg
Fuel consumption 5,5 l | Co2 emissions 129 g/km
BRABUS 1300 R Masterpiece Edition - too rare to ride.
The BRABUS 1300 R Masterpiece Edition is the most limited series of the first-ever BRABUS motorcycle to date. As the last 50 units ever built, these unique Masterpieces represent the final chapter, making them a coveted possession for true enthusiasts seeking to call a piece of history their own. It is your personal signature in a world of conformity. A culmination of relentless passion and pure 1-Second-Wow that goes far beyond merely making a statement. In fact, it's almost too rare to ride. It is a breathtaking display of enhanced velocity, available in two highly exclusive color variants and designed to infuse luxury on two wheels with new meaning. To transcend the boundaries of style and limited exclusivity.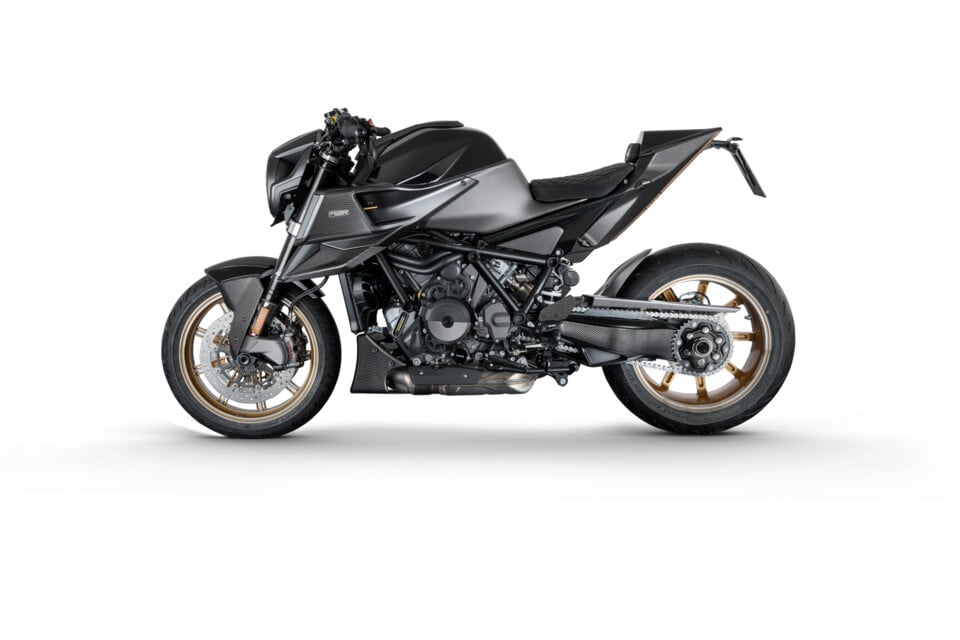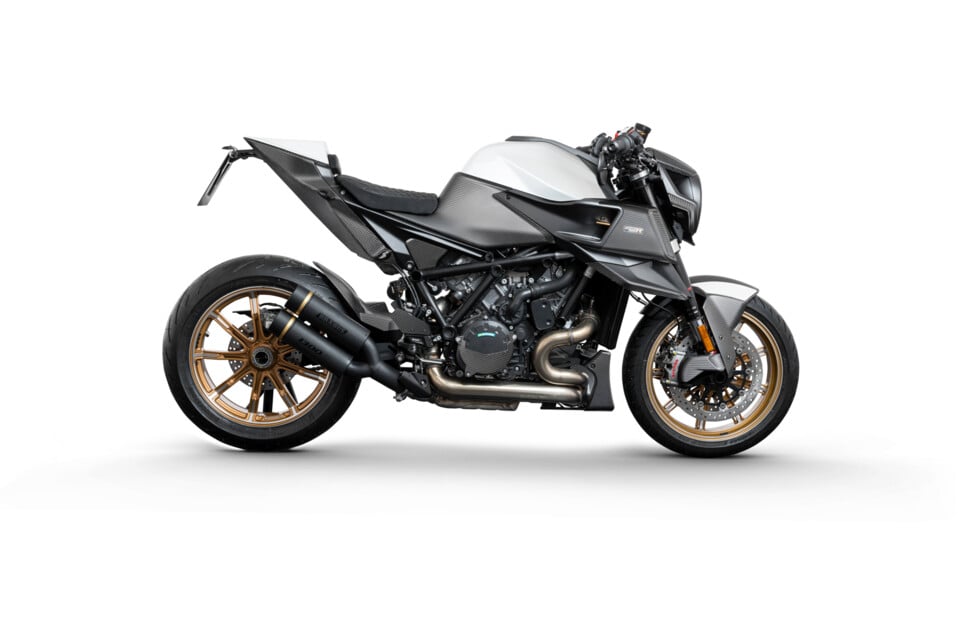 Design & ExteriOr. It Doesn't get more unique.
For the first time, this limited edition naked bike features an all-new carbon fiber package – including the cover for the single-sided swing arm, dash and connector covers as well as the cover for the rear side fairing. But that's just the beginning. The BRABUS 1300 R Masterpiece Edition's striking bodywork is further defined by a range of returning highlight features, such as the distinctive round headlight mask, complete with carbon fiber side fairing, power domes as well as BRABUS Signature Stripes in the air scoop. The carbon fiber air-ducts are a further testament to decades of experience in processing prepreg carbon as well as a dedication to stylish weight reduction.
Like the carefully considered brushstrokes of an entirely unique work of art, what truly distinguishes the BRABUS 1300 R Masterpiece Edition are its meticulous details. Notably, the two winglets integrated into the side panels as well as the Signature Stripes running along both the headlight mask and the tail cowl capture the attention with an elegant finish in "Frozen Gold". The same unmistakable finish also highlights the naked bike's specially developed 9-spoke forged wheels. The BRABUS Sign of Excellence, positioned just above the fuel tank, serves as a proud testament to its exclusivity, denoting it as one of only 25 each color in existence.
Perfectly in tune with the design's sporty, aggressive flair, the final variant of this extra limited-edition Masterpiece has undergone a stunning transformation for an unparalleled experience on the road. Should you dare to ride this rarity, the all-new padded backrest adorned for the very first time by the exclusive BRABUS Masterpiece badge ensures an undeniable 1-Second-Wow effect, underscored by the feel of the impeccable BRABUS Fine Leather. The bespoke heated seat has been reupholstered with excellent attention to detail by the interior design specialists of the BRABUS saddlery to feature the exquisite BRABUS "Diamond Rising" stitching pattern.
Finally, each unit of this luxury hyper-naked-bike comes with exclusive accessories, as part of the BRABUS Masterpiece package. These include a tailormade indoor cover to keep your BRABUS 1300 R protected in style as well as a BRABUS exhibition carpet accentuated by the "Heritage" brand pattern, that puts your bike into the limelight and creates an atmosphere of prestige no matter where it finds its place in your collection. Also included is the BRABUS Masterpiece Box made of high-grade carbon fiber and complete with a personalized Certificate of Authenticity, which not only marks your entry into an extremely rare owners' elite, but offers you the opportunity to join the BRABUS Masterpiece Club. You will experience the world of BRABUS during a reserved company tour in Bottrop, Germany - where you will discover the origins of your Masterpiece first hand. Finally, ten highly sought-after tickets to BRABUS Signature Night 2024 tickets will be raffled off among all owners of the BRABUS 1300 R Masterpiece Edition. Here, you will have the chance to see all upcoming BRABUS world premieres up close and in action at an exclusive VIP event.
POWER & SOUND. Dare to Ride.
Sharing the same technology platform as its predecessors, the BRABUS 1300 R Masterpiece Edition is equipped with the KTM 1290 SUPER DUKE R EVO's 1,301 cc V-Twin engine producing 180 hp at 9,500 rpm and 140 Nm of torque at 8000 rpm. As the benchmark of V-Twin evolution, this high-end configuration offers excellent power delivery – designed for enthusiasts. The dual-pipe slip-on exhaust developed specifically for the BRABUS 1300 R Masterpiece Edition underscores its BRABUS typical bold looks as well as the aggressive sound of its sporty V-Twin symphony. For an extra touch of exclusive elegance, the reimagined design features two accent rings in "Frozen Gold".
Wheels & Suspension. FORGED luxury.
The BRABUS 1300 R Masterpiece Edition is equipped with light-weight 17-inch BRABUS Monoblock Z forged wheels. Created through the use of state-of-the-art forging and CNC machining technology, their iconic nine-spoke design enhanced by a brand-new exclusive finish in "Gold Platinum" ensures an unmistakable BRABUS look. WP semi-active suspension technology transforms this exclusive motorcycle into an agile corner chaser at the push of a button, featuring electronically controlled solenoid valves for variable damping. This offers a wide range of adjustment options – from maximum street comfort to an extremely stiff set-up for the racetrack. In addition, this intelligent suspension system features an AUTO Mode, which automatically adjusts to conditions and rider input, always keeping the focus on the road.
Rideability & Tech. Designed for enthusiaSTS.
Inspired by BRABUS supercars, the BRABUS 1300 R Masterpiece Edition offers the best in high-end technology. For maximum control, this exceptional naked bike features innovative traction control, anti-wheelie functionality and selectable riding modes that adapt to any environment and mood. These developments have been fine-tuned to provide more precise feedback from the engine and optimal intervention from the safety systems. Likewise, the integrated cruise control in combination with seat and handlebar grip heating leaves nothing to be desired, offering ideal comfort for long distances.
Equipment Highlights
Design & Exterior
Aerodynamics
BRABUS headlight mask
BRABUS air ducts
Carbon front fender
Carbon inlet for brake ventilation
BRABUS carbon belly pan
Carbon undertray with BRABUS Signature Stripes
Special extras
BRABUS custom-made heated seat with "Diamond Rising" quilting pattern
BRABUS CNC-machined triple clamp
BRABUS CNC-machined adjustable front brake and clutch lever
BRABUS CNC-machined reservoirs and oil tank caps
BRABUS CNC-machined adjustable racing footpegs
Quick turn throttle twist grip
BRABUS bar end mirrors
Front fender elements, tank and tail cowl with a choice of "Onyx Black" or "Diamond
White" paintwork
Carbon chainguard
Carbon heel protection
Carbon covers for clutch and generator
Carbon ignition lock cover
Carbon tank cover
Carbon dash and connector covers
Carbon triangular covers for the rear side fairing
Carbon cover for the single-sided swingarm
Details and emblems
Keyless fuel cap
Frame black fine structured
BRABUS HMI start-up animation and signature red display color scheme
BRABUS 1300 R MASTERPIECE badge on seat pad
Sign of Excellence with limited edition number
Power & Sound
Exhaust system
BRABUS slip-on double-pipe exhaust
Technology
MSR
Quickshifter+
Cornering ABS and Supermoto ABS
Adaptive breaklight
Wheels & Suspension
Suspension
WP APEX semi-active suspension including SUSPENSION PRO package
SUSPENSION PRO package with six damping modes (Rain, Street, Sport, Performance, Track, Advanced)
SUSPENSION PRO package with three automatic preload auto-leveling settings – LOW, STANDARD, and HIGH
WP PRO COMPONENTS (WP APEX PRO 7117) steering damper
Wheels
BRABUS Monoblock Z "Gold Platinum" lightweight 9-spoke forged wheels
Bridgestone S22 BATTLAX hypersport tires
Front axle: 120/70 ZR 17
Rear axle: 200/55 ZR 17
Brake system
Brembo Stylema 4-piston brake with 320mm floating discs up front
Brembo twin piston floating caliper with 240mm disc at the rear
Technical details
Performance
| | |
| --- | --- |
| Engine size | 1301 cm³ |
| Power | 132 kW/ 180 HP |
| Torque | 140 NM |
| 0-60 mph | 3.2 s |
| Vmax | 270 km/h |
| Dry weight | 194 kg |
Chassis
| | |
| --- | --- |
| Fuel capacity (ca.) | 16 l |
| ABS | Bosch 9.1MP 2.0 (with cornering ABS and SUPERMOTO ABS) |
| Clutch | PASC (TM) slipper clutch, hydraulically operated |
| Brake | Brembo Stylema Monobloc Ø 320mm 4-piston in front & Ø 240mm 2-piston in rear |
| Suspension | WP semi-active suspension USD Ø 48 mm (GEN.2) & WP semi-active rear shock (GEN.2) |
| Seat height | 845 mm |
| Frame | Chrome-moly tubular space frame, powder-coated |
The illustrated vehicles may vary in selected details from the production models and some illustrations feature optional equipment available at additional cost. All information concerning the scope of supply, appearance, services, dimensions and weights is non-binding and specified with the proviso that errors, for instance in printing, setting and/or typing, may occur; such information is subject to change without notice. Please note that model specifications may vary from country to country. In the case of coated surfaces, there may be color differences due to the usual process fluctuations. The consumption values stated refer to the roadworthy series condition of the vehicles at the time of factory delivery.

*excl. country-specific VAT and transportation costs