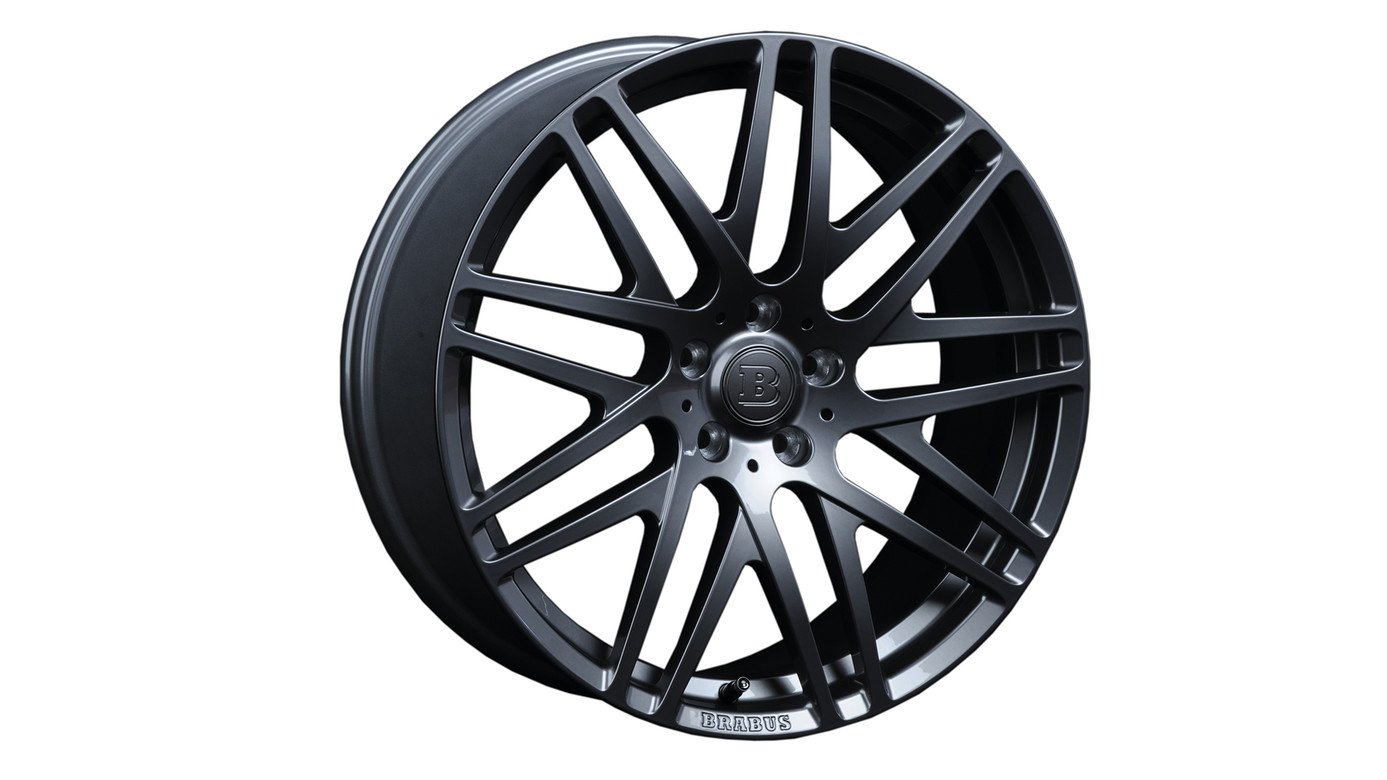 Monoblock F "Liquid Titanium" – the BRABUS alloy wheels manufactured using state-of-the-art casting technology. The sporty-elegant cross-spoke design with "Liquid Titanium" finish sets new design standards. The spokes are offset and extend all the way to the outer edge of the rim flange. As a result, they highlight the three-dimensional geometry and make the wheels look even more impressive. The integrated undercut saves weight and ensures a classy forged-wheel appearance.
Like all BRABUS wheels, manufactured with outstanding precision in the highest quality (OEM standard) and fitted with milled BRABUS signet.
BRABUS alloy wheels are ready for use with the original Mercedes-Benz tire-pressure monitoring systems (TPMS). Vehicles with active TPMS system require the appropriate tire sensors (part number RDK-2016).
Tires Size Monoblock F 19":
8.5J x 19 H2, tire size 255/45 R 19 (VA)

9.5J x 19 H2, tire size 285/40 R 19 (HA)
Tires Sizes Monoblock F 20":
8.5J x 20 H2, tire size 255/40 R 20 (VA)

9.5J x 20 H2, tire size 285/35 R 20 (HA)
Please note: The purchase and installation of these wheels may require checking for sufficient clearance of the complete tire/wheel combination under all load and operating conditions. The technical work required is subject to an extra charge
Inquiry Article
This item requires a lot of consultation because there are customisation options, vehicle-specific differences or additional dependencies. It is therefore added to the shopping basket as an "inquiry item" and a BRABUS consultant will then contact you for all further details.
Tyres according to expert opinion & professional fitting
Please note: The installation must be carried out by a suitable specialist company. The regulations stipulated in the TÜV certificate with regard to tyre dimensions, clearance, etc. must be observed. You will receive the TÜV certificate together with your invoice by e-mail.
Item only available on request
After in-house checking, it is only possible to add this item to the shopping basket as an "enquiry item". A BRABUS customer advisor will then contact you for all further details.