Power 588 kW / 800 hp | Torque 1000 Nm | 0-100 km/h 4.8 s | Vmax 210 km/h / 130 mph
Fuel Economy* city 19,2 l/100km | highway 13,3 l/100km | combined 15,5 l/100km | CO2 353 g/km
Black is the New Black. BRABUS 800 Adventure XLP Superblack.
Time to go Dark – With the world premiere of the brand new BRABUS 800 Adventure XLP Superblack, we are taking one of our biggest off-road product programs back to the roots. This exceptional pickup based on the Mercedes-AMG G63 is the definition of limitless driving fun and launches right into the action with an exclusive all-black BRABUS signature design. The XLP Superblack is the foundation of a new, exceptional monochrome design series. The modern embodiment of determination and power, offering maximum off-road capabilities and bespoke Masterpiece luxury. It is an indispensable companion for adventure seekers; the ultimate go-anywhere Pickup underlined by the best in performance, style and confident luxury on any terrain, any time.
This fully equipped adventure vehicle is characterized by a range of unique features including front and rear portal axles, a heavy-duty cable winch built into the front fascia, an exceptional spare wheel carrier and roof rack configuration as well as a set of 22-inch Monoblock HD forged wheels to master any challenge beyond the beaten path in style. An exclusive Obsidian Black Metallic paint scheme accentuates the hallmark BRABUS WIDESTAR exterior design in combination with a host of brand new additions including a high-performance sport exhaust system with sporty, full-carbon tailpipe trims and integrated launch ambience light, providing the right acoustics everywhere.
Its namesake 588 kW / 800 hp is produced courtesy of a 4-liter V8 engine with newly developed twin-turbochargers. Inside, the XLP Superblack is rounded off by a bespoke, blacked out Masterpiece interior with special seashell diamond quilting and the "Heritage" brand pattern, which pays tribute to our founding year and with that to over 40 years of BRABUS with its embossed "77" signets. Are you ready? Behind the wheel of the all-new BRABUS 800 Adventure XLP Superblack, the next adventure is always right at your fingertips.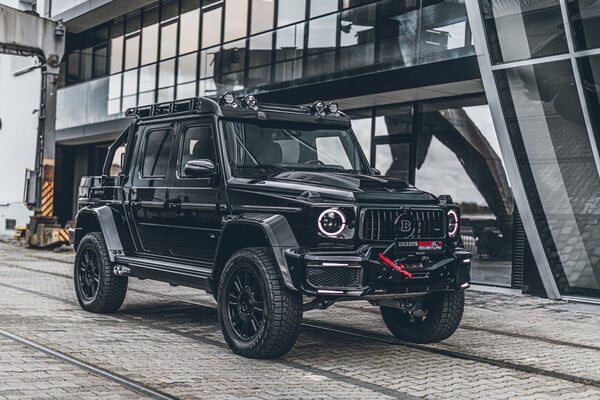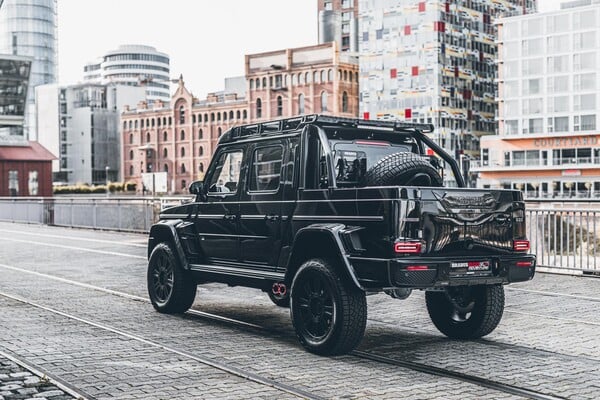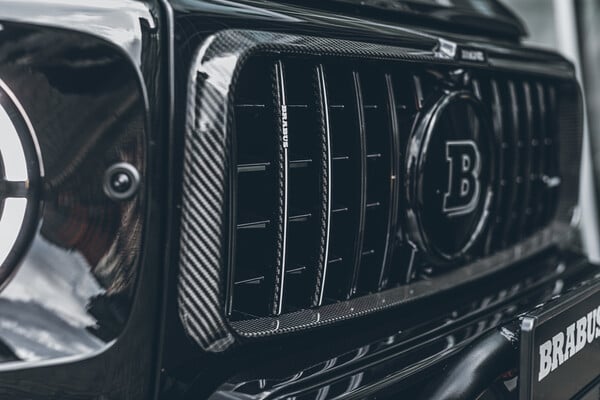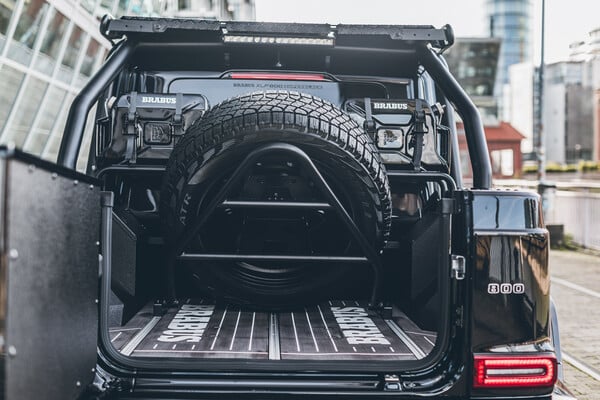 Design & Exterior. Superblack.
Bold. Black. Brabusized. – The unmistakable character of the brand-new BRABUS 800 Adventure XLP Superblack is defined by its unique WIDESTAR exterior design; now exclusively restyled with a classic BRABUS Signature paint finish in Obsidian Black Metallic for a particularly sporty appearance, underlined by exceptional attention to detail. Carbon fiber elements implemented around the blacked out chassis accentuate the pickup's bold features, including the newly developed carbon tailpipe trims with integrated launch ambience light. Recurring features from the Adventure XLP product line, such as a heavy-duty front winch and newly coated spare wheel and roof rack configurations that extend the off-road capabilities of the BRABUS XLP 800 Superblack make every tour an unforgettable experience.
Power & Sound. Ready for Adventure.
The all-new BRABUS 800 Adventure XLP Superblack offers the best in performance engineering and power delivery both on and off the road. It is intensity on four wheels; a supercar with a loading bay capable of accelerating from 0 – 100 km/h in just 4.8 seconds courtesy of its 4-liter twin-turbocharged V8 engine configuration producing 588 kW / 800 hp. The 1000 Nm of unrelenting power is transmitted instantly to any terrain via a nine-speed automatic transmission, which can be shifted either automatically or manually – all at the driver's leisure. With an electronically limited top speed of 210 km/h, the BRABUS 800 XLP Adventure Superblack ranks among the world's fastest pickups in the world.
The newly developed BRABUS stainless steel high-performance exhaust system with full carbon tailpipe trims, actively controlled valves and integrated launch ambience light provides the right acoustics and looks while perfecting power delivery by reducing exhaust backpressure. Active sound management enables the driver to switch between an exceedingly throaty V8 sound in 'Sport' mode and a subtle whisper in 'Coming Home' mode at the touch of button.
Wheels & Chassis. Push Boundaries.
Like its predecessor models, the brand new BRABUS 800 Adventure XLP Superblack is equipped with 22-inch BRABUS Monoblock HD forged wheels, designed for maximum heavy duty off-road usage. State-of-the-art manufacturing processes as well matching black finish augment the pickup's stunning, unique appearance reinforced by maximum strength as well as durability. The BRABUS Ride Control suspension module in combination with the signature front and rear portal axle configuration ensures an unparalleled, fully adjustable driving experience no matter the destination.
Interior. Heritage Masterpiece.
Own the Night – Our interior design specialists developed a bespoke, fully handcrafted BRABUS Masterpiece interior specifically for this brand new model to match its unmistakably BRABUS looks. Refined down the last detail, the luxurious all-black leather design impresses with its immaculate finish, complete with special BRABUS seashell diamond quilting and perforations applied with pinpoint precision around the entire cabin including the seats, trim elements and the foot wells, likewise upholstered in the finest leather. As a further homage, many interior elements of this special edition have been finished with the "Heritage" brand pattern, which pays tribute to our founding year and thus to over 40 years of BRABUS with its embossed "77" signets.
Experience the apex of confident luxury; this exceptional interior design offers unmatched attention to detail. Carbon fiber elements on the steering wheel, dashboard, center console and the door panels complement the Superblack's one of a kind flair in combination with stylish aluminum components such as pedals, door lock pins as well as ergonomic BRABUS Race paddle shifters. Integrated into the center console, a Panerai Luminor design analogue watch underlines the pickup's next-level feel. Additionally, over 206 individual cockpit elements including trim panels, handles, switches, speaker covers and air vents share an immaculate Shadow Chrome finish. Adventure awaits; with the all-new BRABUS 800 Adventure XLP Superblack, no journey is too ambitious, no mountain too steep and no challenge impossible.
Equipment highlights
Design & Exterior
BRABUS complete painting in black

BRABUS Adventure XLP Pickup Conversion

Bodywork conversion Adventure XLP

Frame extension (+500 mm) & reinforcement

Pick-up loading area with Carbon side walls (+205 mm overhang)
Portal axles front & rear

Roll bar painted in black
Underride protection engine, gearbox and tank

BRABUS WIDESTAR with additional Carbon parts
and additional fender extensions in Carbon
BRABUS special painting of plastic components in black
BRABUS Adventure Upgrades
Package "cable winch"
- electrically winch (pulling force: 4.5t) with remote control and 30m Spydura-synthetic rope
- Installation in a specially made and reinforced front skirt

Package "roof carrier"
roof rack with aluminum cladding (black coated)

Package "Wind deflector roof" incl. "Light Package"
Wind deflector in Carbon with 4 processing lamps

2x fuel canister, stainless steel, painted in car color
BRABUS Carbon Exterior Refinement
BRABUS front skirt inserts Carbon glossy

BRABUS hood attachment Carbon glossy

BRABUS radiator grille frame Carbon glossy

BRABUS tailgate trim Carbon glossy

BRABUS mirror covers in Carbon glossy
BRABUS fender flares Carbon glossy
BRABUS underride protection Carbon glossy (front and rear)

BRABUS carbon signature stripes for front grille
BRABUS Brand Package Exterior
BRABUS double-B logo for front grille
BRABUS emblem for bonnet
BRABUS front grille logo illuminated
BRABUS emblem for rear
BRABUS logotype for rear
BRABUS Special Equipment
BRABUS electrically running boards - long version

BRABUS carbon door handles
BRABUS Softteak floor on loading surface
Power & Sound
Exhaust System
BRABUS valve-control sports exhaust system, illuminated electrically adjustable
BRABUS carbon exhaust tailpipes illuminated in red
PowerXtra (Performance increase)
BRABUS performance kit PowerXtra B40S - 800
Power:
Series:
588 kW (800 hp)
430 kW (585 hp)
Torque:
1.000 Nm at 6.600 rpm. (electronically limited)
BRABUS BoostXtra – Blow Off valve adapter
Wheels & Chassis
Wheels
BRABUS Monoblock HD forged wheels in gunmetal black, partially polished
9,5x22H2 ET 58
Tires 325/55 R22 Pirelli Scorpion ATR 116H M&S
BRABUS special holder for spare tire Spare wheel incl. tire
Chassis
BRABUS RIDE CONTROL suspension
Interior
BRABUS MASTERPIECE mastik leather Interior
Colour: black with special quilting , stitches & tuck in "black"
for 2 front seats with headrests, rear bench incl. Headrests
Special embossing "Heritage 77" for seat inner part, door panels, middle console and sun visor
Headliner in alcantara with special embossing in leather
A-, B-, C- columns in alcantara
Dashboard complete in leather
Center console including armrest in leather
4 door panels including storage compartments in leather
Floor mats 5-fold in quilted leather
Complete floor covered in leather
Steering wheel outer rim and airbag in leather
Steering wheel back in leather
BRABUS Interior Package Accessoires
BRABUS entrance panels Carbon in RGD-LED-technology, 5-piece with ill. BRABUS-logo with color-change white into the chosen ambiente lighting color (64 colors)
BRABUS shift-paddles in carbon
BRABUS doorlock pins Anodized aluminum, with double "B", knurled shaft
BRABUS aluminium pedal pads
BRABUS easy entry (door hinge with a rear door opening angle of 90 °)
BRABUS design appointment for interior chrome-decor parts in "black glazing" (206 pcs.)
BRABUS Carbon Interior Packages
BRABUS interior carbon package I version: glossy 8-piece
BRABUS interior carbon package II (5 pcs. in addition to serial equipment)
BRABUS interior carbon package III (3 pcs. in addition to serial equipment)
BRABUS Carbon interior handle-set (4-piece)
BRABUS Business & Multimedia Equipment
BRABUS speedometer 300 km/h
BRABUS Start-stop memory
BRABUS roof instruments
Vehicle dimensions
| | |
| --- | --- |
| Length | 5327,30 mm |
| Width | 2100,00 mm |
| Height | 2264,00 mm |
| Height with roof carrier | 2292,70 mm |
| Wheelbase | 3390,00 mm |
| Track width | 1758,00 mm |
| Empty weight | 2936 kg |
| Total mass | 3690 kg |
Performance & Fuel Economy
Technical Data
| | |
| --- | --- |
| Engine size | 3.982 cm3 |
| Power | 588 kW / 800 hp |
| Torque | 1000 Nm |
| 0-100 km/h | 4.8 s |
| 0-60 mph | 4.8 s |
| Vmax | 210 km/h / 130 mph |
Fuel Economy
| | |
| --- | --- |
| city | 19,2 l/100km |
| highway | 13,3 l/100km |
| combined | 15,5 l/100km |
| CO2 Emissions | 353 g/km |
Notices
* All stated driving performance figures are approximate values. They depend on vehicle-specific details such as the vehicle model, equipment, curb weight, final-drive ratio, tire/wheel combination, transmission design and aerodynamic equipment of the individual vehicle. Details of performance upgrades and/or performance kits are average values. Deviations of +/- 5% are possible due to test conditions. Details about the total power output of factory engines modified with performance upgrades and/or performance kits are based on the manufacturer specifications in the vehicle title, which themselves can deviate by +/- 5%. BRABUS assumes no liability for reduced outputs of factory engines going beyond this. Subject to technical modifications without notice. The stated figures were determined in accordance with the prescribed measuring method (Directive 80/1268/EEC in the currently valid version). The figures do not refer to an individual vehicle and are not part of the offer, but are solely intended for comparison between different vehicle models.

** Torque was electronically controlled.

Efficiency & Fuel Economy
Fuel Economy*
city 19,2 l/100km
highway 13,3 l/100km
combined 15,5 l/100km
CO2 353 g/km