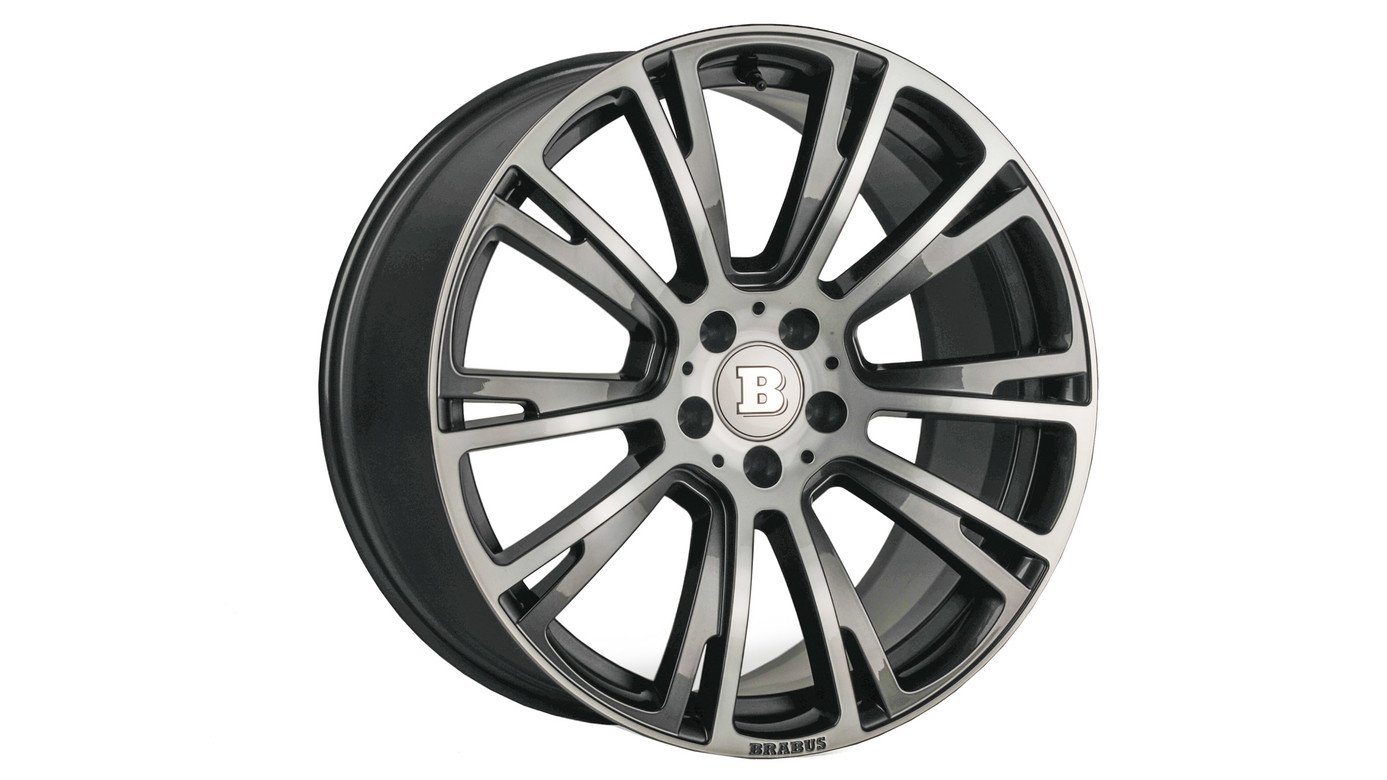 The Monoblock R five-double-spoke alloy wheels are manufactured using state-of-the-art casting technology and impress with a distinctive "Titanium Anthracite" finish. The delicate and recessed spoke elements add expressive highlights and underscore the unusual design. The integrated undercut saves weight and emphasizes the classy appearance.
Like all BRABUS wheels, manufactured with outstanding precision in the highest quality (OEM standard), fitted with BRABUS signet and milled "Geschmiedet" ("Forged") seal.
BRABUS alloy wheels are ready for use with the original Mercedes-Benz tire-pressure monitoring systems (TPMS). Vehicles with active TPMS system require the appropriate tire sensors (part number RDK-2015).
Tire Sizes for Monoblock R 20":
9.5J x 20 H2, tire size 295/45 R 20 (FA) (only for vehicles with equipment code 9U5, not for AMG GLE 53)

9.5J x 20 H2, tire size 295/45 R 20 (RA) (only for vehicles with equipment code 9U5, not for AMG GLE 53)
Tire Sizes for Monoblock R 22":
10.0J x 22 H2, tire size 295/35 R 22 (FA)

10.0J x 22 H2, tire size 295/35 R 22 (RA)
Please note: The purchase and installation of these wheels may require checking for sufficient clearance of the complete tire/wheel combination under all load and operating conditions. The technical work required is subject to an extra charge
Price on request

Front axle: Wheel seperately 20"

excluding tires

Price on request

Rear axle: Wheel seperately 20"

excluding tires

Price on request
Price on request

Front axle: Wheel seperately 22"

excluding tires

Price on request

Rear axle: Wheel seperately 22"

excluding tires

Price on request
Please choose your optional articles: