BRABUS SHadow 500 Cabin
Black Ops Limited Edition '1 Of 28'
Chasing the horizon in style, with a truly unique & perfect companion – The Shadow 500 Black Ops Limited Edition turns every day trip into a truly memorable and mesmerizing experience. With staggering 500 horsepower, extremely easy handling and the comfort of a fully enclosed, ultra-luxurious cabin, this black beauty takes you wherever you want to be.
The BRABUS Shadow 500 Black Ops '1 of 28' is hand-built with focus on precision and finish. Fairing, painting and polishing the Limited-Edition version to the quality required is a highly labour-intensive, skilful and painstaking process, with no automation process, which can take up to six weeks to reach the required finish. All Limited-Edition models are exclusively launched in the signature paint scheme Gunmetal Gray, combined with vibrant BRABUS Red exterior seating; a most striking combination.
Arriving in Style. PREmium Looks.
Superyacht owners, their families and VIP guests like to arrive in style, in a tender that oozes the same high-class visual appeal as the finest superyachts. It's therefore no surprise that a BRABUS Shadow 500 Cabin would be considered the perfect choice for a superyacht tender or 'shadow' support boat. The Shadow is practical, versatile and capable of safely transiting passengers from ship-to-shore, whatever the weather, even in arduous sea conditions if necessary. The 2ft 8in shallow draft enables access to all kinds of places that larger yachts cannot reach, enabling owners to discover hidden bays and idyllic anchorages.
Massive torque. SUpreme PERFORMANCE.
Phenomenal acceleration and massive torque – With a combined total output of 500hp and bags of torque from Mercury Marine's latest 4.6 litre V8 ProXS lightweight FourStroke engines, every BRABUS Shadow 500 Cabin will deliver thrilling acceleration, supreme performance at 50+ knots and massive torque, for an all in all truly electrifying ride.
PREMIUM CoMFORT. True Go-Anywhere Character.
Not just for short journeys, but with full offshore capability for up to 6 people and inshore capability for 9 people, the BRABUS Shadow 500 Cabin will find itself being used as the perfect coast-to-coast commuter. You will find it cruising between a summer home in The Hamptons and an executive apartment on New York's 5th Avenue just as likely as finding it undertaking adventurous island explorations in the Scandinavian archipelago
An ultra-luxurious and extravagant cabin - Customers choosing the BRABUS Shadow 500 Cabin will enjoy being cossetted in the lap of luxury; sitting in sumptuous seats, surrounded by BRABUS fine leather upholstery and interior detailing. An electrical roof system will transform this elegant private space, that's so capable of keeping the harshest weather at bay, into an airy luxury lounge that's open to the kiss of the summer sun.
LOVE FOR DETAIL. Luxurious REFINEMENT.
Sign of Excellence - The helm console is finalized with the exclusive BRABUS Sign of Excellence signed by Constantin Buschmann. This sign symbolizes the promise that each boat is unique, and hand crafted to the highest possible standards by using the finest materials, newest technologies and bespoke engineering.
Carbon fibre - Visible carbon-fibre parts complete the ultra-cool looks of the dashboard and seat trims and further emphasizes the clean and high tech look of the boat. All carbon-fiber parts are made in-house and supplied directly to the boat factory from the BRABUS headquarters in Germany.
BRABUS aluminium steps - An exclusive aluminium step detail can also be found when entering the toilet compartment. The helm is completed with a BRABUS branded exclusive aluminium support for feet to complete the sporty looks but also to add to the ergonomics when driving the boat.
Technical Data
| | |
| --- | --- |
| Beam | 2,95m / 9ft 8in |
| Draft to drops | 0,80m / 2ft 8 in |
| Weight | 2.800kg / 6.173 lbs |
| Outboard engines | 2x Mercury ProXS 250 |
| Top Speed | 93+ km/h / +50 knots |
| Power | 373 kW / 500 hp |
| Length | 31 ft / 9,53 m |
| | |
| --- | --- |
| Passengers | Cat. B:6 - Cat. C:9 |
| Berths | 2 persons |
| Classification | B – Offshore / C – Coastal |
| Hull design | Twin stepped 20 degree V "Sharp entry hull" |
Specifications may be changed without prior notice. Performance may vary due to equipment, weather and load conditions.
Open Aft Deck, Signature Colour: Gunmetal Grey hull colour, BRABUS Red upholstery colour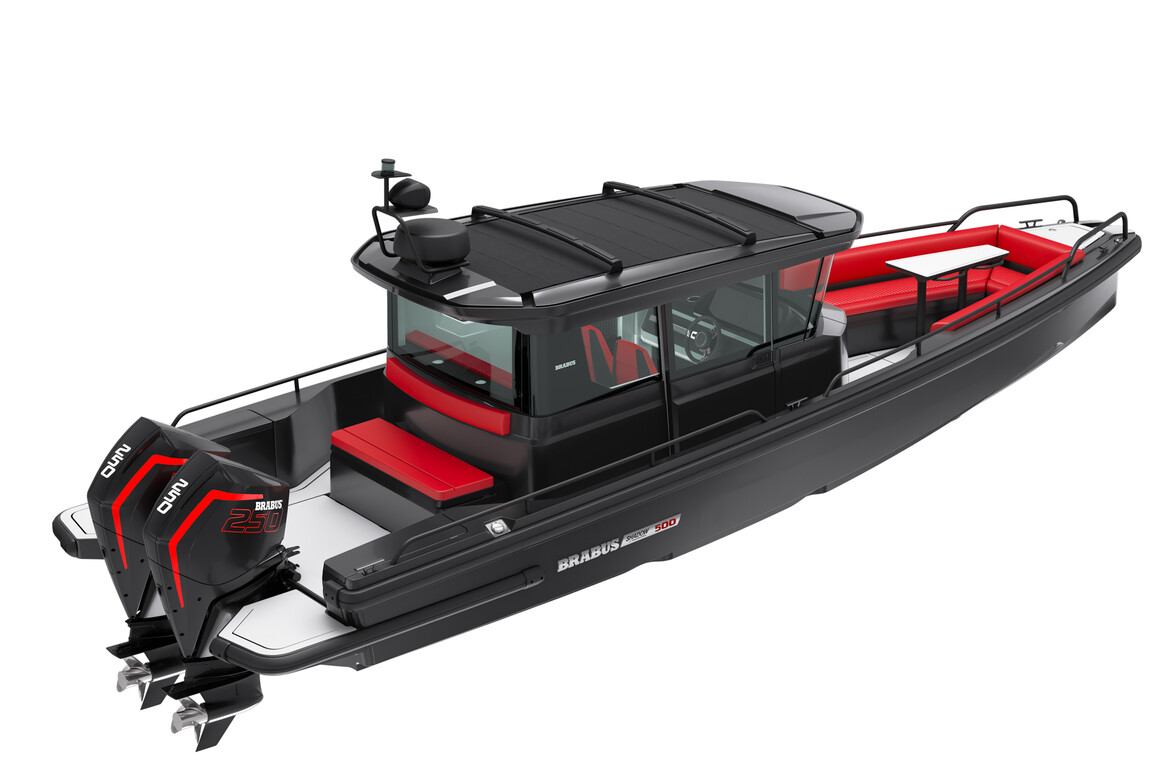 Aft Bench, Signature Colour: Gunmetal Gray hull colour, BRABUS Red upholstery colour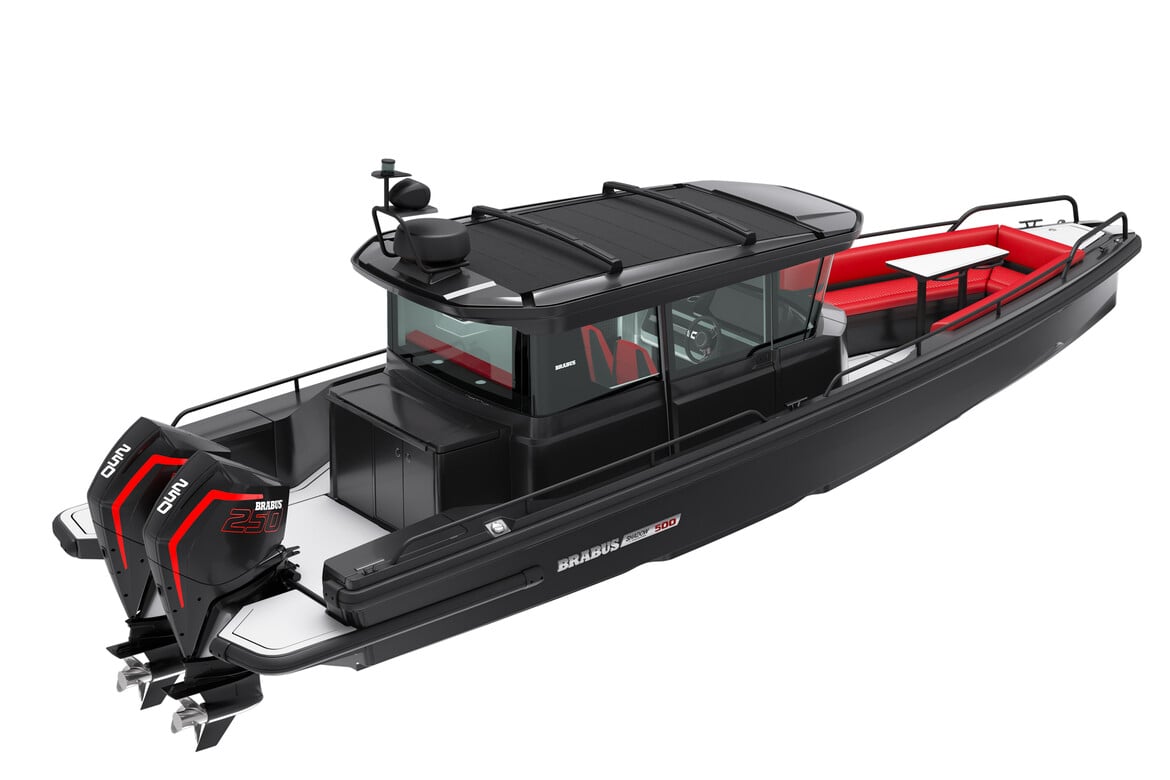 Wet Bar Package, Signature Colour: Gunmetal Gray hull colour, BRABUS Red upholstery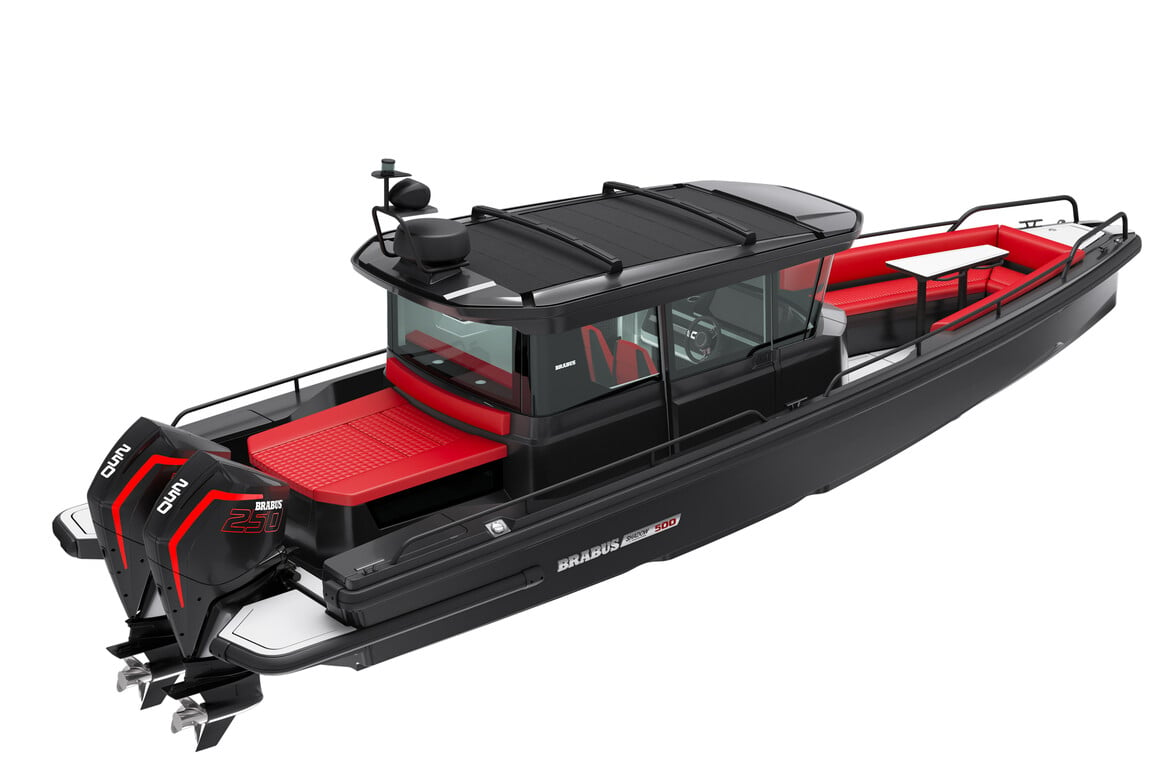 Aft-Cabin Accommodation, Signature Colour: Gunmetal Gray hull colour, BRABUS Red upholstery
Shadow 500. Range Brochure
Explore the full range of BRABUS Shadow 500 superboats