BRABUS Shadow 900 BLACK OPS Signature Edition
TIME FOR EVOLUTION.
BLACK. BOLD. MORE BRABUS THAN EVER. – The award-winning Shadow 900 Black Ops series is becoming bolder and darker than ever before with the BRABUS Shadow 900 Black Ops Signature Edition. This latest evolution is a compelling result of BRABUS' hallmark next-level performance, design language and attention to detail.
The BRABUS Shadow 900 Black Ops Signature Edition is as BRABUS as it gets with darker and further brabusized design cues: including a dark, unmistakable "BRABUS Graphite Black" paint job, a brand new upholstery color choice in "BRABUS Graphite" as well as Signature Style graphics with red Signature Stripes that run across the entire exterior design concept and are accompanied by sleek hull badges in black chrome. The edition is hand built with focus on precision and finish, the process of fairing, painting and polishing alone takes up to six weeks due to non-automated, thorough and highly labor intensive procedures.
The available models within the series are the BRABUS Shadow 900 Spyder, a fully open version, the charismatic and adventurous BRABUS Shadow 900 Sun-Top, and the XC Cross Cabin, an ultra-luxurious SUV of the Sea and fully enclosed Cabin cruiser. Awarded with the Motor Boat Award 2022 for its confident, user-friendly and stylish performance the BRABUS Shadow 900 XC Cross Cabin is fully living and breathing the BRABUS supercar DNA.
DESIGN & APPEARANCE. ICONIC.
Unfiltered & Unstoppable – The BRABUS Shadow 900 Spyder and Sun-Top Black Ops are thrilling and competent performance artists, ready to bring you anywhere in the world in style. Technically brilliant and a pinnacle achievement in the luxury sport- boat sector. The unprecedented innovations and striking looks of these stunning 37 footers have been widely recognized, earning the BRABUS Shadowboats one of the most prestigious design awards in the world - the Red Dot Award in the "Product Design" category.
POWER & PERFORMANCE. BEST IN CLASS PERFORMANCE ARTISTS.
Blistering 60+ knots performance - The Shadow 900 range benefits from Mercury Marine's latest dual 450R Verado XL 4.6 litre V8 FourStroke engines with Joystick Piloting for easy docking and manoeuvring. At just 320 kg a piece these masterpieces of technology weigh less than their nearest competitor and have 40 percent more torque than their 400hp equivalent, the perfect engines for the Shadow 900's. The power to weight ratio for each engine is best in class, improving hole-shot acceleration and creating the renowned driving experience of a Shadow 900.
BESPOKE ENIGNEERING. UNIQUE ONBOARD EXPERIENCES.
Taking it all in - Elevating the feeling of space inside, Gullwing doors for the front lounge provide easy access and interaction with the outdoors. The net result adds an influx of incoming light and makes a unique connection with the natural environment by bringing the outdoors indoors and vice-versa. Swathed in 'sport-pattern', cool gray and black BRABUS fine leather with contrasting red accents and stitching, the front cabin with a 'queen size' sleeping accommodation has every level of comfort and more for you to fully enjoy your all-weather adventures out on the water.
Electronics - The BRABUS Shadow 900 features a Simrad®️ dual touch -screen full width, 'Glass Helm Information Display' with an updated BRABUS User-Interface, including G-shock monitoring, access to the boat's main navigation, engine management, on board entertainment and driving-assist features. With the extended Navigation Package the helm is expanded into a four screen "bridge" setup that includes additional functions like displaying the speed for the passengers, audio controls and also a digital Panerai watch.
Smart Safety - A G-Shock sensor and 1st Mate Marine Safety & Security System are among the boat's safety and security features. The G-Shock sensor helps drivers navigate rough weather in safety while the 1st Mate System, in the form of a bracelet or fob, is connected to a mobile phone. The 1st Mate System delivers important safety alerts and offers features like man overboard monitoring, distress messaging, and a theft deterrent. All combine to enable Black OPS XC Cross-Cabin drivers to explore the world's waters worry-free.
The driver in focus - Introducing a clean and ergonomic helm that resembles a supercar more than anything else. Everything on the dashboard is close to hand, touchscreen technology with selected backlit switches and the newly developed multifunction steering wheel with finger-tip controls, make this one of the most modern looking consoles.
*Some images above showing the previous Black Ops Limited Edition.
PREMIUM LUXURY. SIGNATURE STYLE.
Time for evolution - A highlight of the BRABUS Shadow 900 Black Ops Signature Edition is the is the Sun Lounge, which is now standard on all BRABUS Shadow 900 models, due to its high comfort-level and expanded social space on the front deck. A multitude of new features such as a new LED searchlight, black engine cowlings with gray or red accents according to individual upholstery color choices, revised fender box panels, wall pockets and LED bulwark step lights complement the boat's irresistible BRABUS appeal.
Sign of Excellence – The helm console is finalized with the exclusive BRABUS Sign of Excellence signed by Constantin Buschmann. This sign symbolizes the promise that each boat is unique, and hand crafted to the highest possible standards by using the finest materials, newest technologies and bespoke engineering.
Masterpiece badges - The BRABUS Masterpiece badge is an unquestionable seal of quality. A sign of excellence signifying that everything possible was done in the creation of the vehicle of your dreams.
*Some images above showing the previous Black Ops Limited Edition.
Technical Data
| | |
| --- | --- |
| Beam | 3,35 m / 9ft 8in |
| Draft to drops | 0,85 m / 2ft 9in |
| Weight | 4100 kg / 9039 lbs (Spyder) 4300 kg / 9480 lbs (Sun-Top) |
| Outboard engines | 2x450hp |
| Top Speed | 111+ km/h / 60+ knots |
| Power | 662 kW / 900 hp |
| Length | 38 ft / 11,73 m |
| | |
| --- | --- |
| Passengers | 10 Cat B / 12 Cat C |
| Berths | 2 persons |
| Classification | B – Offshore, C – Costal |
| Hull design | Twin stepped 20° V "Sharp entry hull" |
Specifications may be changed without prior notice. Performance may vary due to equipment, weather and load conditions.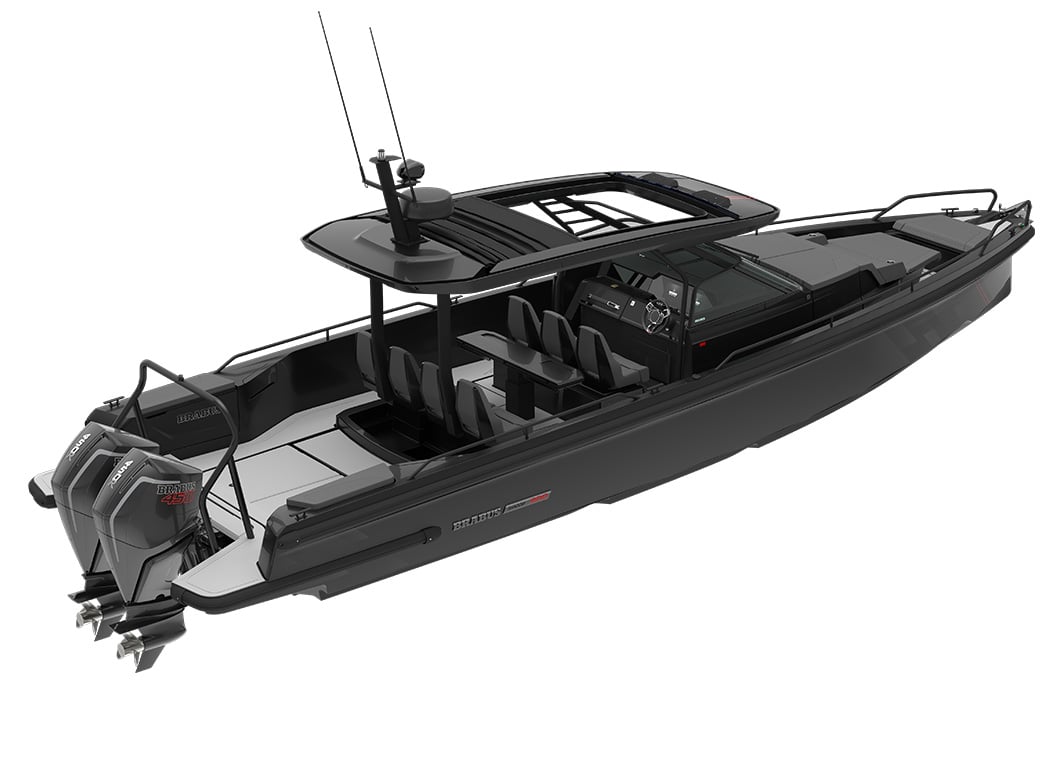 Open Aft Deck Option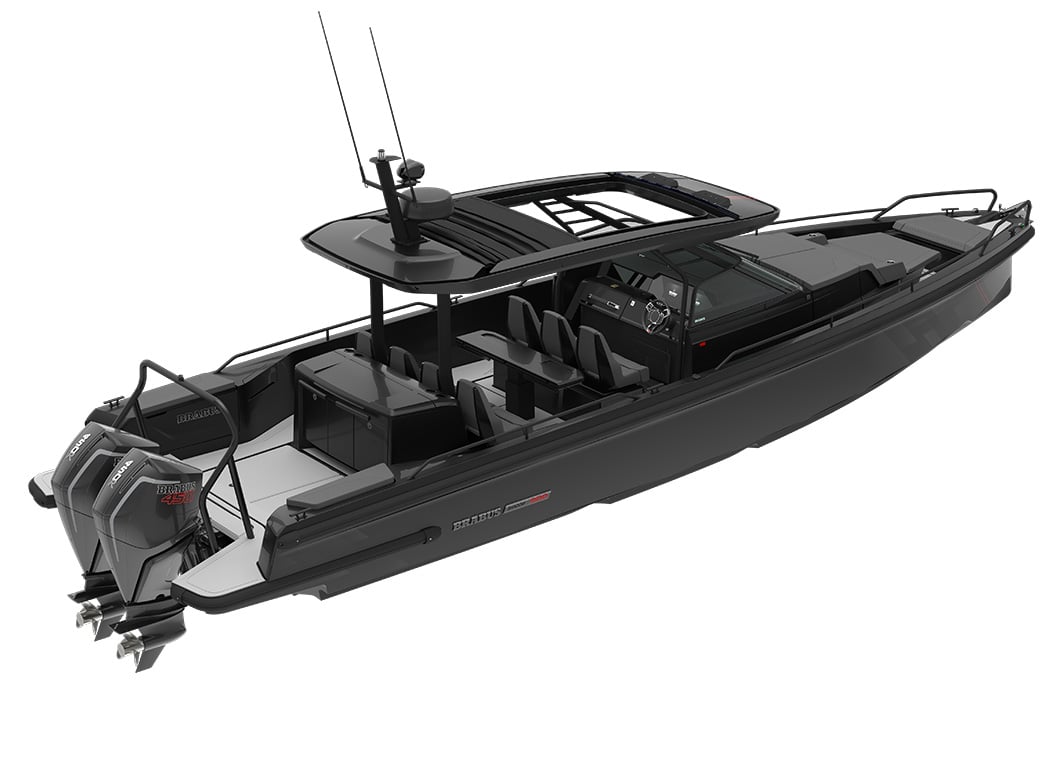 Wet Bar Package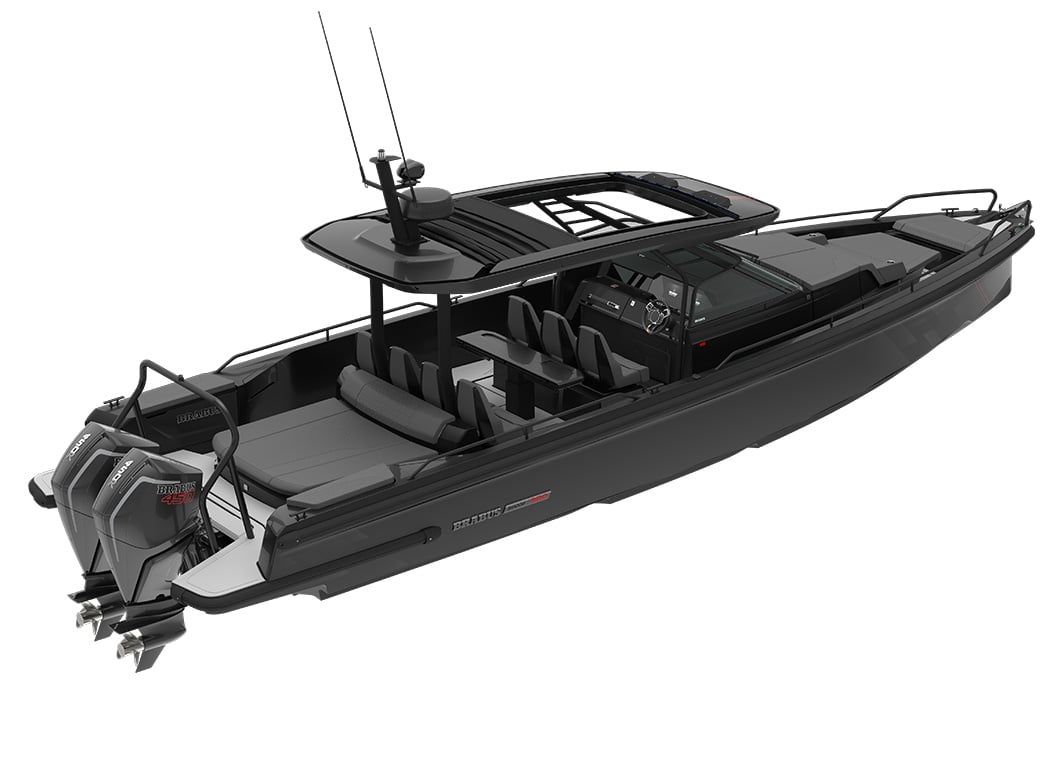 Multi Storage Compartment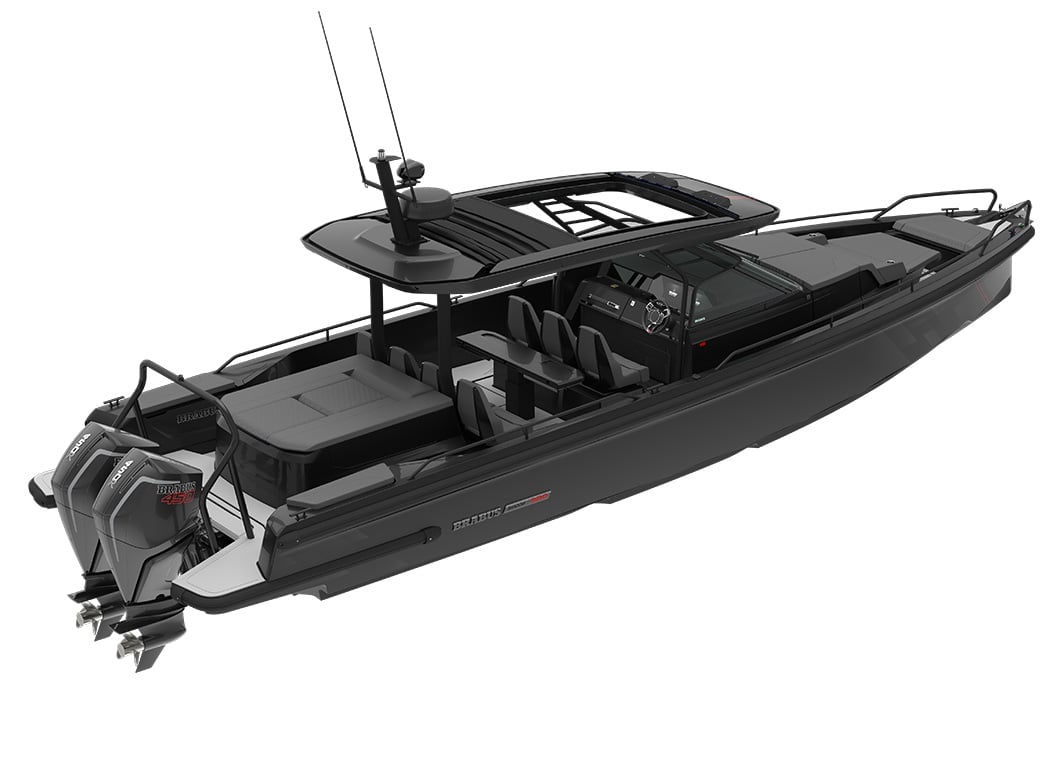 Aft-Cabin Accommodation Package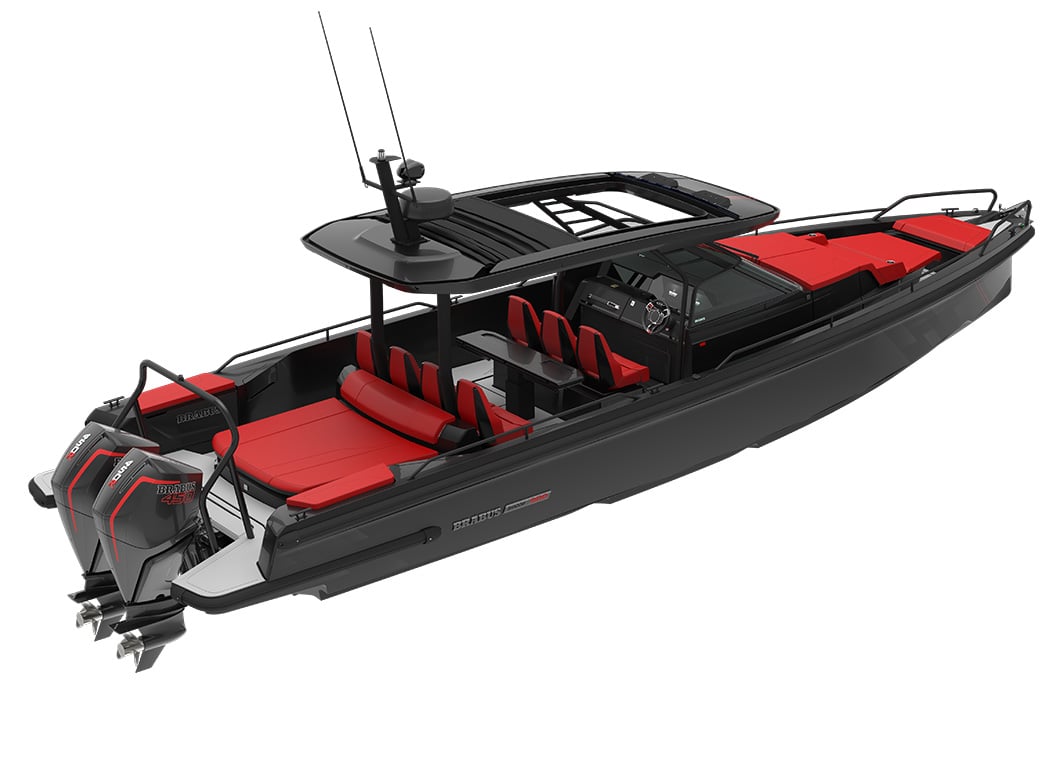 For further upholstery color choices contact your dealer
Shadow 900. Range Brochure
Explore the full range of the BRABUS Shadow 900 superboats