BRABUS SHadow 500
Untamed & Confident – Exceptional style, innovative technology and bespoke engineering come together in these striking 30-foot sports-weekenders for your ultimate adventure at sea. Both the BRABUS Shadow 500 Spyder, a fully open version for unadulterated thrills and excitement, and the BRABUS Shadow 500 T-Top, an untamed, ultra-agile powerhouse, are perfect companions on your high-octane cruises. Mesmerizing performance with comfortable, day-long cruising capability and luxurious refinements: A 'best of both world's' scenario. The Shadow 500 is considered unique within this size range, and something that you will find hard to replicate anywhere else.
BOLD AND CONFIDENT DESIGN.UNMISTAKABLE GOOD LOOKS.
Attractive, angular lines with a long, low-centre-of-gravity hull, matched with functional and versatile deck layout options for enjoying life to the fullest. These Shadows take you wherever you belong.
POWER & PERFORMANCE. Unmatched DRIVING PLEASURE.
This boat is a dual-personality 28ft powerhouse, with 50 knots+ performance waiting to be unleashed, phenomenal acceleration and massive torque available from Mercury Marine's latest twin V8-powered XS Pro FourStroke engines, who would not want to get behind the wheel of the BRABUS Shadow 500?
GO ANYWHERE. INNOVATION AT ITS FINEST.
Given the 'dual-personality' status of every BRABUS Shadow, these boats deliver a serious turn of speed and 'kick in the back' acceleration, whilst still being fully capable of taking out friends and family in a highly luxurious and comfortable environment. When your destination has been reached, and the engines are turned off, you and your guests can truly appreciate the ultimate luxury and versatility of a Shadow 500's onboard creature comforts, for a truly sublime day out on the sea.
Maximum comfort and control - A clean, cool looking and aesthetically pleasing helm. The steering wheel has an intelligent Steering module giving push-button control for machinery such as the bow-thruster, trim tabs, and the Fusion Marine audio.
Electronics - Shadow 500 models feature the newest marine technology available, like the ISM (intelligent steering module), The Simrad Glass Bridge / Information Display with two 12" screen with a customized user interface incl. for example integrated vessel startup check, Eco / Sport driving modes with active driving assistant features as well as entertainment and media control.
SELF-INDULGENT LUXURY. HIghest Possible Onboard Comfort.
The Shadow 500 offers sumptuous, superior surroundings that provide the highest possible onboard comfort when anchored. It truly is the perfect luxury platform upon which to spend quality time with friends and family when you are away for a day out at sea or out on island-hopping adventures.
Carbon fibre - Visible carbon-fibre parts complete the ultra-cool looks of the dashboard and seat trims and further emphasizes the clean and high tech look of the boat. All carbon-fiber parts are made in-house and supplied directly to the boat factory from the BRABUS headquarters in Germany.
BRABUS aluminium steps - An exclusive aluminium step detail can also be found when entering the toilet compartment. The helm is completed with a BRABUS branded exclusive aluminium support for feet to complete the sporty looks but also to add to the ergonomics when driving the boat.
Sign of Excellence - The helm console is finalized with the exclusive BRABUS Sign of Excellence signed by Constantin Buschmann. This sign symbolizes the promise that each boat is unique, and hand crafted to the highest possible standards by using the finest materials, newest technologies and bespoke engineering.
Technical Data
| | |
| --- | --- |
| Beam | 2,95m / 9ft 8in |
| Draft to drops | 0,80m / 2ft 8 in |
| Weight | 2.700kg / 5.952 lbs (Spyder) 2.780 kg / 6.128 lbs (T-Top) |
| Outboard engines | 2x Mercury ProXS 250 |
| Top Speed | 93+ km/h / 50+ knots |
| Power | 373 kW / 500 hp |
| Length | 31 ft / 9,53 m |
| | |
| --- | --- |
| Passengers | Cat. B:6 - Cat. C:9 |
| Berths | 2 persons |
| Classification | B – Offshore / C – Coastal |
| Hull design | Twin stepped 20 degree V "Sharp entry hull" |
Specifications may be changed without prior notice. Performance may vary due to equipment, weather and load conditions.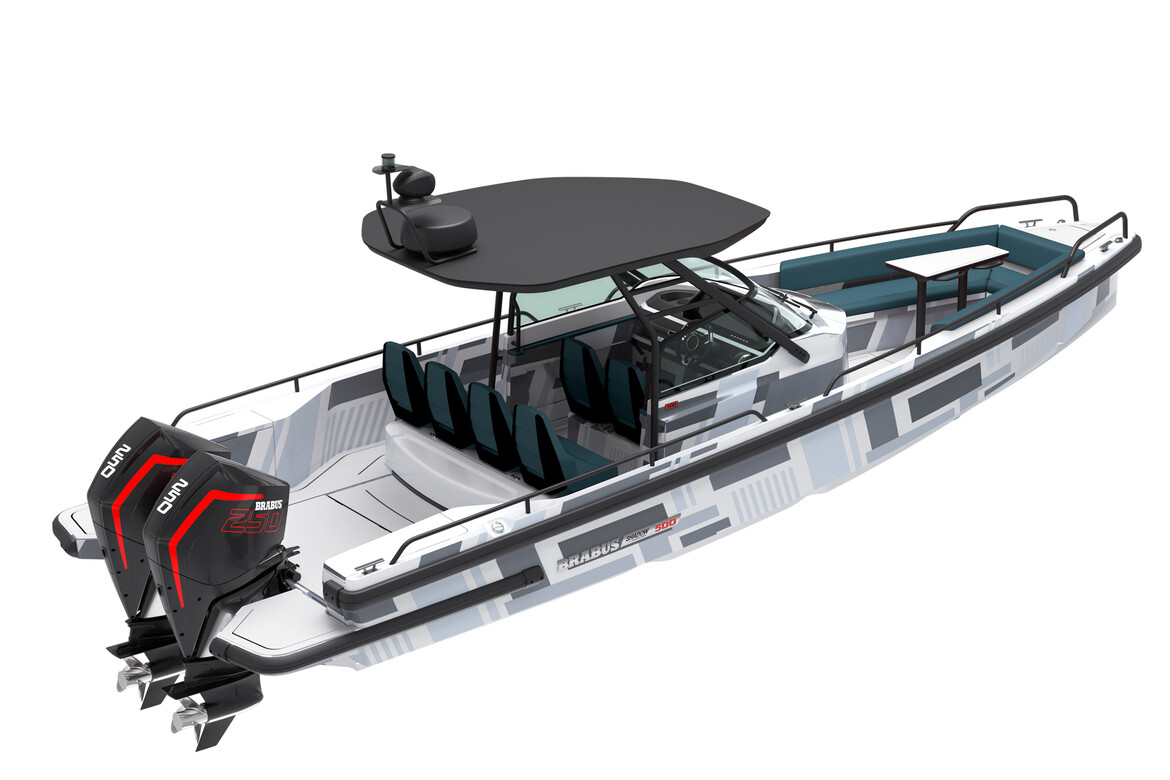 Open Aft Deck, Quantum White gelcoat with Camo Wrap, BRABUS Sapphire upholstery colour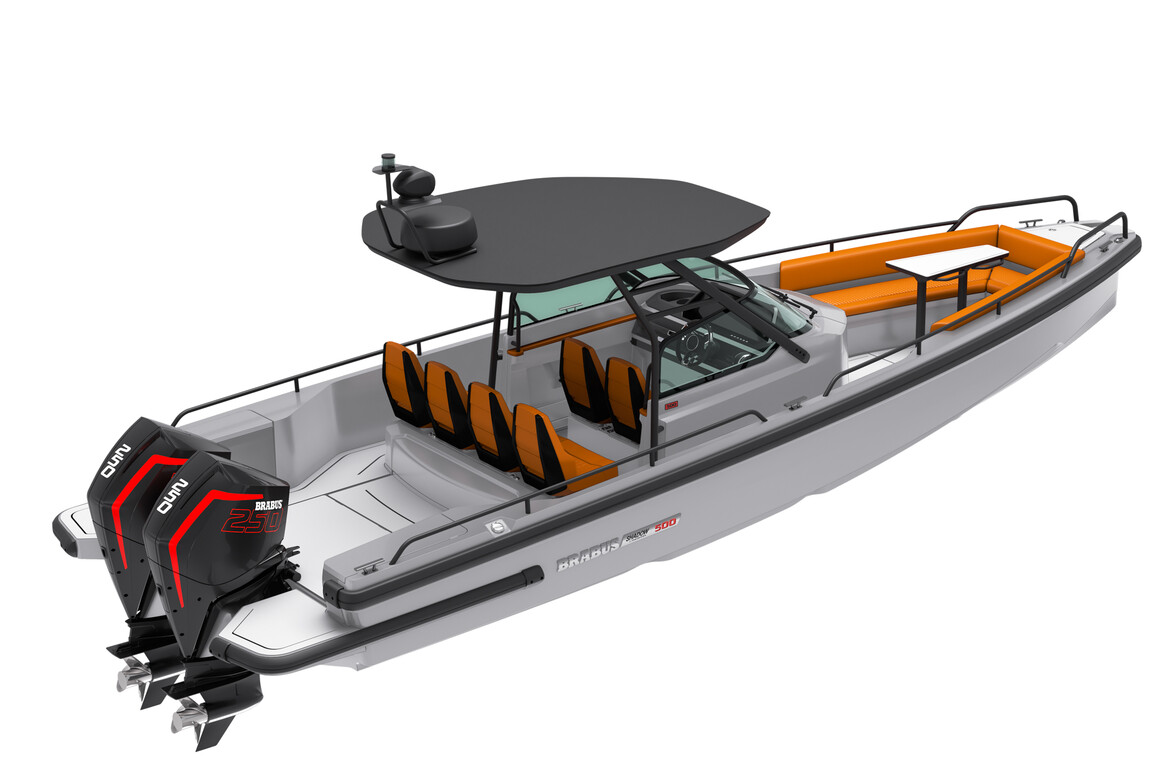 Open Aft Deck, Platinum Gray gelcoat, BRABUS Sunrise upholstery colour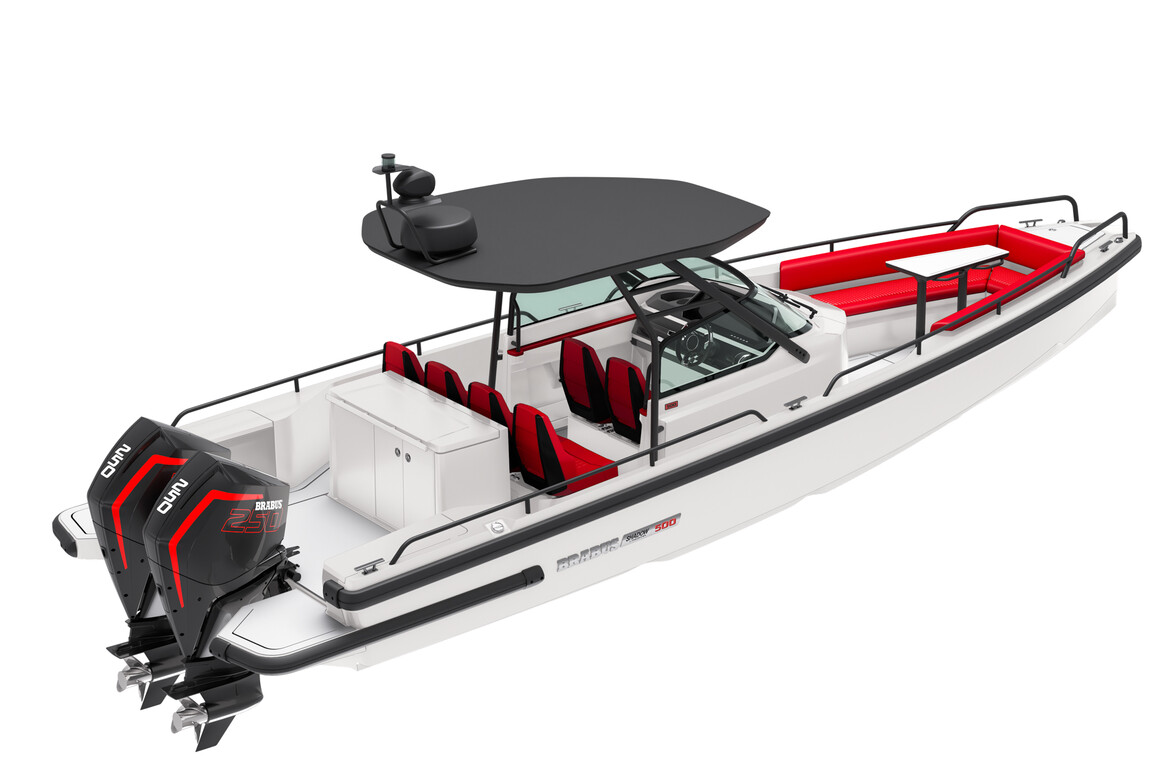 Wet Bar Package, Quantum White gelcoat, BRABUS Red upholstery colour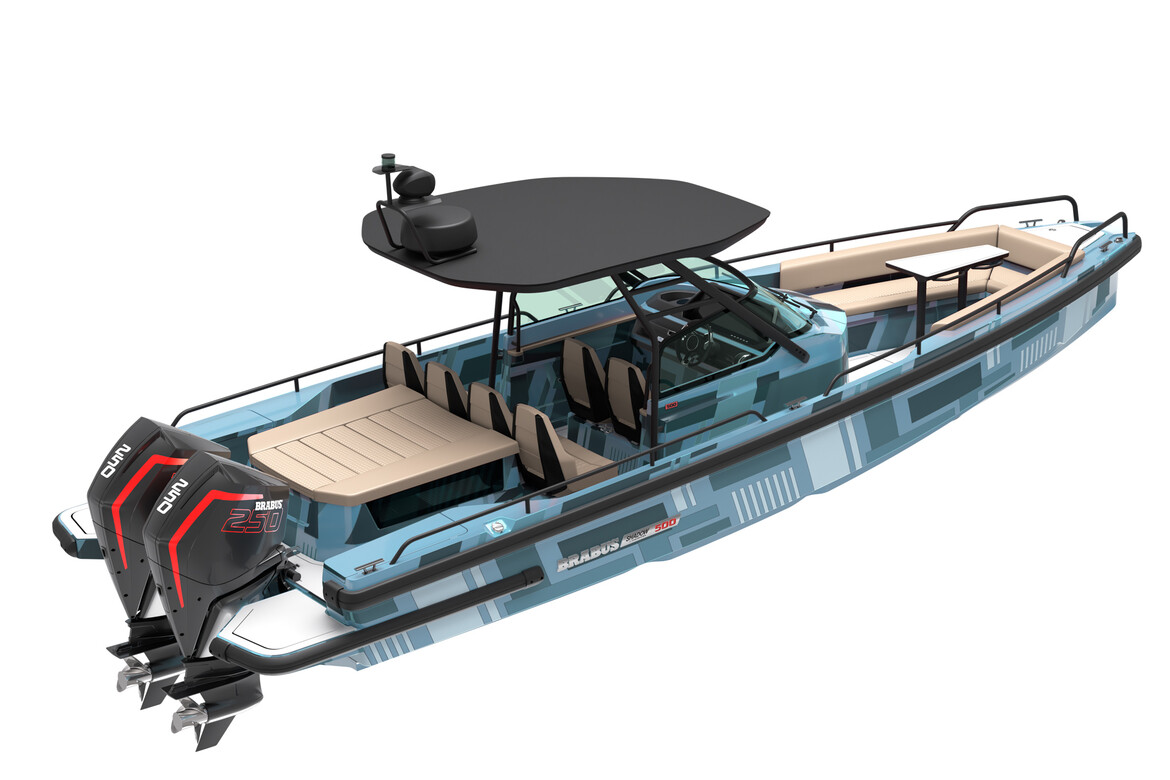 Aft-Cabin Accommodation, Glacier blue gelcoat with camo wrap, BRABUS Cappuccino upholstery colour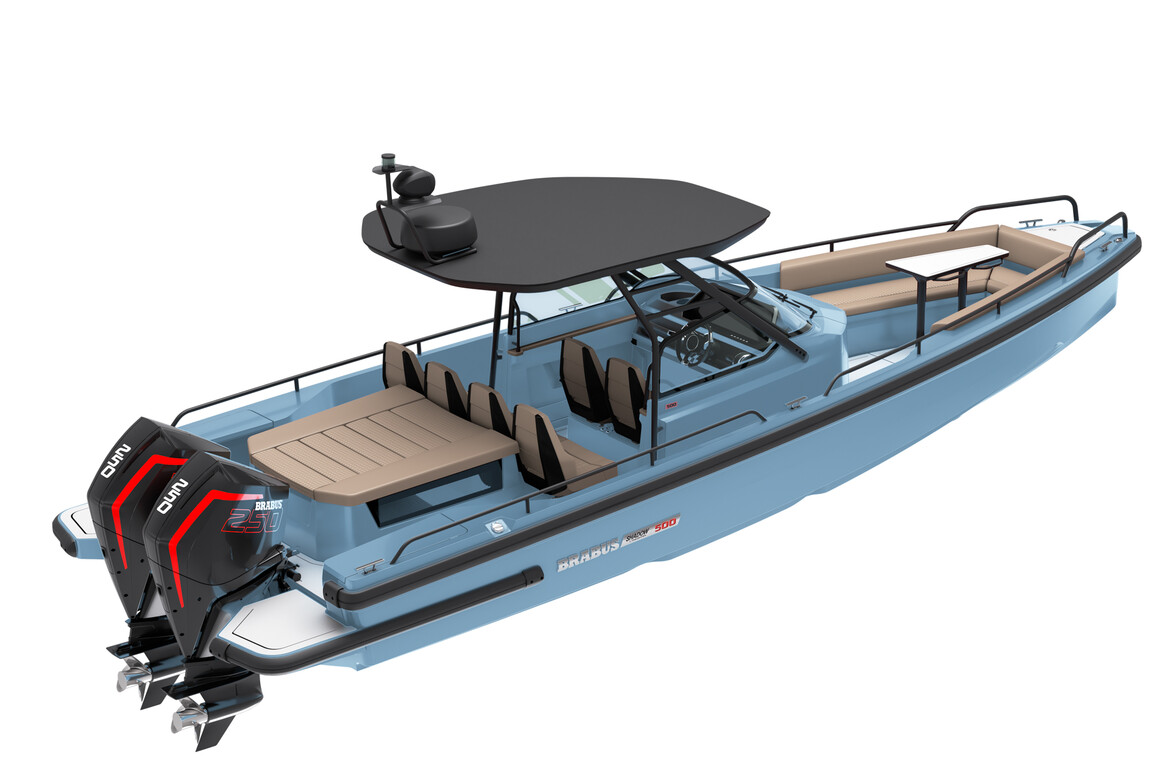 Aft-Cabin Accommodation, Glacier blue gelcoat, BRABUS Cappuccino upholstery colour
BRABUSIZE IT. EXPRESS YOUR TRUE SELF.
Express your inner personality and inner adventurer to the fullest and have your ultimate brabusized superboat truly matching your charisma and style. Allow your creativity to flow with choosing from these contemporary gelcoat colours: Platinum Gray, Quantum White or Glacier Blue. For the heads-turning looks, choose the ultra-cool 'Fusion Camo-Wrap' livery wrapping. Let your boat truly express your personality by selecting one of the vibrant fabric colours: BRABUS Red, BRABUS Cappuccino, BRABUS Sunrise, BRABUS Sapphire or BRABUS Platinum.
Choose between a full Open aft deck, Wet Bar package including an integrated electric grill, wash-hand basin and top-loading fridge or a Day Cruiser Aft-Cabin accommodation package, with the interior treatment completely remastered by interior experts at BRABUS.
Shadow 500. Range Brochure
Explore the full range of BRABUS Shadow 500 superboats