BRABUS SHadow 500
Black Ops Limited Edition '1 Of 28'
With 50 knots+ performance waiting to be unleashed, phenomenal acceleration times and massive torque available from Mercury Marine's latest XS Pro V8 FourStroke engines - who could not be tempted by the BRABUS Shadow 500? Positioned at the very top of the 30ft sports-weekender market, The BRABUS Shadow 500 is a beautifully designed and captivating 'thrill-seeker'; on one hand a boat with mesmerizing performance, yet with comfortable, day-long cruising capability and luxurious refinement on the other.
The BRABUS Shadow 500 Black Ops '1 of 28' is hand-built with focus on precision and finish. Fairing, painting and polishing the Limited-Edition version to the quality required is a highly labour-intensive, skilful and painstaking process, with no automation process, which can take up to six weeks to reach the required finish. All Limited-Edition models are exclusively launched in the signature paint scheme Gunmetal Gray, combined with vibrant BRABUS Red exterior seating; a most striking combination.
Bold. Confident. Unmistakable.
Attractive, angular lines with a long, low-centre-of-gravity hull matched with functional and versatile deck layout options for enjoying life to the fullest. A truly bold and confident design, with unmistakable good looks.
PURE POWER. Unparalleled Performance.
This boat is a dual-personality 28ft powerhouse, with 50 knots+ performance, insane acceleration time and massive torque available from a combined 500hp of Mercury Marine's latest, dual XS Pro V8 FourStroke engines.
LUxurious Comfort. Everywhere you go.
Given the 'dual-personality' status of every BRABUS Shadow, these boats deliver a serious turn of speed and 'kick in the back' acceleration, whilst still being fully capable of taking out friends and family in a highly luxurious and comfortable environment. When your destination has been reached, and the engines are turned off, you and your guests can truly appreciate the ultimate luxury and versatility of a Shadow 500's onboard creature comforts, for a truly sublime day out on the sea.
All Shadow 500's can be optioned either with a full Open aft deck, or Day-Cruiser-Aft-Cabin accomondation package, with the interior treatment completely re-mastered by interior experts at BRABUS, including illuminated aluminium plates on the entrance threshold, ambient LED lighting, including reading lights and floor lights, quiet leather carpet on the floor, large mirror on the rear wall, an Alcantara pocket-sprung mattress on the bed and wide use of cool-gray BRABUS fine leather, with red contrast stitching, on roof-panels, side-bolsters and aft wall panels.
FINEST MATERIAL. LOVE FOR DETAIL.
Sign of Excellence - The helm console is finalized with the exclusive BRABUS Sign of Excellence signed by Constantin Buschmann. This sign symbolizes the promise that each boat is unique, and hand crafted to the highest possible standards by using the finest materials, newest technologies and bespoke engineering.
Carbon fibre - Visible carbon-fibre parts complete the ultra-cool looks of the dashboard and seat trims and further emphasizes the clean and high tech look of the boat. All carbon-fiber parts are made in-house and supplied directly to the boat factory from the BRABUS headquarters in Germany.
BRABUS aluminium steps - An exclusive aluminium step detail can also be found when entering the toilet compartment. The helm is completed with a BRABUS branded exclusive aluminium support for feet to complete the sporty looks but also to add to the ergonomics when driving the boat.
Technical Data
| | |
| --- | --- |
| Beam | 2,95m / 9ft 8in |
| Draft to drops | 0,80m / 2ft 8 in |
| Weight | 2.700kg / 5.952 lbs (Spyder) 2.780 kg / 6.128 lbs (T-Top) |
| Outboard engines | 2x Mercury ProXS 250 |
| Top Speed | 93+ km/h / 50+ knots |
| Power | 373 kW / 500 hp |
| Length | 31 ft / 9,53 m |
| | |
| --- | --- |
| Passengers | Cat. B:6 - Cat. C:9 |
| Berths | 2 persons |
| Classification | B – Offshore / C – Coastal |
| Hull design | Twin stepped 20 degree V "Sharp entry hull" |
Specifications may be changed without prior notice. Performance may vary due to equipment, weather and load conditions.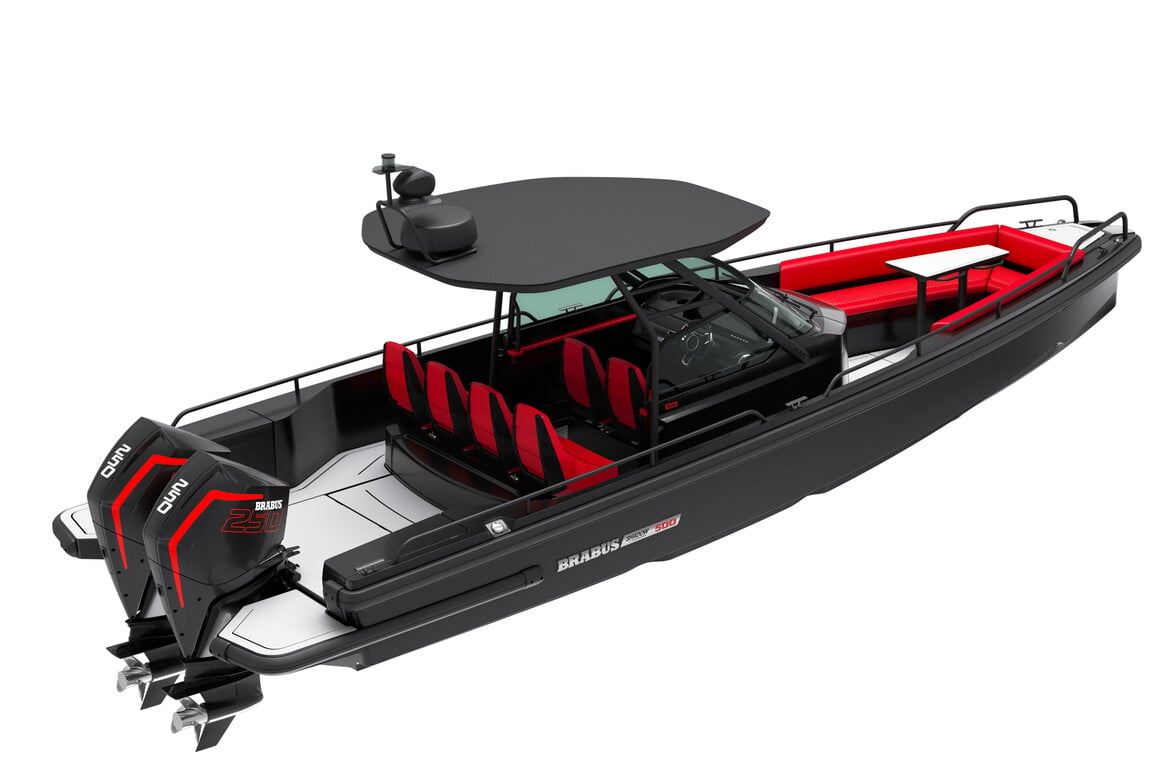 Open Aft Deck, Signature Colour: Gunmetal Gray hull colour, BRABUS Red upholstery colour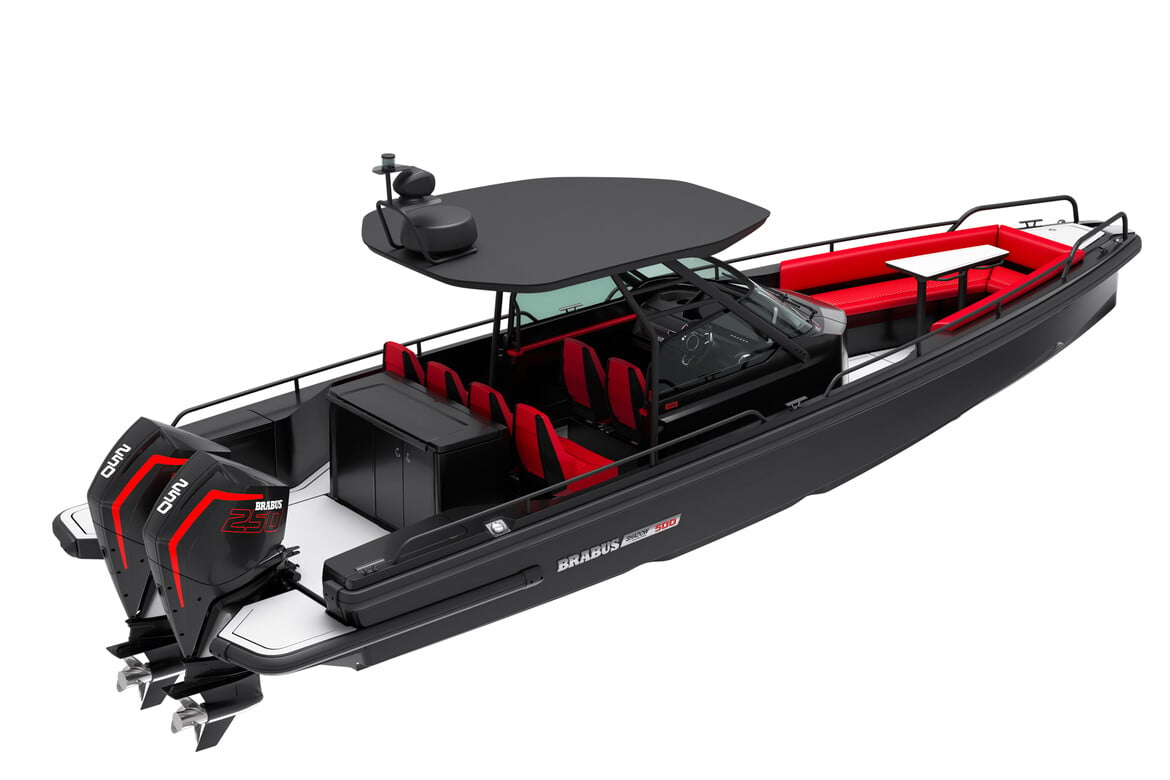 Wet Bar Package, Signature Colour: Gunmetal Gray hull colour, BRABUS Red upholstery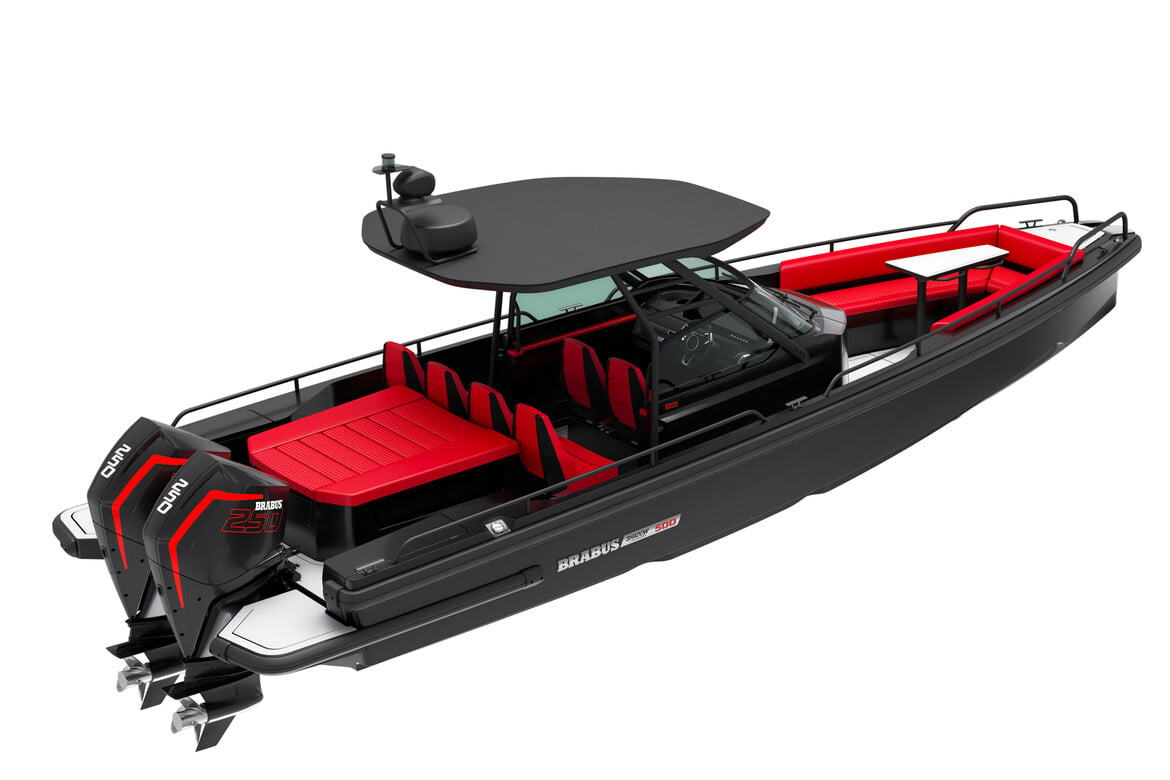 Aft-Cabin Accommodation, Signature Colour: Gunmetal Gray hull colour, BRABUS Red upholstery
Shadow 500. Range Brochure
Explore the full range of BRABUS Shadow 500 superboats