BRABUS SHadow 500 Cabin
Unmatched, untamed, uncatchable – With its gorgeous looks, cutting-edge technology and mesmerizing performance, this 28-foot BRABUS Shadow 500 Cabin provides just the right ingredients for your tailor-made, high-octane marine adventure. Reveal your personality to the world by imparting your own taste and charisma in this stunning and exceptionally fast 50+knots coast-to-coast commuter and adventurous shadowbaot for a guaranteed wow-effect.
Be your own captain – Set course for unlimited adventure. The Shadow 500 Cabin offers one of the most thrilling driving experiences, best handling and most seaworthy hulls in this size range and it is equally capable working as a comfortable luxurious day-cruiser, a true workhorse, a thrill-seeker for speed lovers, a dive-excursion boat, water-sports boat or sports-fishing boat. The 2ft 8in shallow draft enables access to all kinds of places that larger yachts cannot reach, enabling owners to discover hidden bays and idyllic anchorages.
Dressed to impress. Arriving in Style.
Attractive, bold and ultra-stylish design – Angular lines with a long, low-centre-of-gravity hull, combined with practical and versatile deck layout options. Superyacht owners, their families and VIP guests like to arrive in style, in a tender that oozes the same high-class visual appeal as the finest superyachts. It is the most luxurious and stylish partner in which to arrive at the most glamorous marinas and harbours around the world.
POWER & PERFORMANCE. UNPARALLELED DRIVING PLEASURE.
This boat is a dual-personality 28ft powerhouse, with 50 knots+ performance, phenomenal acceleration time and massive torque available from a combined 500hp of Mercury Marine's latest, dual XS Pro V8 FourStroke engines.
ANything you Need. Everywhere you go.
A true all-weather performer - Why let the weather dictate how you spend your day? Warm and cosy inside, the 'fully-enclosed' Cabin is perfect for customers in colder weather climates and will give the possibility to extend the boating season by many months. The boat is equally suited for hot weather climates, where customers can open-up the roof and have those large, side-opening doors thrown wide open, when they want to embrace the sun and warm weather but still have the possibility to ride protected and dry if bad weather surprises or during chilly evenings.
Ultra-versatile space utilization - Benefit from plenty of stowage space for guest luggage, water-sports equipment or food and beverage provisions. The bow area also offers a great place to socialize and hang out with friends and family on the L-sofa and table. You can easily convert the seating area to a sunbed when you want to utilize the space for sunbathing and relaxing.
Innovative onboard Technology - Shadow 500 models feature the newest marine technology available, like the ISM (intelligent steering module), The Simrad Glass Bridge / Information Display with two 12" screen with a customized user interface incl. for example integrated vessel startup check, Eco / Sport driving modes with active driving assistant features as well as entertainment and media control.
FINEST MATERIAL. Luxurious Refinement.
Sign of Excellence - The helm console is finalized with the exclusive BRABUS Sign of Excellence signed by Constantin Buschmann. This sign symbolizes the promise that each boat is unique, and hand crafted to the highest possible standards by using the finest materials, newest technologies and bespoke engineering.
Carbon fibre - Visible carbon-fibre parts complete the ultra-cool looks of the dashboard and seat trims and further emphasizes the clean and high tech look of the boat. All carbon-fiber parts are made in-house and supplied directly to the boat factory from the BRABUS headquarters in Germany.
BRABUS aluminium steps - An exclusive aluminium step detail can also be found when entering the toilet compartment. The helm is completed with a BRABUS branded exclusive aluminium support for feet to complete the sporty looks but also to add to the ergonomics when driving the boat.
Technical Data
| | |
| --- | --- |
| Beam | 2,95m / 9ft 8in |
| Draft to drops | 0,80m / 2ft 8 in |
| Weight | 2.800kg / 6.173 lbs |
| Outboard engines | 2x Mercury ProXS 250 |
| Top Speed | 93+ km/h / +50 knots |
| Power | 373 kW / 500 hp |
| Length | 31 ft / 9,53 m |
| | |
| --- | --- |
| Passengers | Cat. B:6 - Cat. C:9 |
| Berths | 2 persons |
| Classification | B – Offshore, C – Coastal |
| Hull design | Twin stepped 20 degree V "Sharp entry hull" |
Specifications may be changed without prior notice. Performance may vary due to equipment, weather and load conditions.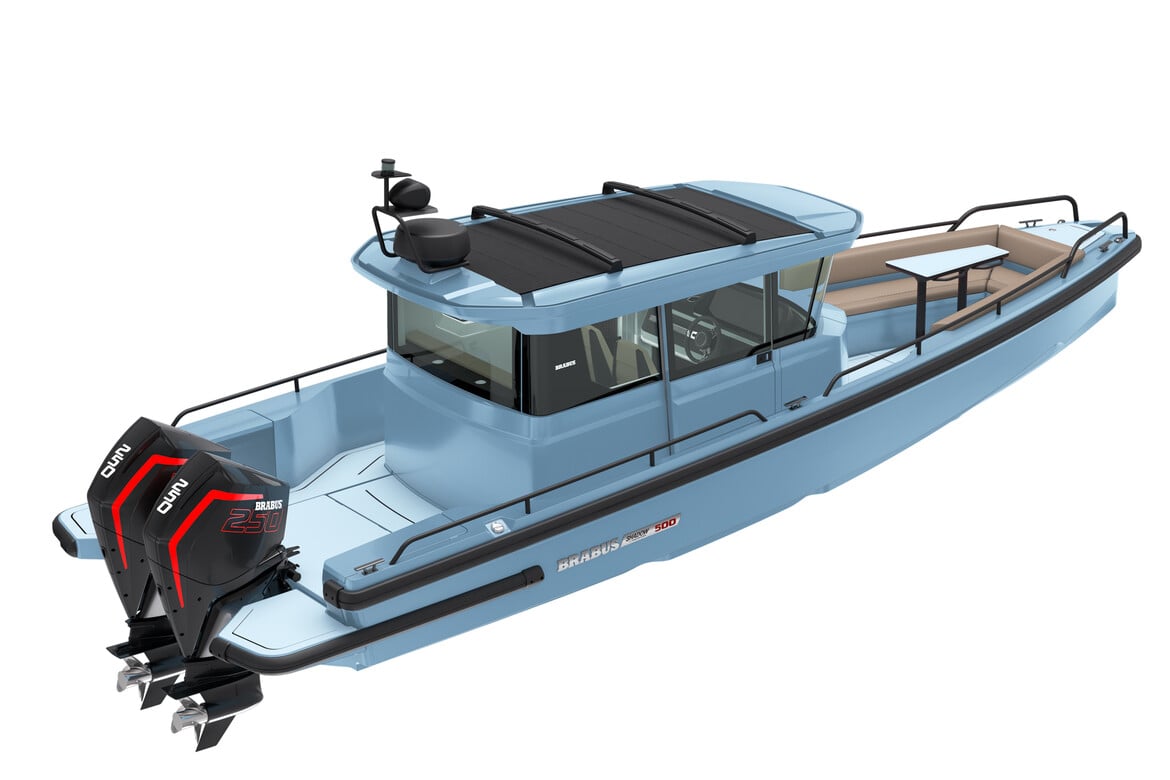 Open Aft Deck, Glacier Blue gelcoat, BRABUS Cappuccino upholstery colour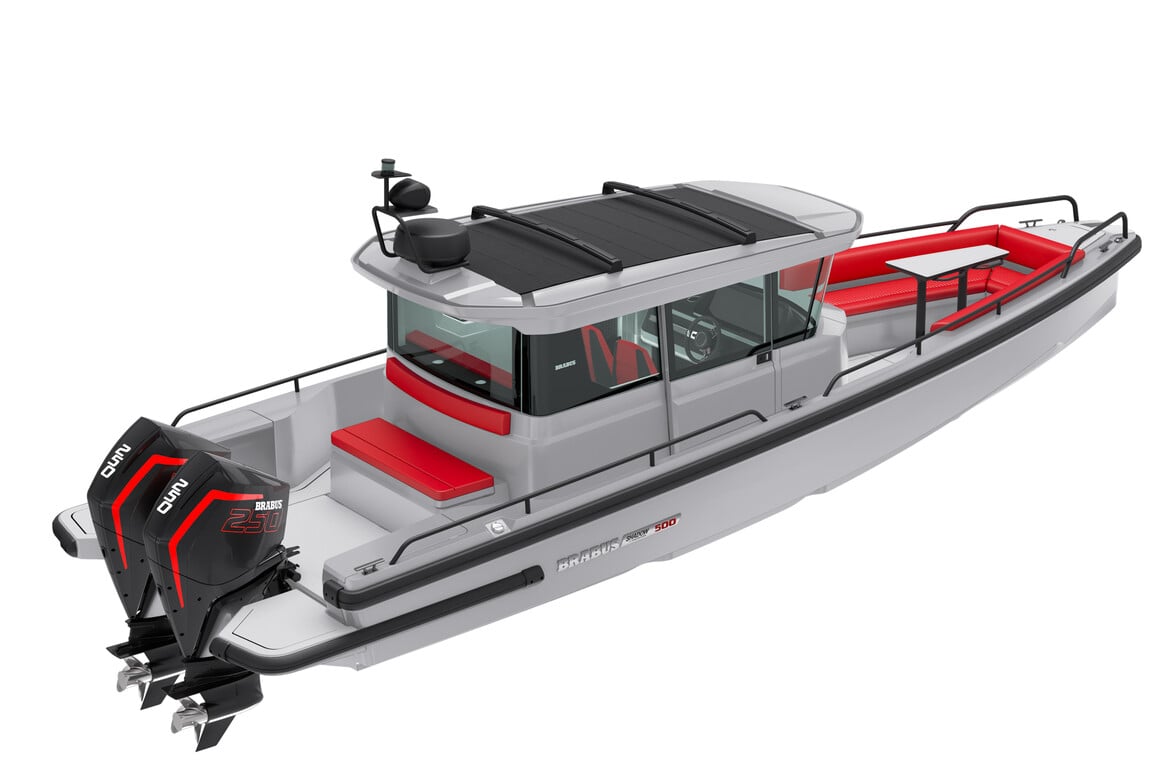 Aft Bench, Platinum Gray gelcoat, BRABUS Red upholstery colour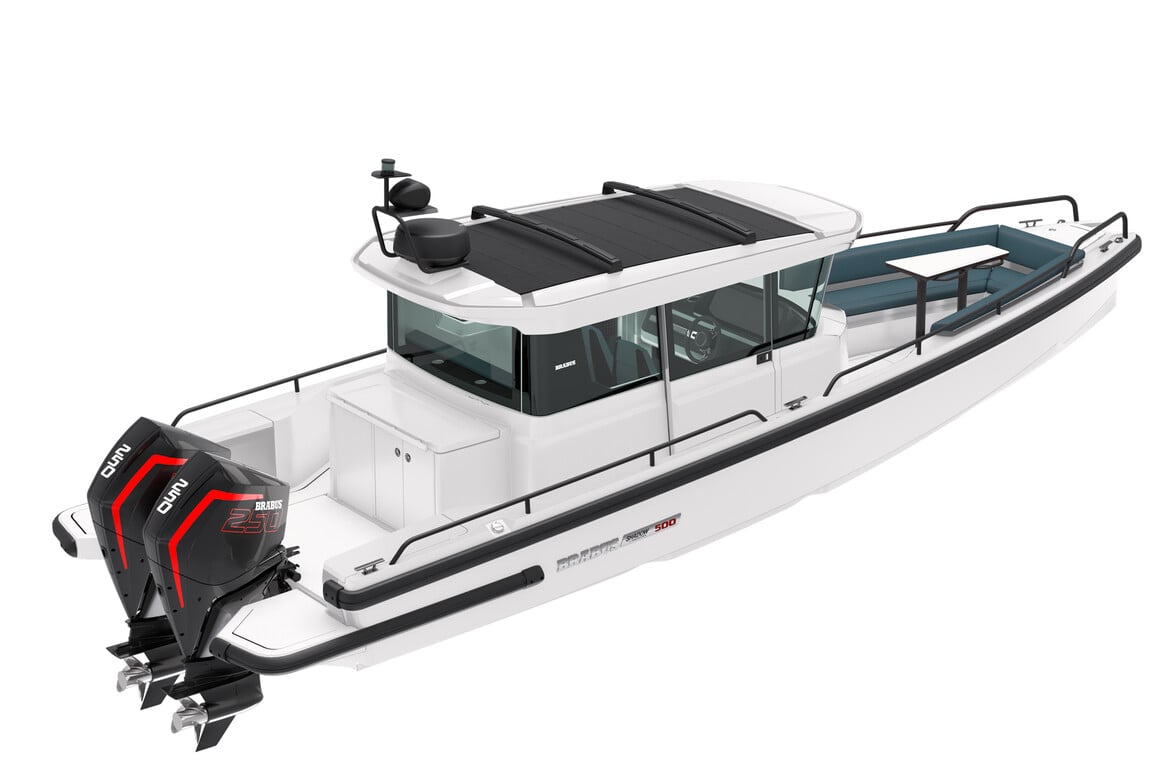 Wet Bar Package, Quantum White gelcoat with camo wrap, BRABUS Sapphire upholstery colour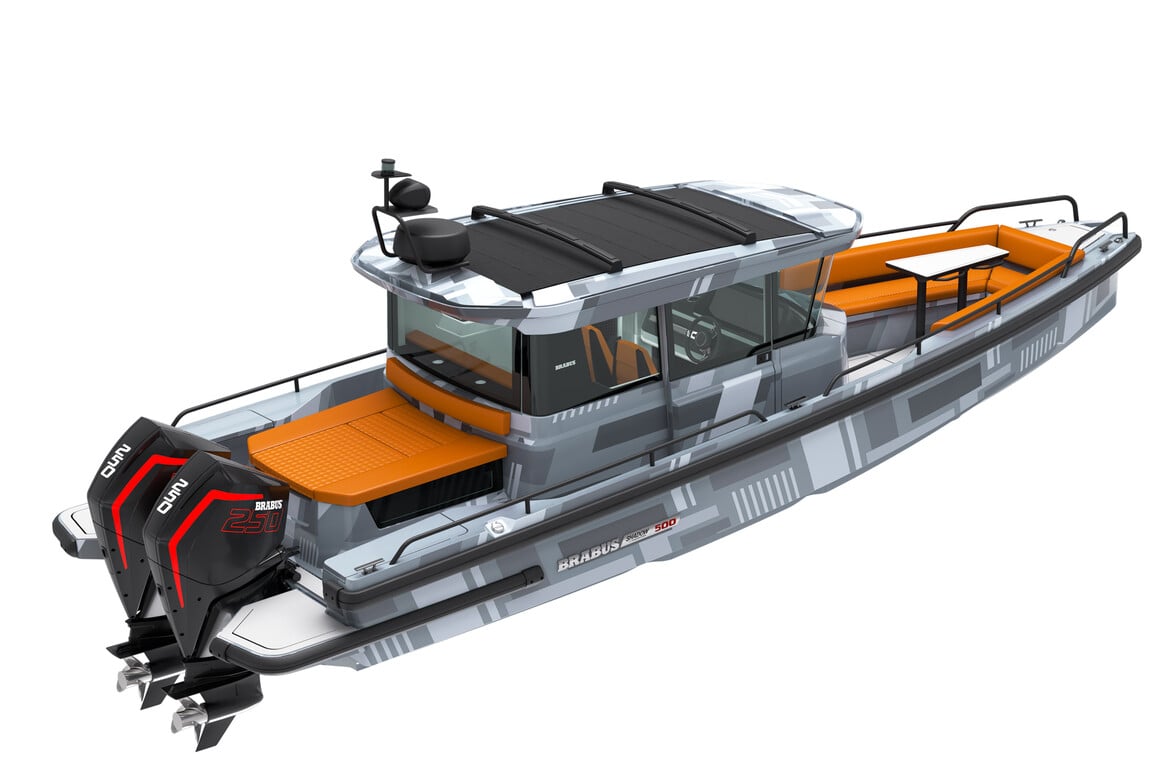 Aft-Cabin Accommodation, Platinum Gray gelcoat with camo wrap, BRABUS Sunrise upholstery colour
BRABUSIZE IT. EXPRESS YOUR TRUE SELF.
Social gatherings, action-filled outdoor adventures, sleepouts with family and friends, confident and thrilling cruises along the coasts - Whatever you desire to genuinely expresses yourself, your fully brabusized Shadow 500 will match it. Choose between a full Open Aft Deck, an Aft Bench, a Wet Bar Package, including an integrated electric grill, wash-hand basin and top-loading fridge, or a Day Cruiser Aft-Cabin Accommodation Package, with the interior treatment completely remastered by interior experts at BRABUS.
Allow your creativity to flow with choosing from these contemporary gelcoat colours: Platinum Gray, Quantum White or Glacier Blue. For the heads-turning looks, choose the ultra-cool 'Fusion Camo-Wrap' livery wrapping. Let your boat truly express your personality by selecting one of the vibrant fabric colours: BRABUS Red, BRABUS Cappuccino, BRABUS Sunrise, BRABUS Sapphire or BRABUS Platinum.
Shadow 500. Range Brochure
Explore the full range of BRABUS Shadow 500 superboats