BRABUS SHadow 900 XC Cross Cabin
Adventure awaits – Set course to unlimited adventures with this iconic 37-footer. Awarded with the Motor Boat Award 2022 for its confident, user-friendly and stylish performance the BRABUS Shadow 900 XC Cross Cabin is fully living and breathing the BRABUS supercar DNA. A true SUV of the sea.
"The Cross Cabin's year-round fast cruising capability reflects exactly what the BRABUS road cars are designed for. From the way it demolishes the chop and swell to the admiring glances it draws from fellow boaters and those on the quayside, this is a boat that makes you feel special." – Jury statement, Motor Boat Awards 2022
DESIGN & EXTERIOR. BESTING THE ELMENTS IN STYLE.
Ultra-luxurious SUV of the Sea – Transforming the traditional perception of what a purposeful cabin cruiser should look like, the unmistakable look of the BRABUS Shadow 900 XC has created a new yet instantly recognizable face within this popular boating genre.
POWER & PERFORMANCE. UNPARALLELED DRIVING PLEASURE.
"The twin 450 horsepower Mercury racing outboards make cruising at 40 knots almost compulsory. And we have rarely been on the helm of a boat that makes 60 knots feel so normal. But it's also incredibly functional and is just as happy loading up with water toys and a picknick for a day at the beach, as it is ferrying VIPs from the key side to bathing platform as a superyacht chase boat. " Jury statement, Motor Boat Awards 2022
With a combined output of 900hp from Mercury Marine's latest dual 450R Verado XL 4.6 litre V8 FourStroke engines, this powerhouse has a superb power-to-weight ratio, offering up to 55+ knots performance at the very top-end and with up to 40 knots typical cruising speeds. Supplied exclusively with the Mercury Joystick Piloting helm control system including skyhook digital anchor and autopilot. Class-leading performance in every respect.
Modern Space Utilization & innovation. FOR UNLIMITED ADVENTURE.
With versatile storage and people-carrying capability, the Shadow 900 is easily one of the world's best luxury tenders or chase boats, perfectly at home in the company of the world's finest superyachts. It is loaded with a myriad of innovative functionality and smart space utilization unlike any other: from smart multi-storage solutions for adventure gear, over spacious foredeck areas with versatile social space, to the ultimate premium lounge below deck, with Gullwing doors or optional enclosed toilet compartment.
Premium Cabin - Comfortable seating for seven people in the cockpit that effortlessly cossets occupants in the sophisticated luxury and bespoke detailing renowned of a BRABUS. Choose between a sophisticated BRABUS Fine Leather light gray mono-tone or BRABUS Fine Leather black/light gray dual-tone, accentuated with either red or gray stitching and piping.
Spacious fore deck - The spacious fore deck is a perfect place to socialize with friends and family in the open air, where the seating area with the sunbed can be utilized for sunbathing and relaxing. You can also equip the fore deck with a table instead of a sunbed.
Smart-safety and electronics - The BRABUS Shadow 900 features a wide and expansive Simrad® full width, touch-screen 'Glass Helm Information Display' with a customizable, state-of-the-art BRABUS User-Interface, offering a selection of driver-orientated sport modes, access to the boat's main navigation, engine management, on board entertainment and driving-assist features. The Intelligent Steering Module with integrated trim tab, bow thruster and audio controls enables to control the boat even smoother than ever before. In the quest for a more driver-focused, more up to date and seamless looking appearance, the helm area is free of unnecessarily cluttered instrumentarium.
ONBOARD LUXURY & DETAILING. THE FULL BRABUS AMBIENCE.
Carbone fiber - Visible carbon-fiber parts complete the ultra-cool looks of the dashboard and seat trims and further emphasizes the clean and high tech look of the boat. All carbon-fiber parts are made in-house and supplied directly to the boat factory from the BRABUS headquarters in Germany.
Luxurious front lounge - Experience premium comfort and ambience in the front cabin with a 'queen size' sleeping accommodation. Refined down to the last detail, you can choose between a sophisticated BRABUS Fine Leather light gray mono-tone or BRABUS Fine Leather black/light gray dual-tone, accentuated with either red or gray stitching and piping. Extend the lounge experience with an optional integrated infotainment unit, comprising a 42-inch flat screen 4K TV and Apple TV connectivity to mention a few of the options available.
Onboard ambience - The Shadow 900 onboard experience is enhanced with Fusion Marine Entertainment System with audio set-up of 6 x 6" speakers, 2 x 4" speakers, 1 x 10" subwoofer and 1 x 5ch amplifier. LED deck- and deck ambient lights in blue, the Front Lounge LED lights in white and Underwater transom lights in bi-color, white and blue.
Sign of excellence - The helm console is finalized with the exclusive BRABUS Sign of Excellence signed by Constantin Buschmann. This sign symbolizes the promise that each boat is unique, and hand crafted to the highest possible standards by using the finest materials, newest technologies and bespoke engineering.
Technical Data
| | |
| --- | --- |
| Beam | 3,35 m / 11ft |
| Draft to drops | 0,85 m / 2ft 9in |
| Weight | 4500 kg / 9920 lbs |
| Outboard engines | 2*450hp |
| Top Speed | 102+ km/h / 55+ knots |
| Power | 662 kW / 900 hp |
| Length | 38 ft / 11,73 m |
| | |
| --- | --- |
| Passengers | 10 Cat B / 12 Cat C |
| Berths | 2 persons |
| Classification | B – Offshore / C – Costal |
| Hull design | Twin stepped 20° V "Sharp entry hull" |
Specifications may be changed without prior notice. Performance may vary due to equipment, weather and load conditions.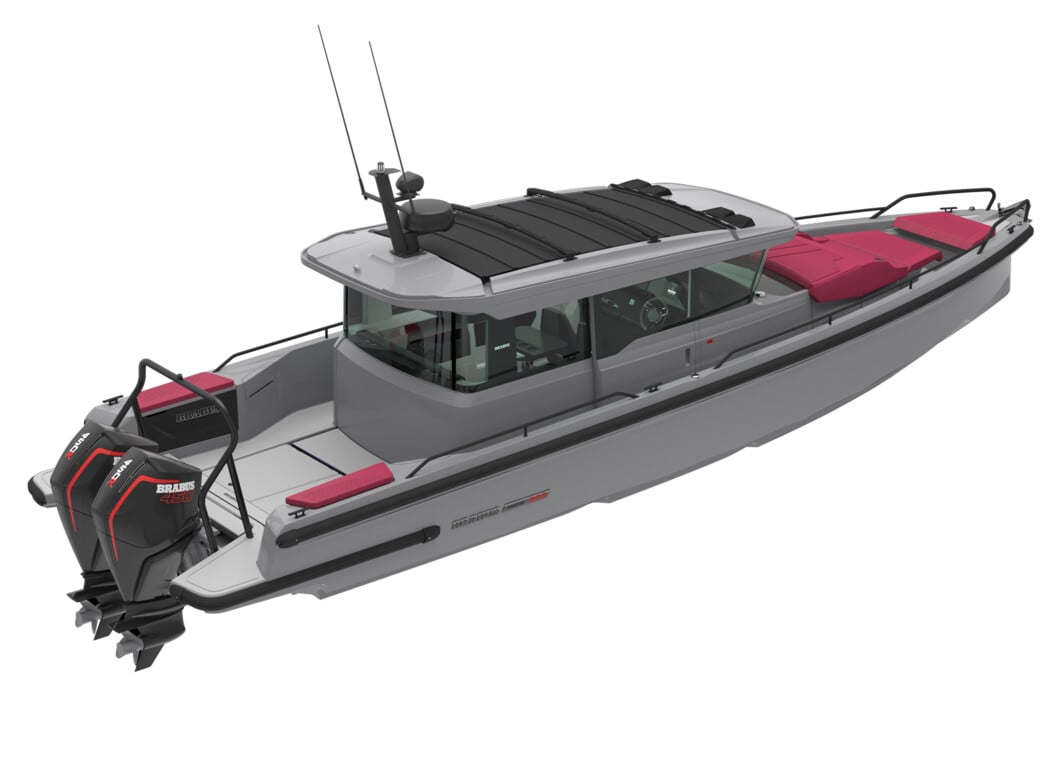 Open Aft Deck, Platinum gray gelcoat, BRABUS Merlot upholstery color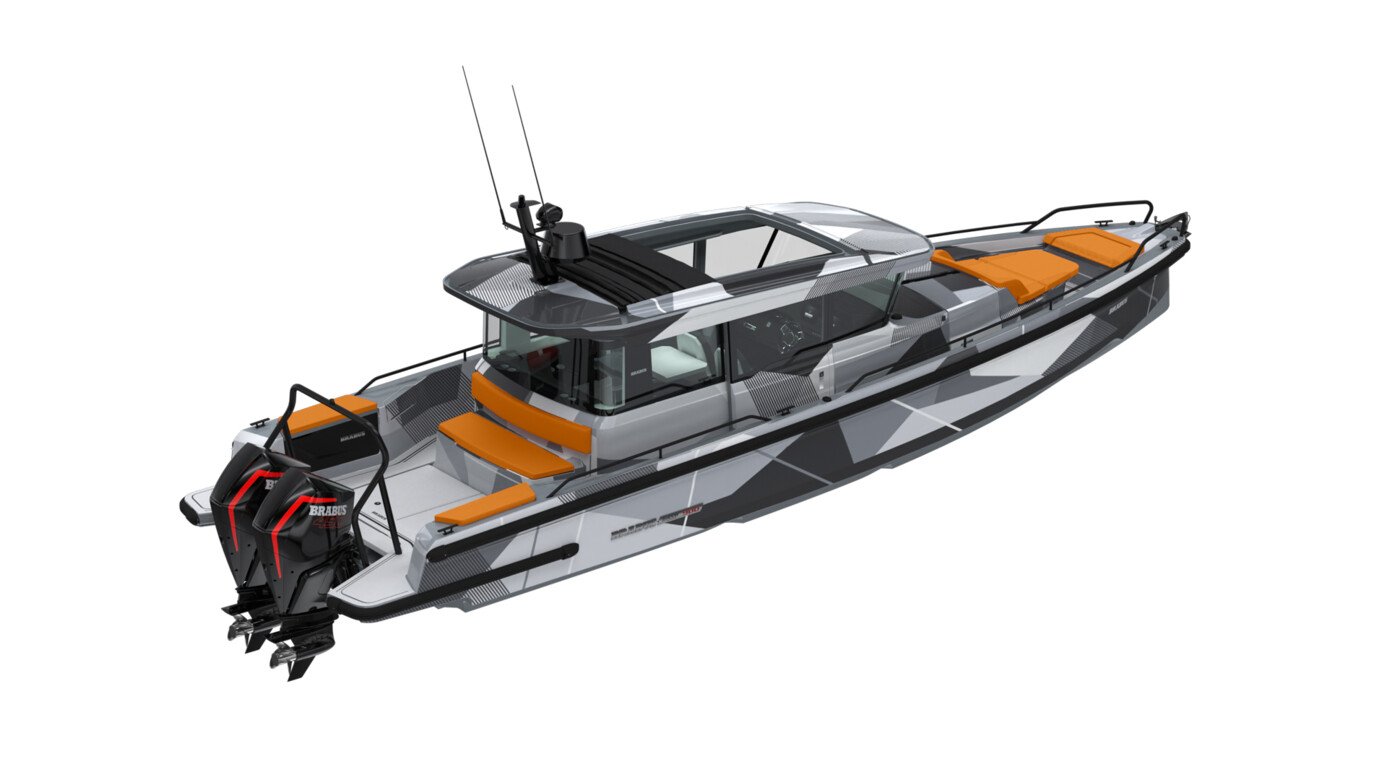 Aft Bench, Platinum Gray Camo Wrap gelcoat, BRABUS Sunrise upholstery color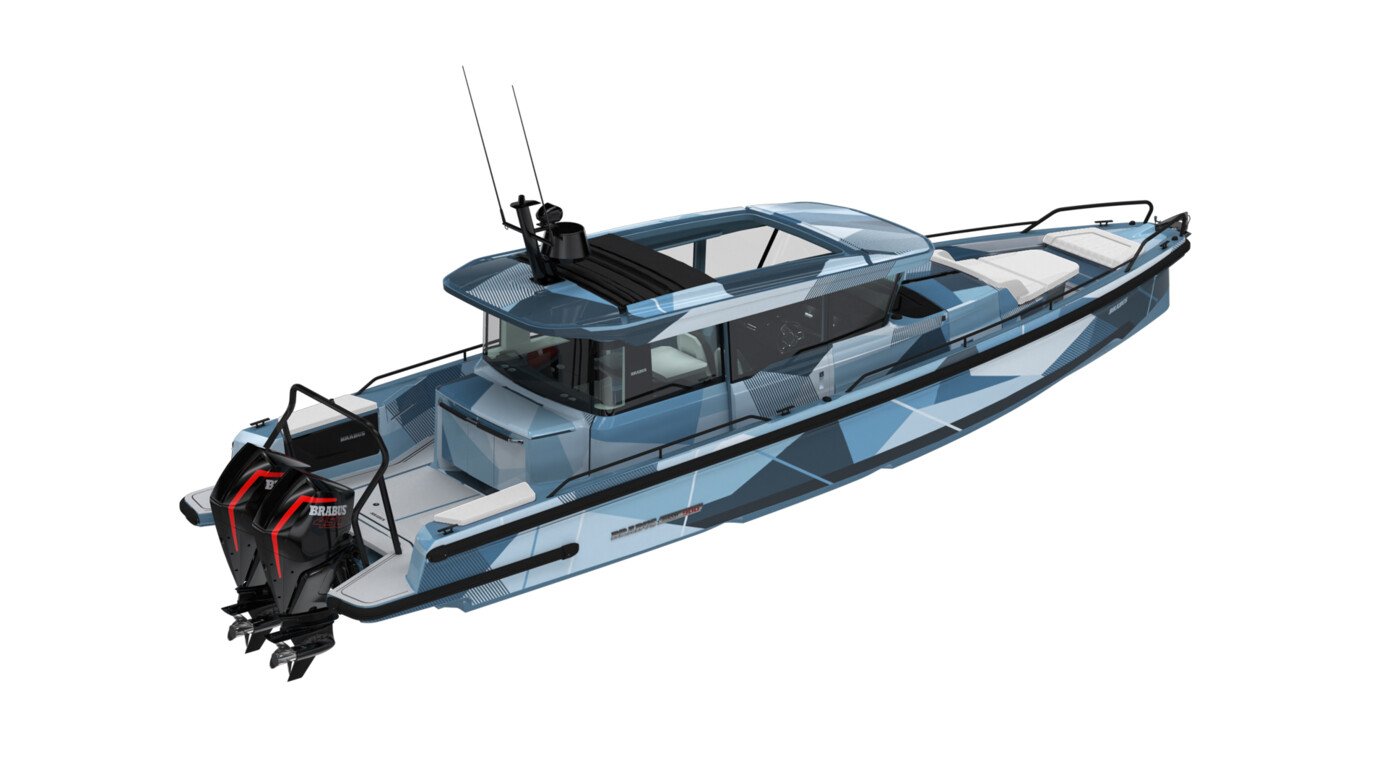 Wet Bar Package, Glacier Blue Camo Wrap gelcoat, BRABUS Ice upholstery color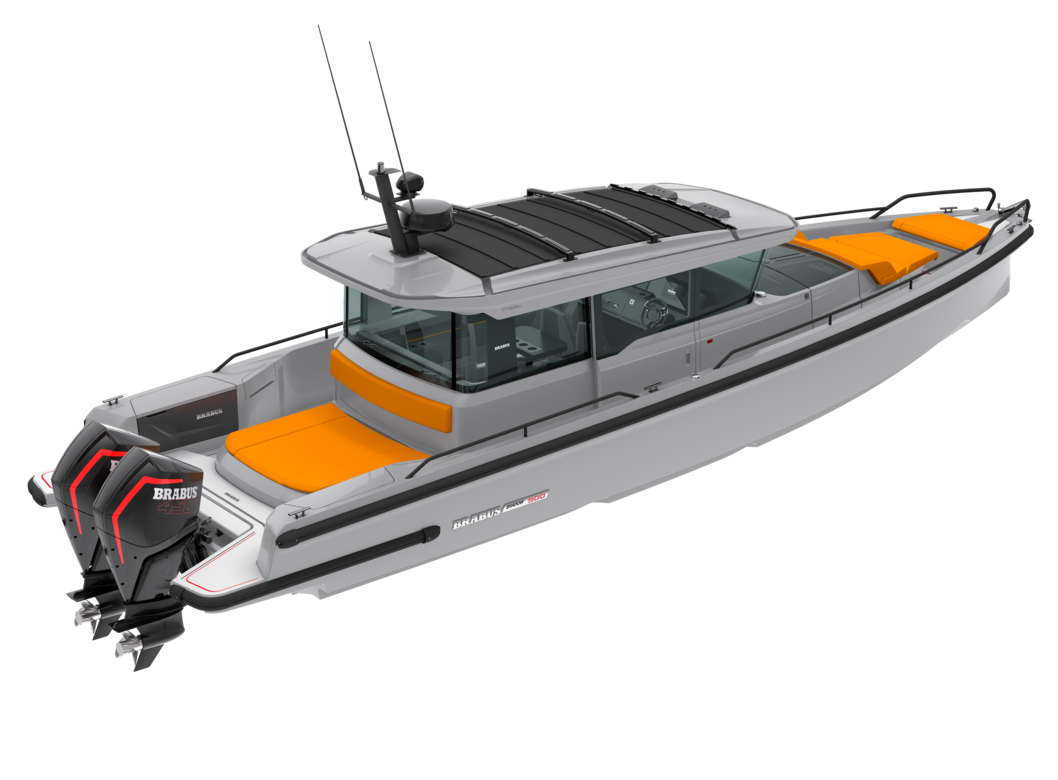 Multi Storage Compartment, Platinum Gray gelcoat, BRABUS Sunrise upholstery color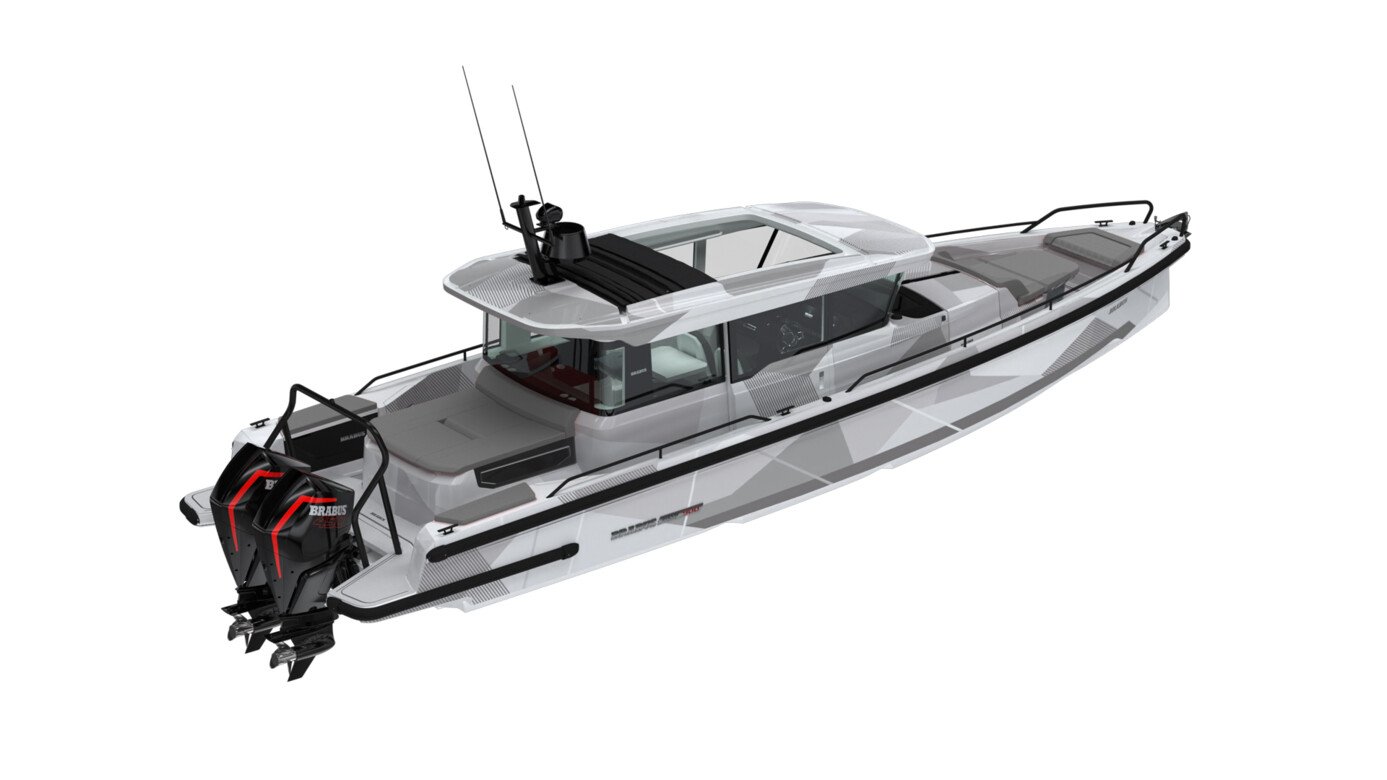 Aft-Cabin Accommodation Package, Quantum White Camo Wrap gelcoat, BRABUS Graphite upholstery color
BRABUSIZE IT. EXPRESS YOUR TRUE SELF.
Social gatherings, action-filled outdoor adventures, sleepouts with family and friends, confident and thrilling cruises along the coasts - Whatever you desire to genuinely expresses yourself, your fully brabusized Shadow 900 will match it. Choose between a full Open Aft Deck, a Wet Bar Package, including an integrated electric grill, wash-hand basin and top-loading fridge, a Multi Storage Compartment, for storing all sort of adventure on-water gear, or a Day Cruiser Aft-Cabin Accommodation Package, with the interior treatment completely remastered by interior experts at BRABUS.
Allow your creativity to flow with choosing from these contemporary gelcoat colours: Platinum Gray, Glacier Blue or Quantum White. For the heads-turning looks, choose the ultra-cool Camo Wrap livery wrapping. Let your boat truly express your personality by selecting one of the vibrant fabric colors: BRABUS Red, BRABUS Ice, BRABUS Merlot, BRABUS Sunrise, BRABUS Platinum or BRABUS Graphite.
Shadow 900. Range Brochure
Explore the full range of BRABUS Shadow 900 superboats