BRABUS Shadow 900 BLACK OPS Signature Edition
TIME FOR EVOLUTION.
BLACK. BOLD. MORE BRABUS THAN EVER. – The award-winning Shadow 900 Black Ops series is becoming bolder and darker than ever before with the BRABUS Shadow 900 Black Ops Signature Edition. This latest evolution is a compelling result of BRABUS' hallmark next-level performance, design language and attention to detail.
The available models within the series are the BRABUS Shadow 900 Spyder, a fully open version, the charismatic and adventurous BRABUS Shadow 900 Sun-Top, and the XC Cross Cabin, an ultra-luxurious SUV of the Sea and fully enclosed Cabin cruiser. Awarded with the Motor Boat Award 2022 for its confident, user-friendly and stylish performance the BRABUS Shadow 900 XC Cross Cabin is fully living and breathing the BRABUS supercar DNA.
DESIGN & APPEARANCE. BOLDER THAN EVER.
The BRABUS Shadow 900 Black Ops Signature Edition is as BRABUS as it gets. The ultimate signature look is boasting a dark, unmistakable "BRABUS Graphite Black" paint job, upholstery colors in "BRABUS Graphite" or "BRABUS Red" as well as Signature Style graphics with red Signature Stripes that run across the entire exterior design concept and are accompanied by sleek hull badges in black chrome. The edition is hand built with focus on precision and finish, the process of fairing, painting and polishing alone takes up to six weeks due to non-automated, thorough and highly labor intensive procedures.
Another highlight of this next level evolution of the renowned Black Ops series is the is the Sun Lounge, due to its high comfort-level and expanded social space on the front deck. A multitude of new features such as a new LED searchlight, black engine cowlings with gray or red accents according to individual upholstery color choices, revised fender box panels, wall pockets and LED bulwark step lights complement the boat's irresistible BRABUS appeal.
Transforming the traditional perception of what a purposeful cabin cruiser should look like, the unmistakable look of the BRABUS Shadow 900 XC has created a new yet instantly recognizable face within this popular boating genre. Utility and luxury come together; this is the ultimate cross-over, whether you're seeking out thrills or convenience, the BRABUS Shadow 900 XC delivers performance at its very heart.
"Lashings of sinister BRABUS glamour and performance to knock your socks off. A boat that makes you feel special." - Jury statement, Motor Boat Awards 2022
MESMERIZING POWER. BLISTERING PERFORMANCE AT HEART.
With a combined output of 900hp from Mercury Marine's latest dual 450R Verado XL 4.6 litre V8 FourStroke engines, this powerhouse has a superb power-to-weight ratio, offering up to 55+ knots performance at the very top-end and with up to 40 knots typical cruising speeds. Supplied exclusively with the Mercury Joystick Piloting helm control system including skyhook digital anchor and autopilot. Class-leading performance in every respect.
PREMIUM LUXURY. HIGH EXCLUSIVITY.
No restrictions, No Limits – Just like a well-designed, luxurious, high-performance 4x4 for the road, the all-weather capable Shadow 900 XC Cross Cabin is an ultra-luxurious sports utility vehicle made for the sea. With its spacious, fully enclosed weather proofed cabin, be ready to reach further and set out for next-level adventures all year around.
An ultra-luxurious cabin cruiser – Endowed with true 'go-anywhere' characteristics, while at the same time offering an extremely convivial environment, with comfortable, raised seating for seven people in the cockpit that effortlessly cossets occupants in the sophisticated luxury and bespoke detailing renowned of a BRABUS superboat. The large sliding electrical opening sun-roof and two large sliding doors open up the cabin to the elements of the day, providing the perfect ambience and lounge area to entertain guests and spent time with your loved ones.
Sign of Excellence – The helm console is finalized with the exclusive BRABUS Sign of Excellence signed by Constantin Buschmann. This sign symbolizes the promise that each boat is unique, and hand crafted to the highest possible standards by using the finest materials, newest technologies and bespoke engineering.
Masterpiece badges - The BRABUS Masterpiece badge is an unquestionable seal of quality. A sign of excellence signifying that everything possible was done in the creation of the vehicle of your dreams.
BESPOKE ENIGNEERING. NEWEST TECHNOLOGY. unique onboard experiences.
This model combines the functionality, ease of movement, social outdoor spaces and versatility of outboard walkaround centre-consoles.
Luxurious front lounge - Swathed in 'sport-pattern', cool gray and black BRABUS fine leather and Dinamica with contrasting red accents and stitching, the front cabin with a 'queen size' sleeping accommodation has a sense of space and luxury more associated with a supremely comfortable lounge. Extend the lounge experience with an optional integrated infotainment unit, comprising a 42-inch flat screen 4K TV and Apple TV connectivity to mention a few of the options available.
Taking it all in - Elevating the feeling of space inside, the Gullwing doors for the front lounge provide easy access and interaction with the outdoors. The net result adds an influx of incoming light and makes a unique connection with the natural environment by bringing the outdoors indoors and vice-versa.
The driver in focus - A clean and ergonomic helm that resembles a supercar more than anything else. Everything on the dashboard is close to hand, touchscreen technology with selected backlit switches and the newly developed multifunction steering wheel with finger-tip controls, make this one of the most modern looking consoles.
Electronics - The BRABUS Shadow 900 features a Simrad®️ dual touch -screen full width, 'Glass Helm Information Display' with an updated BRABUS User-Interface, including G-shock monitoring, access to the boat's main navigation, engine management, on board entertainment and driving-assist features. With the extended Navigation Package the helm is expanded into a four screen "bridge" setup that includes additional functions like displaying the speed for the passengers, audio controls and also a digital Panerai watch.
Smart Safety - A G-Shock sensor and 1st Mate Marine Safety & Security System are among the boat's safety and security features. The G-Shock sensor helps drivers navigate rough weather in safety while the 1st Mate System, in the form of a bracelet or fob, is connected to a mobile phone. The 1st Mate System delivers important safety alerts and offers features like man overboard monitoring, distress messaging, and a theft deterrent. All combine to enable Black OPS XC Cross-Cabin drivers to explore the world's waters worry-free.
Technical Data
| | |
| --- | --- |
| Beam | 3,35 m / 11ft |
| Draft to drops | 0,85 m / 2ft 9in |
| Weight | 4500 kg / 9920 lbs (XC Cross Cabin) |
| Outboard engines | 2*450hp |
| Top Speed | 102+ (XC Cross Cabin) km/h / 55+ (XC Cross Cabin) knots |
| Power | 662 kW / 900 hp |
| Length | 38 ft / 11,73 m |
| | |
| --- | --- |
| Passengers | 10 Cat B / 12 Cat C |
| Berths | 2 persons |
| Classification | B – Offshore, C – Costal |
| Hull design | Twin stepped 20° V "Sharp entry hull" |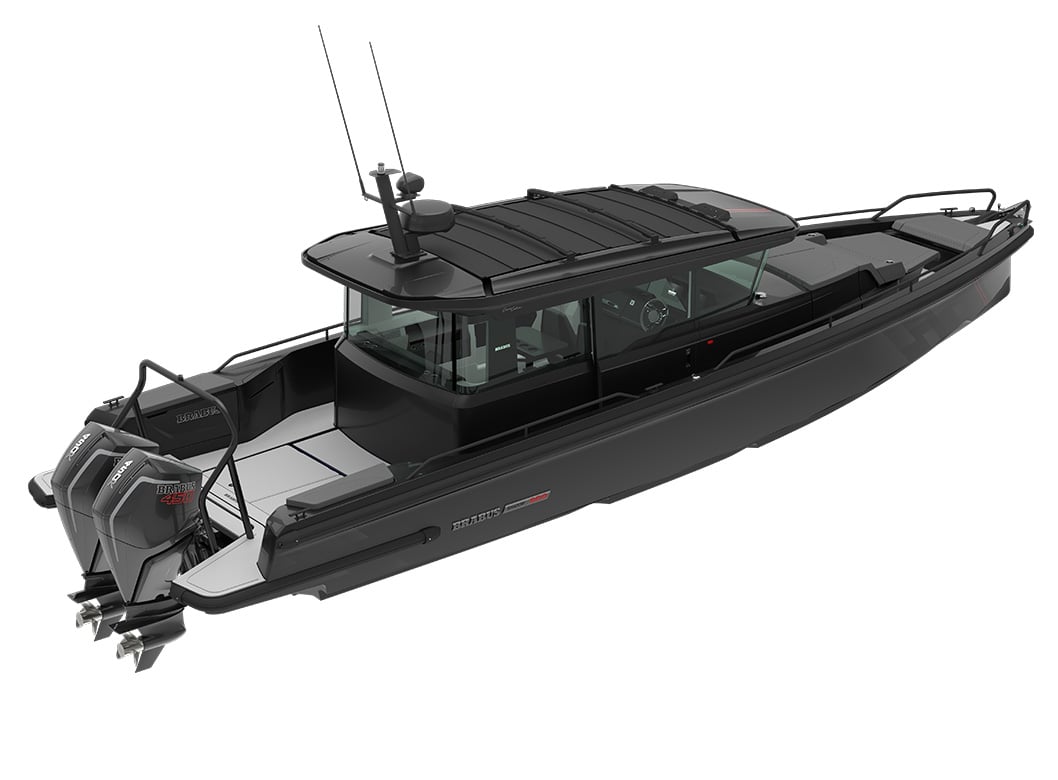 Open Aft Deck Option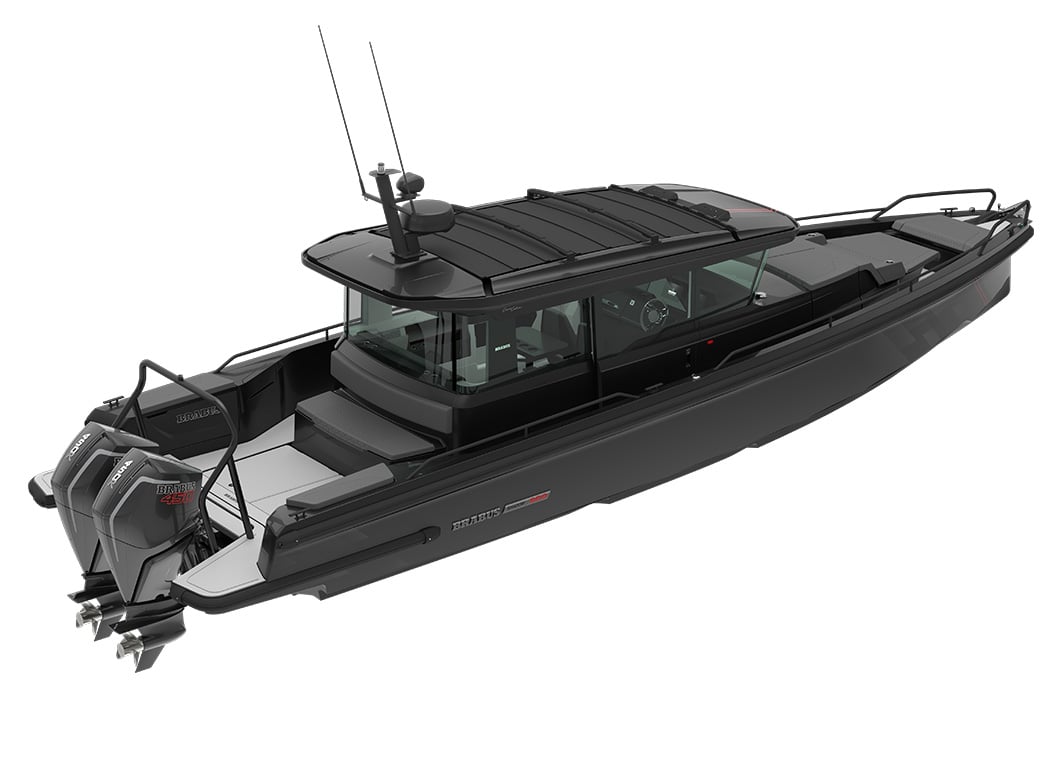 Aft Bench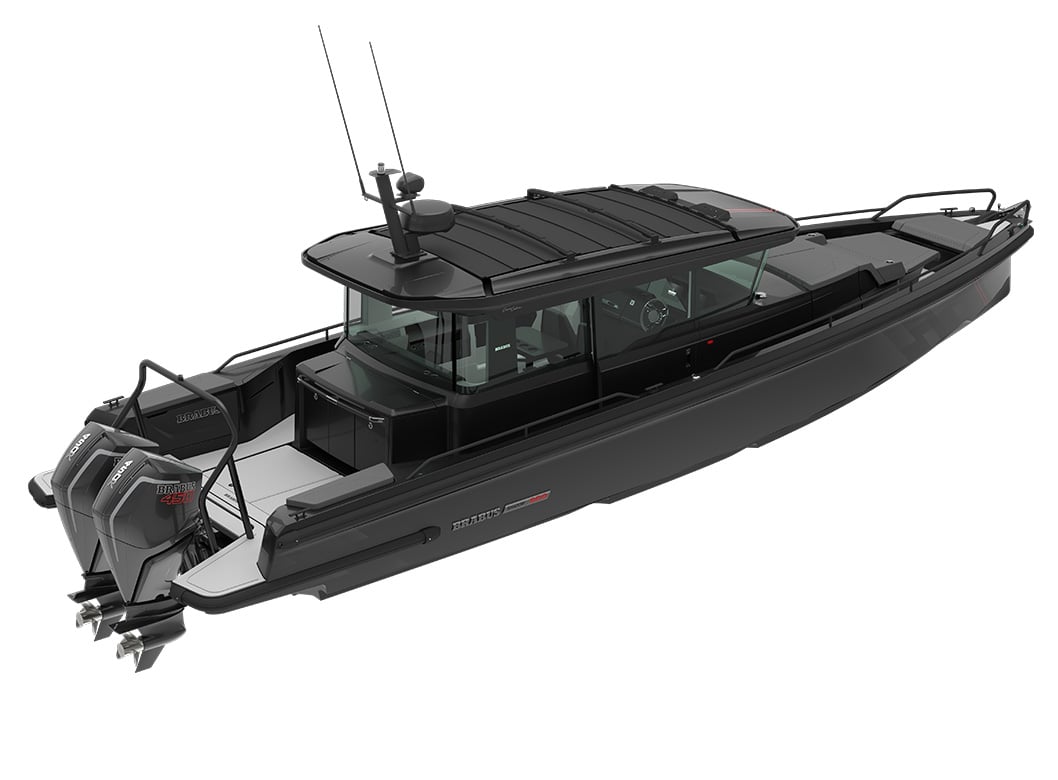 Wet Bar Package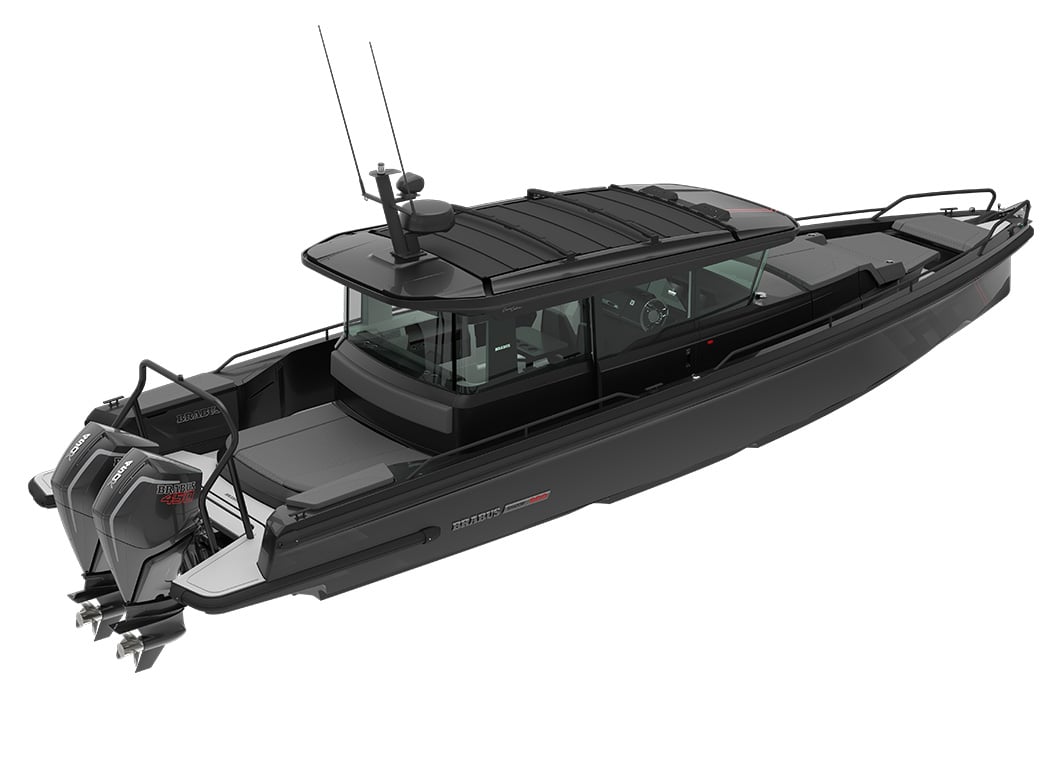 Multi Storage Compartment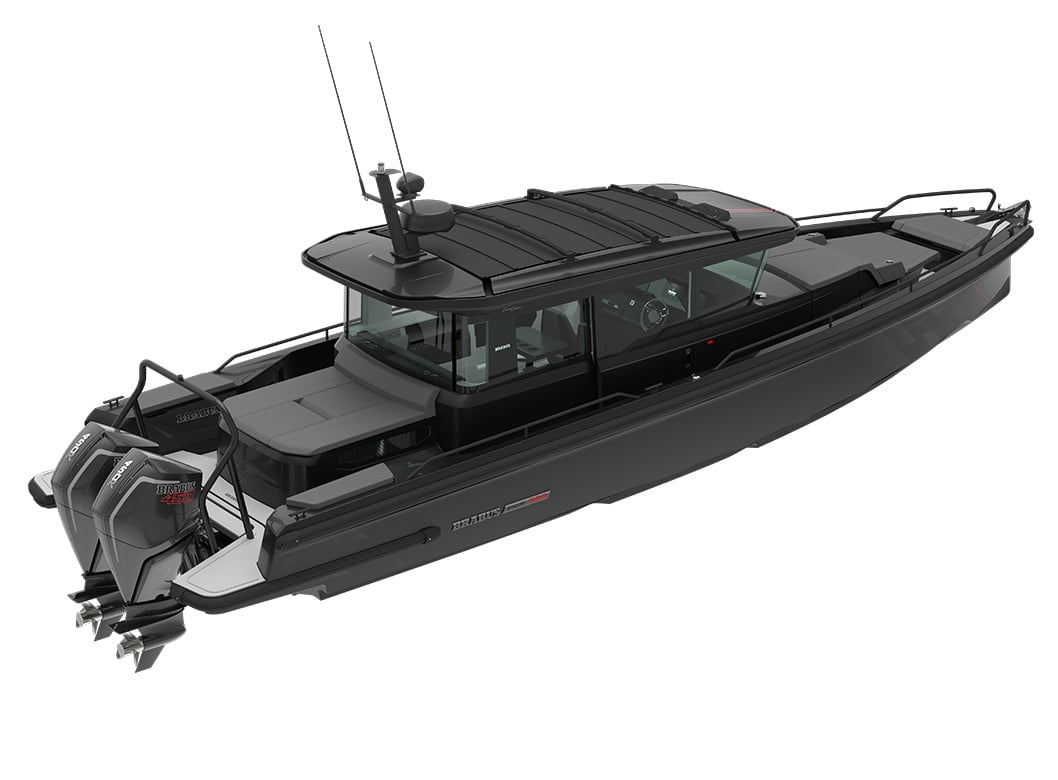 Aft-Cabin Accommodation Package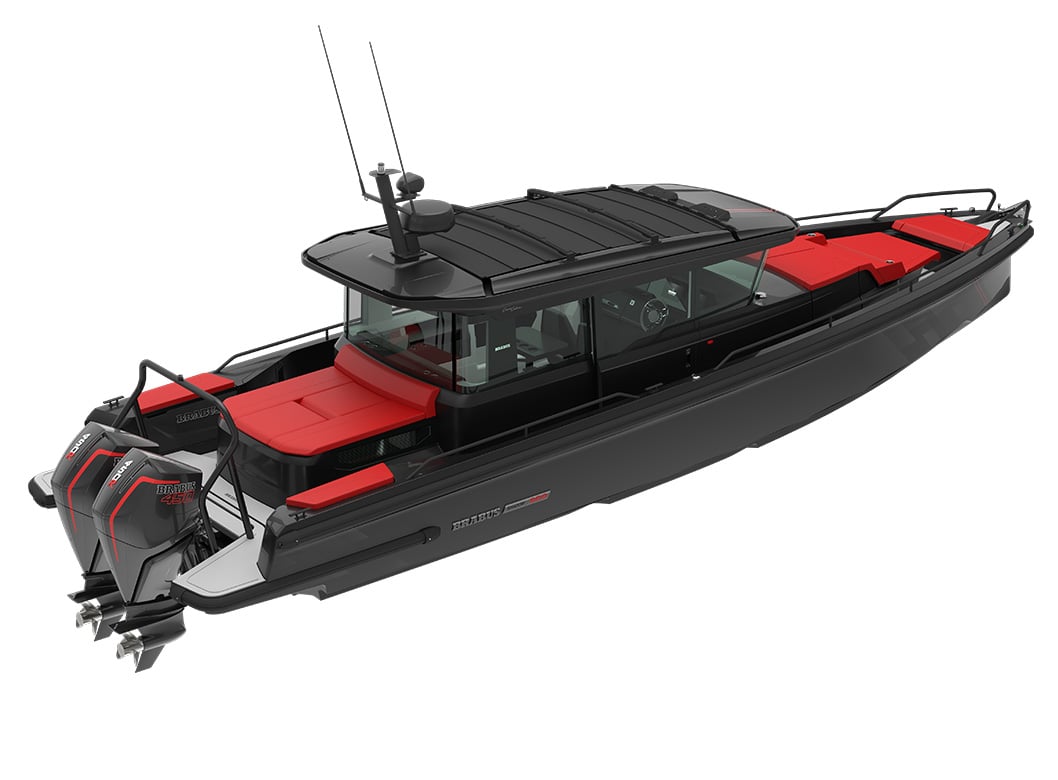 For further upholstery color choices contact your dealer
Equipment HIGhLIGHTS
Power
Dual installation Mercury Racing 450R

Verado

XL engine
Hull design
Exclusive Black Ops Signature Edition yacht paint in BRABUS Graphite Black with high labor-intensive fairing,

painting

and polishing process
Signature Style

g

raphics with red Signature Stripes

running

across the entire exterior design

concept
Sleek hull badges in black chrome
AFT LAYOUT Options
Open Aft Deck
Aft Bench
Wet Bar Package
Multi Storage Compartment
Aft-Cabin Accommodation Package
BOW Layout Options
Sun Lounge

option

: extended

s

unbathing area on the

g

ullwing doors with

additional

cup holders and storage
Sofa with table in bow

option
Upholstery colours
Exclusive BRABUS quilted upholstery in BRABUS Graphite color. (For further upholstery color choices, contact your dealer).
Main Cabin with BRABUS Fine Leather black/light gray or BRABUS Fine Leather light gray upholstery options (XC)
Front lounge in exclusive BRABUS fine leather in cool gray/black color scheme with red accents
GENERAL EQUIPMENT HIGHLIGHTS
Gullwing doors
Panerai watch integrated into the

Simrad

user

interface
Electric opening/closing of sliding

sun-roof

awning
Antifouling in dark gray
Fixed bow anchor windlass with remote control
Dashboard panels in black carbon
Full planofil cover in black
LED bulwark step lights
Integrated electric toilet under foldable L-

sofa
Fresh water system

80l

including cabinet with sink in front

lounge
BRABUS composite decking in platinum/black
Shower on aft deck, port side
Water ski pole in matt black paint
Queen size bed mattress in gray/black square pattern with red accent
Complete set of harbor covers in

red
Side rails
TECHNICAL EQUIPMENT HIGHLIGHTS
Customized "Shadow 900" User Interface
Mercury joystick piloting helm control system with skyhook digital anchor and autopilot functions
Glass bridge/information display with two 12" screens
Intelligent steering module with integrated controls
Shore-power 230V or 120V

incl.isolator

, 60Ah charger
1st mate marine safety & security System
VHF unit with handheld control unit
Fusion marine audio entertainment system
Bow thruster side -power

SE60
LED search light
Wireless phone charger
EXTENDED EQUIPMENT HIGHLIGHTS
Extended carbon fibre package: BRABUS sports seats with full carbon backrest
Carbon

fibre

LED roof light bar
Extended navigation package: extended glass bridge/ information display with two additional 9" screens, on-board connectivity and 4G/USB mobile wifi router, VHF unit with AIS receiver and Simrad Halo20+ radar (XC/ST), 5" touch display in front lounge, BRABUS Lock Box including PIN control via touch
Enclosed toilet compartment
Folding aft deck seats*
Warm water option**
Air-conditioning in front lounge ***
Air-condition in main cabin***
Heater Webasto***
Zero emission power bank
Gas cooktop on wet bar
Infotainment media wall
Roof racks
Fishing targa

*

Not available with BRABUS Aft-Cabin or Multi Storage compartment
**Warm water option not available with air-condition in both front lounge and main cabin


*** Webasto heater and AC are not available at the same time
DETAILING HIGHLIGHTS
Highly exclusive BRABUS Masterpiece badges
BRABUS Shadow 900 badging and logotypes
BRABUS 'Sign of Excellence' insignia
BRABUS double B designations and detailing
Wall pockets of front lounge in BRABUS design
Shadow 900. Range Brochure
Explore the full range of the BRABUS Shadow 900 superboats