Power 92 kW / 125 PS | Torque 200 Nm | 0-100 km/h 9.2 s | Vmax 175 km/h / 110 mph
Fuel Economy* city 5,2 l/100km | highway 4,3 l/100km | combined 4,6 l/100km | CO2 104 g/km
BRABUS Ultimate 125 Cabrio
The BRABUS ULTIMATE 125 is limited to 125 vehicles and an ultimate statement! The attention-getting power pack is the ideal city sports car with a power output of 92 kW/125 hp and a top speed of 175 km/h. The classy appointments range from the special paint finish as per customer request and the WIDESTAR widebody with forged BRABUS Monoblock Y 18-inch wheels to the exclusive all-leather interior in any conceivable color. Absolute individuality is the nature of this lively power two-seater.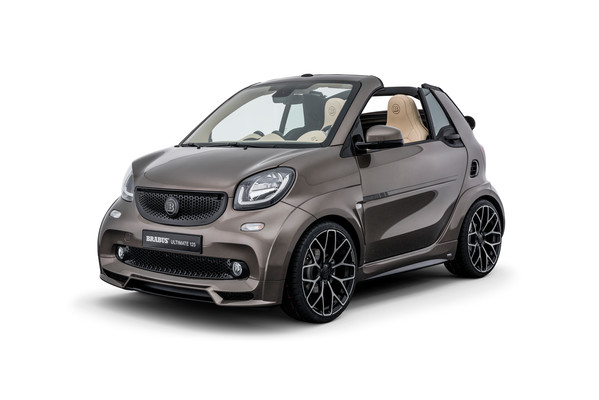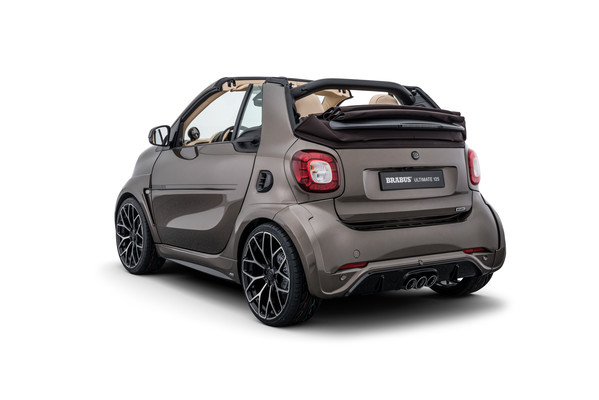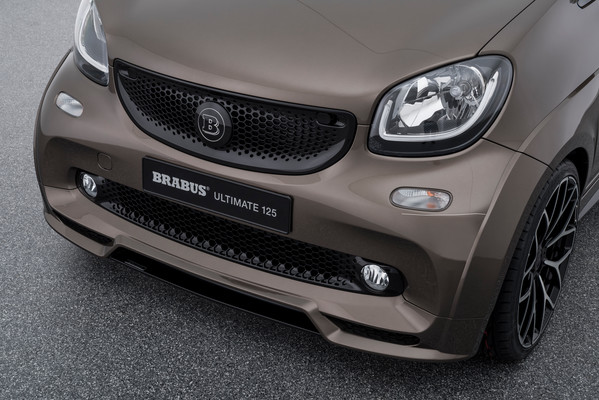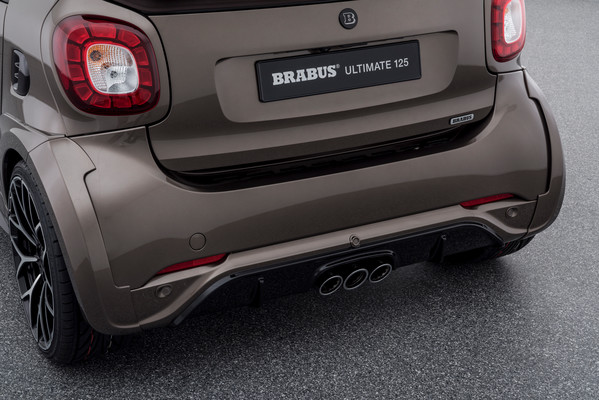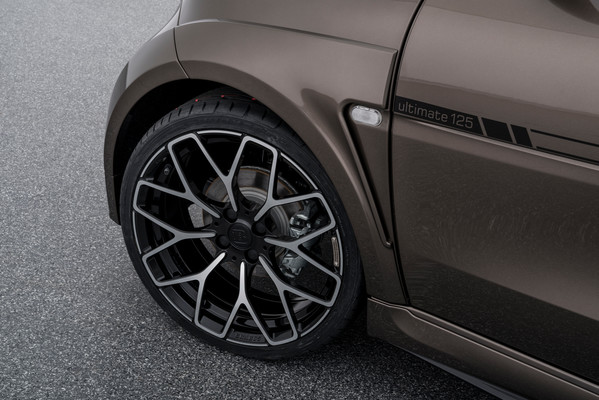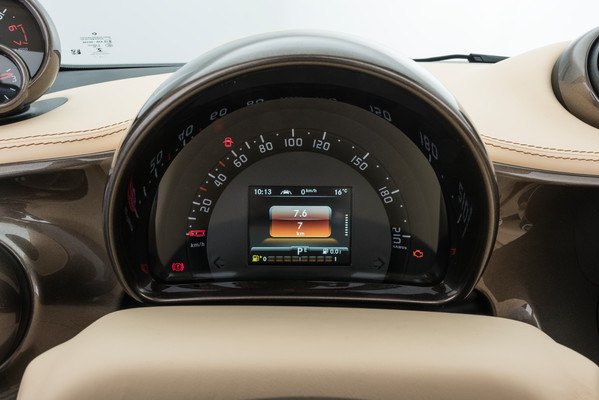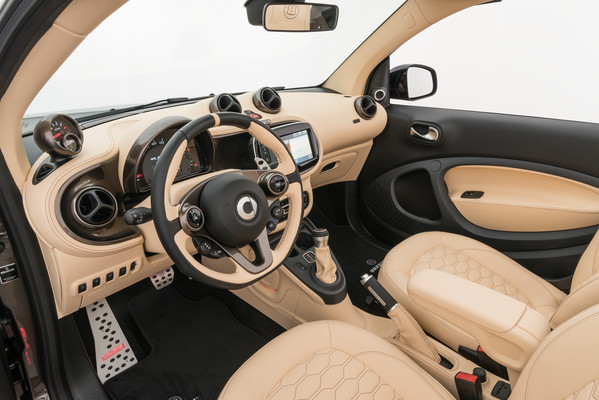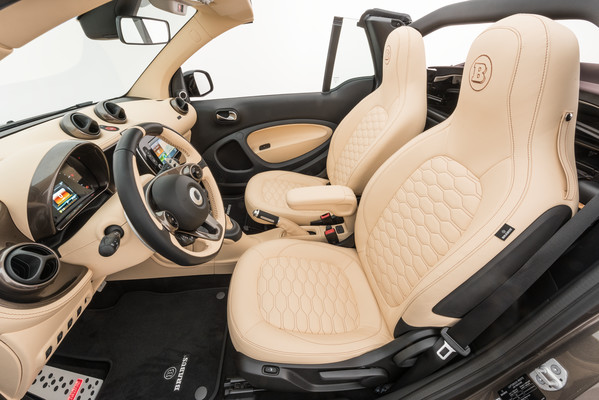 EXTERIOR.
The most noticeable special feature of the BRABUS ULTIMATE 125 is the attractive WIDESTAR widebody. Front spoiler, rocker panels and rear diffuser are made from high-quality PUR-R-Rim and emphasize the sporty appearance of the widebody version.
The dynamic driving experience is accompanied acoustically by the sport exhaust system with actively controlled flap. The BRABUS ULTIMATE diffuser provides the perfect backdrop for the three centrally positioned tailpipes.
WHEELS AND SUSPENSION.
The WIDESTAR bodywork makes the impossible possible: Space for 18-inch wheels front and back, which contributes to the unusual appearance of this supercar. The Monoblock Y forged wheels are perfect for daily driving and optimally put the power of the engine on the asphalt.
The high-performance tires are supplied by BRABUS technology partners Continental, Pirelli or YOKOHAMA.
The BRABUS sport suspension is specifically tuned to the ultra-low-profile tires and the wide track. It combines safe and agile handling with the desired ride quality.
POWER & SOUND.
The BRABUS three-cylinder turbo engines turns the BRABUS ULTIMATE 125 into a unique city sports car with a peak power output of 92 kW/125 hp at 5,550 rpm and a peak torque of 200 Nm, which in this class of vehicles is outstanding. Gears in the BRABUS ULTIMATE 125 are shifted either automatically or manually with paddle shifters on the steering wheel like in Formula 1 racing.
With a sprint time of just 9.2 seconds from rest to 100 km/h and an electronically limited top speed of 175 km/h, the agile champion also sets benchmarks in these disciplines.
INTERIOR.
The ULTIMATE 125 sports exquisite highlights in the interior: Each vehicle is fitted with a handmade custom BRABUS fine leather interior. The choice of interior designs is just as endless as the range of available colors for the bodywork.
Parts of the interior of this vehicle are covered with especially soft and breathable 'Blu Glauco' BRABUS fine leather for illustrative purposes. Black leather in various places adds interesting contrast, as does the pinpoint-precision black honeycomb quilting.
Scuff plates with BRABUS ULTIMATE 125 logo lighting up in white or red, a stainless-steel footrest and velour floor mats emphasize the elegant looks. BRABUS stainless-steel pedals as well as an aluminum shift knob and parking brake lever perfect the thrilling interior design.
DESIGN & EXTERIOR
BRABUS Carbon Package Body
BRABUS WIDESTAR widebody
BRABUS front spoiler with front flaps
BRABUS rocker panels
BRABUS mirror caps
BRABUS 'Royal Bronze' special paintwork
BRABUS rear diffuser
BRABUS Brand Package Exterior
BRABUS hood emblem
BRABUS logotype on vehicle sides
BRABUS emblem on trunk lid
BRABUS logotype on trunk lid
POWER & SOUND
Exhaust Systems
BRABUS exhaust system with actively controlled flap, triple-exit design
PowerXtra (Powerboost)
BRABUS PowerXtra 125
WHEELS & SUSPENSION
Wheels
BRABUS Monoblock Y 18"
Suspensions / Modules
BRABUS sport suspension
INTERIOR
BRABUS fine leather Interior
Every supercar is a custom production and tailored to your preferences. Please contact us to compose your personal configuration.
For illustrative purposes on this supercar:

Special quilting, Leather Completion Package
BRABUS Interior Package Accessories
Aluminum pedal pads
Backlit scuff plates
BRABUS RACE aluminum paddle shifters
Aluminum door-lock pins
Performance & Fuel Economy
Technical Data
| | |
| --- | --- |
| Engine size | 898 cm3 |
| Power | 92 kW / 125 PS |
| Torque | 200 Nm |
| 0-100 km/h | 9.2 s |
| 0-200 km/h | s |
| 0-60 mph | 9.2 s |
| 0-120 mph | s |
| Vmax | 175 km/h / 110 mph |
Fuel Economy
| | |
| --- | --- |
| city | 5,2 l/100km |
| highway | 4,3 l/100km |
| combined | 4,6 l/100km |
| CO2 Emissions | 104 g/km |
Notices
* All stated driving performance figures are approximate values. They depend on vehicle-specific details such as the vehicle model, equipment, curb weight, final-drive ratio, tire/wheel combination, transmission design and aerodynamic equipment of the individual vehicle. Details of performance upgrades and/or performance kits are average values. Deviations of +/- 5% are possible due to test conditions. Details about the total power output of factory engines modified with performance upgrades and/or performance kits are based on the manufacturer specifications in the vehicle title, which themselves can deviate by +/- 5%. BRABUS assumes no liability for reduced outputs of factory engines going beyond this. Subject to technical modifications without notice. The stated figures were determined in accordance with the prescribed measuring method (Directive 80/1268/EEC in the currently valid version). The figures do not refer to an individual vehicle and are not part of the offer, but are solely intended for comparison between different vehicle models.
** All prices valid ex-factory Bottrop.
*** Torque was electronically controlled.
Efficiency & Fuel Economy
Fuel Economy*
city 5,2 l/100km
highway 4,3 l/100km
combined 4,6 l/100km
CO2 104 g/km