Power 68 kW / 92 PS | Torque 180 Nm | 0-100 km/h 10.9 s | Vmax 130 km/h / 81 mph
Fuel Economy* city - l/100km | highway - l/100km | combined - l/100km | CO2 - g/km
BRABUS Ultimate E Shadow Edition "1 of 28"
In the BRABUS Ultimate E Shadow Edition "1 of 28" city sports car, the two teams pooled their expertise to build a "tender" for the new recreational craft presented by BRABUS Marine early this year – the BRABUS 500 "Shadow OPS" Limited Edition "1 of 28".
The agile city sports car that goes with this boat is based on the smart EQ fortwo cabrio and thanks to its electric motor uprated to 68 kW / 92 hp (91 bhp) with four different drive modes it is the first vehicle of its category with motor tuning.
Powered by this motor, the refined two-seater sprints from rest to 100 km/h (62 mph) in just 10.9 seconds. The car has a top speed of 130 km/h (81 mph).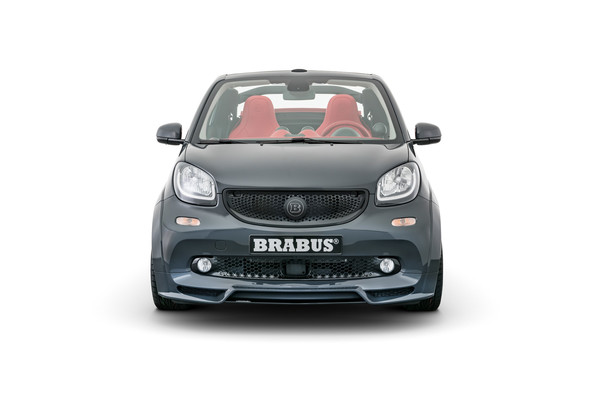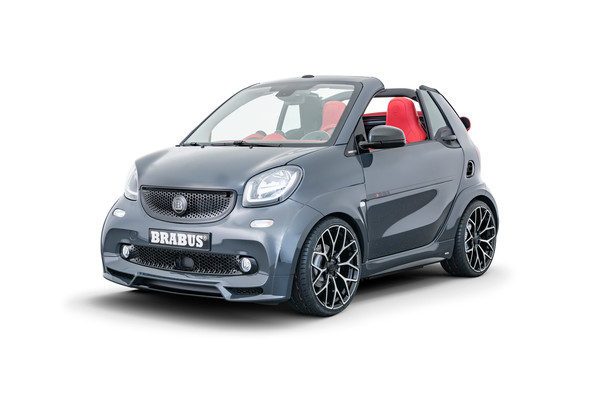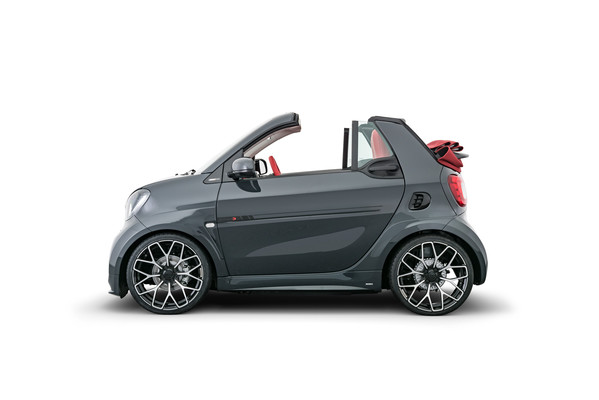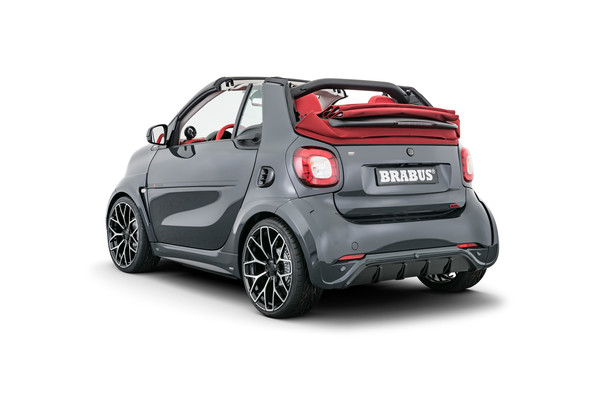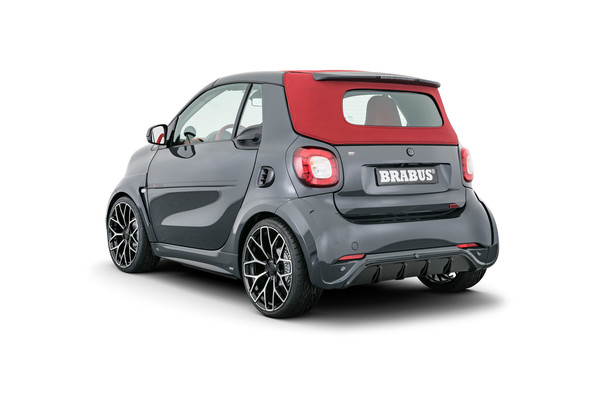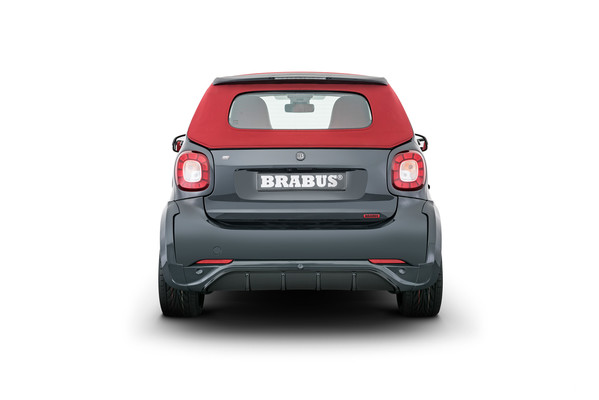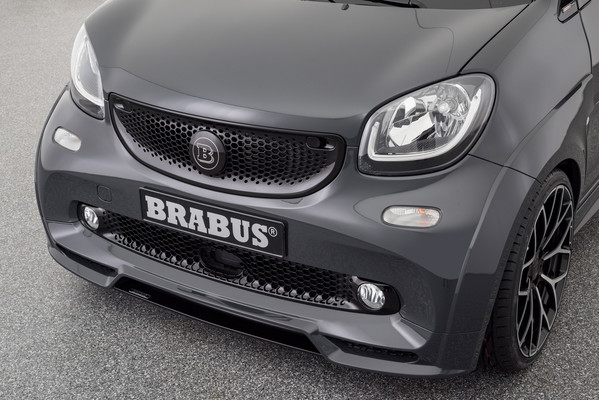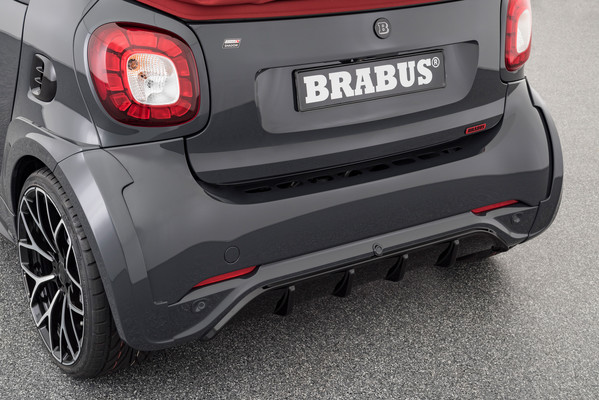 Exterior.
The dynamic agility of the "pocket rocket" from BRABUS is accompanied by a strikingly styled widebody version with 18-inch forged wheels and a luxurious BRABUS fine leather interior.
The design of the BRABUS Ultimate E Shadow Edition "1 of 28" special model drew on the expertise of BRABUS ZERO EMISSION.
However, the "tender" city sports car captivates not only with its eco-friendly and at the same time fascinatingly dynamic powertrain: The design of the city sports car also sets itself apart from the crowd! The two-seater is a preeminent eye-catcher not only thanks to its gunmetal gray special paintwork, but also thanks to its thrilling WIDESTAR body, which is exclusively reserved for the vehicles of the limited BRABUS Ultimate special editions.
Wheels & chassis
The widebody version has a sporty and dynamic design with fender flares at the front and rear axle. They create space for 18-inch wheels with low-profile tires, which are highly unusual for an electric car of this size. Hi-tech forging technology is used to produce especially lightweight BRABUS Monoblock Y forged wheels for the current BRABUS Ultimate supercars based on the latest smart generation.
The high-performance tires are supplied by BRABUS technology partners Continental, Pirelli or YOKOHAMA.
The BRABUS suspension was specifically calibrated to the weight of the electric car, the ultra-low-profile tires and the wider track. It combines sporty and safe handling with the desired ride quality.
Power & Agility
BRABUS stands for high performance and consequently the development engineers did of course not settle for the stock output of 60 kW / 82 hp (80 bhp). Thus, they developed a performance upgrade for an electric car, making BRABUS the first company in the world to do so. The BRABUS PowerXtra performance upgrade includes a reprogrammed torque control system, special modules for the driving dynamics switch and the accelerator pedal as well as a special gateway. These measures allowed unleashing and using the inherent reserves in this electric powertrain.
In "Sport +" mode, the BRABUS two-seater sprints from rest to 100 km/h (62 mph) in just 10.9 seconds. The top speed remains limited to 130 km/h (81 mph).
It goes without saying that the exclusive city sports car remains completely carbon-neutral despite its increased performance. Depending on the driving style, the BRABUS Ultimate E Shadow Edition "1 of 28" has a range of up to 125 kilometers (78 miles) on one battery charge.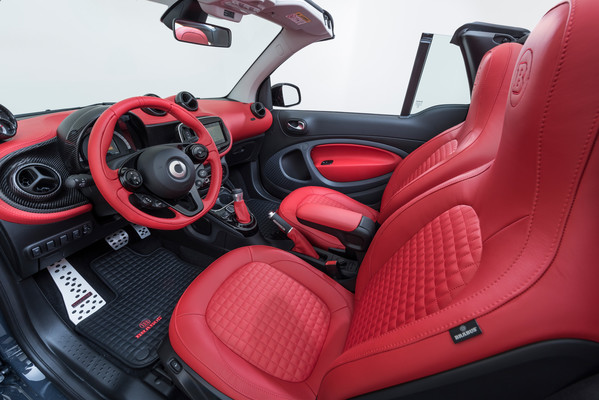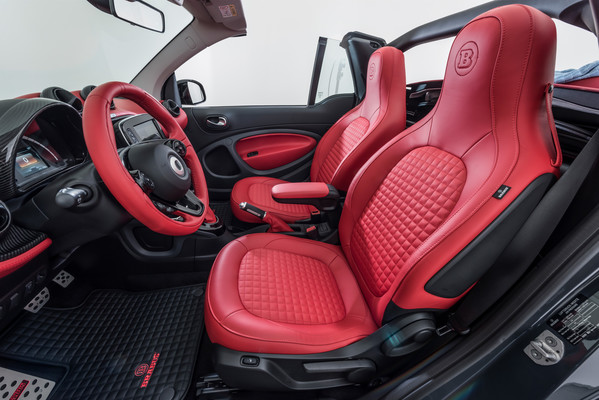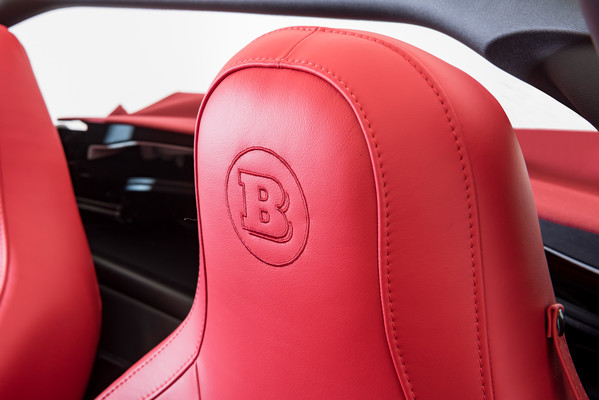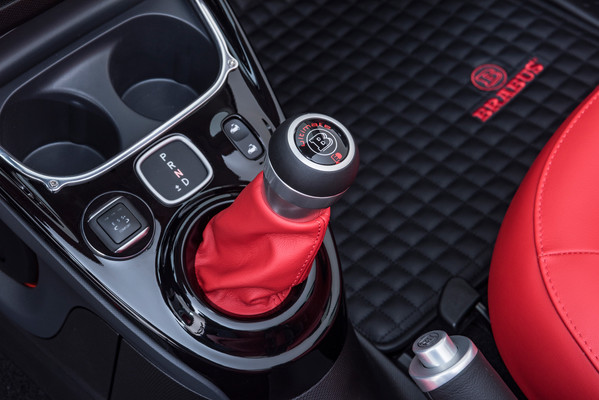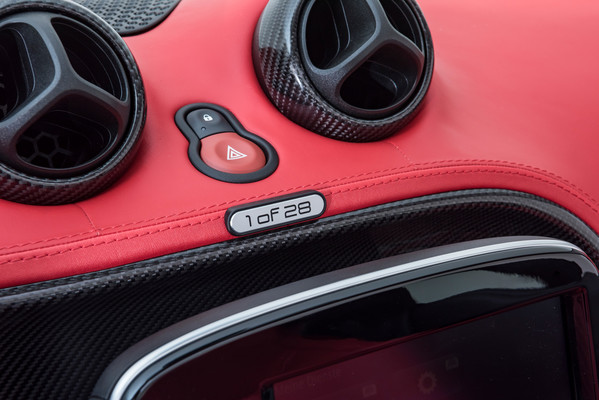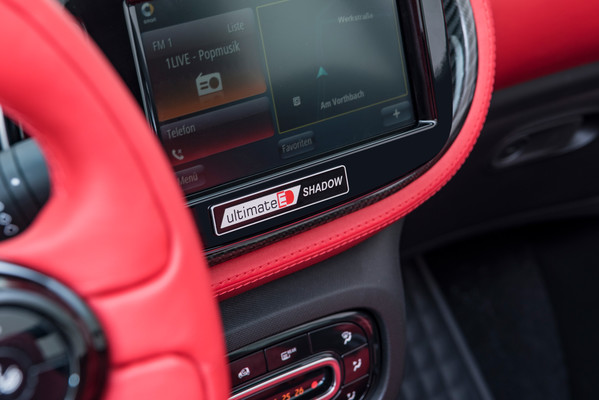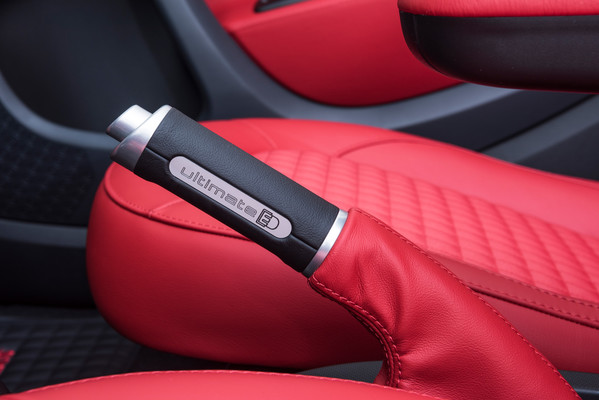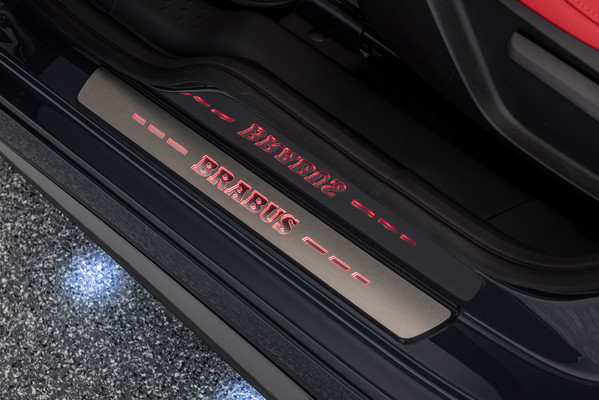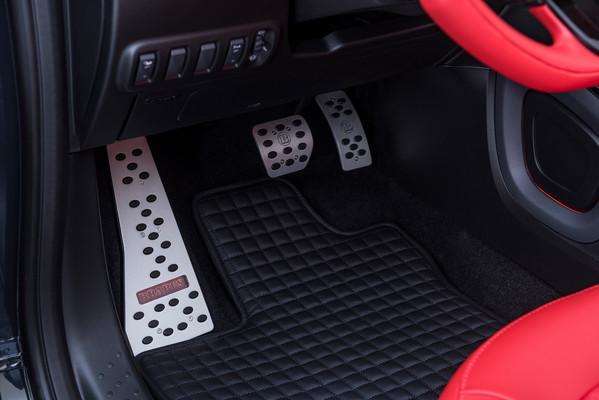 INTERIoR. individual handmade masterpieces.
BRABUS fine leather interior in a combination of especially soft and breathable BRABUS Mastik leather and Silvertex fabric for the seat surfaces. The red is exactly the same that also adorns the seats and lounger area of the boat. This color is found not only on the seats, the inner sections of the door panels and the steering wheel rim, but also on the dashboard. The lovingly finished details of this exclusive all-leather interior also include square quilting of the seat surfaces applied with pinpoint precision.
For a markedly sporty contrast, the BRABUS interior designers created naked-carbon components for the instrument cluster bezel, the air vent rings and the gage holding a charging indicator and clock mounted on top of the left side of the dashboard. The BRABUS aluminum pedals, shift knob and parking brake lever add another touch of racing looks to the interior.
EQUIPMENT HIGHLIGHTS
DESIGN & EXTERIOR
BRABUS Carbon Package Body
BRABUS front spoiler with front flaps
BRABUS side panels –illuminated-
BRABUS rear diffusor
BRABUS fender flares
POWER & SOUND
Engine
BRABUS Performance Upgrade
+ 8 kW / 10 PS auf 68 kW / 92 PS
Torque: 180 Nm
Top speed: 130 km/h
WHEELS & SUSPENSION
Wheels
BRABUS Monoblock Y 7,0J x 18 ET 27 VA
BRABUS Monoblock Y 7,0J x 18 ET 27 HA
Suspensions & Modules
BRABUS sports suspension
INTERIoR
BRABUS fine leather Interior
Every supercar is a custom production and tailored to your preferences. Please contact us to compose your personal configuration.
For illustrative purposes on this supercar:
BRABUS fine-leather interior with special quilting
colour / material: red-black / silver tex
BRABUS Interior Package Accessoires
BRABUS entrance panels -illuminated-
BRABUS pedal pads incl. footrest
BRABUS shift pedals
BRABUS handbrake lever
BRABUS sports steering wheel in leather
BRABUS gear shift lever with sleeve in leather
BRABUS floor mats with ultimate Logo
Performance & Fuel Economy
Technical Data
| | |
| --- | --- |
| Engine size | - cm3 |
| Power | 68 kW / 92 PS |
| Torque | 180 Nm |
| 0-100 km/h | 10.9 s |
| 0-60 mph | 10.9 s |
| Vmax | 130 km/h / 81 mph |
Fuel Economy
| | |
| --- | --- |
| city | - l/100km |
| highway | - l/100km |
| combined | - l/100km |
| CO2 Emissions | - g/km |
Notices
* All stated driving performance figures are approximate values. They depend on vehicle-specific details such as the vehicle model, equipment, curb weight, final-drive ratio, tire/wheel combination, transmission design and aerodynamic equipment of the individual vehicle. Details of performance upgrades and/or performance kits are average values. Deviations of +/- 5% are possible due to test conditions. Details about the total power output of factory engines modified with performance upgrades and/or performance kits are based on the manufacturer specifications in the vehicle title, which themselves can deviate by +/- 5%. BRABUS assumes no liability for reduced outputs of factory engines going beyond this. Subject to technical modifications without notice. The stated figures were determined in accordance with the prescribed measuring method (Directive 80/1268/EEC in the currently valid version). The figures do not refer to an individual vehicle and are not part of the offer, but are solely intended for comparison between different vehicle models.
** All prices valid ex-factory Bottrop.
*** Torque was electronically controlled.
Efficiency & Fuel Economy
Fuel Economy*
city - l/100km
highway - l/100km
combined - l/100km
CO2 - g/km