Power 625 kW / 850 PS | Torque 1450* Nm | 0-100 km/h 4.0 s | Vmax 260 km/h / 160 mph
Fuel Economy* city 17,2 l/100km | highway 11,8 l/100km | combined 13,8 l/100km | CO2 322 g/km
BRABUS 850
BRABUS 850 6.0 Biturbo WIDESTAR – the exclusive power off-roader based on the Mercedes G 63 demonstrates confidence. The V8 increased-displacement engine rated at 625 kW/850 hp and producing a peak torque of 1,450 Nm pushes the all-wheel-drive wonder from rest to 100 km/h in 4.0 seconds despite weighing 2,550 kg. The top speed is electronically limited to 260 km/h. The boxy off-roader also makes a clear visual statement with its thrilling BRABUS WIDESTAR widebody and 23-inch "PLATINUM EDITION" forged wheels. The outstanding aerodynamic-enhancement concept underscores the unmistakable character of this ultra-powerful off-roader. The tailor-made interior design and the impressive multimedia equipment offer the ultimate comfort in the interior.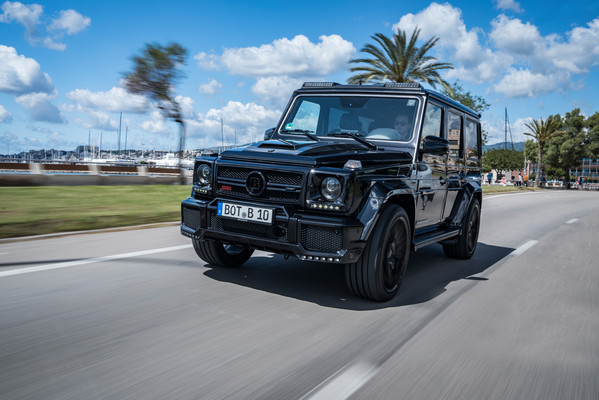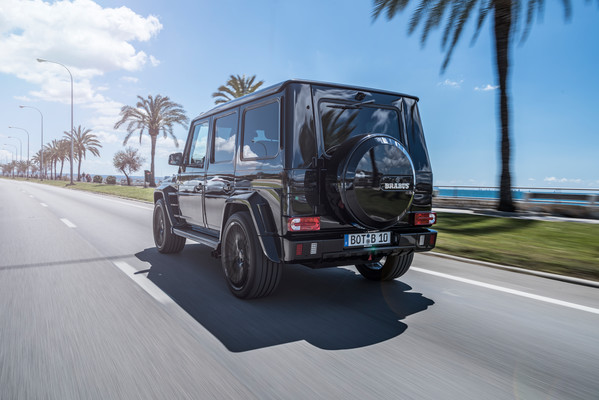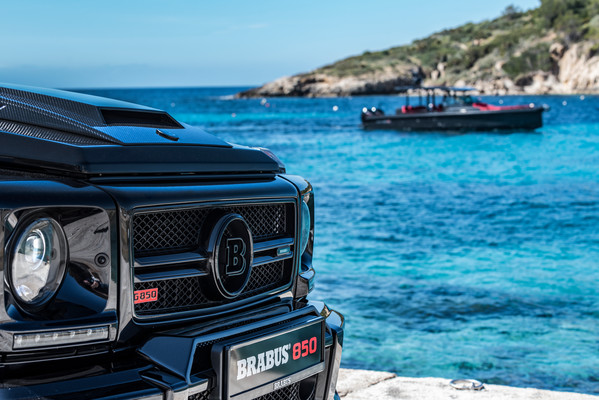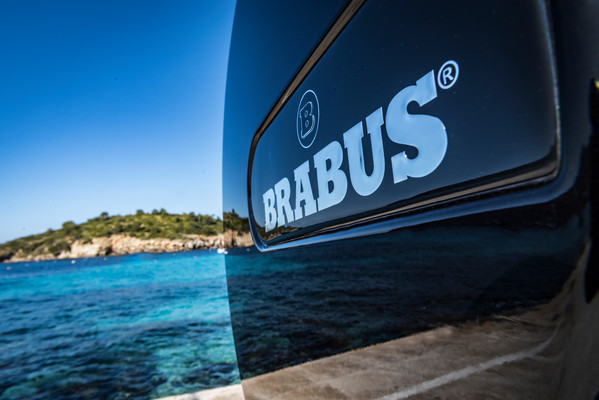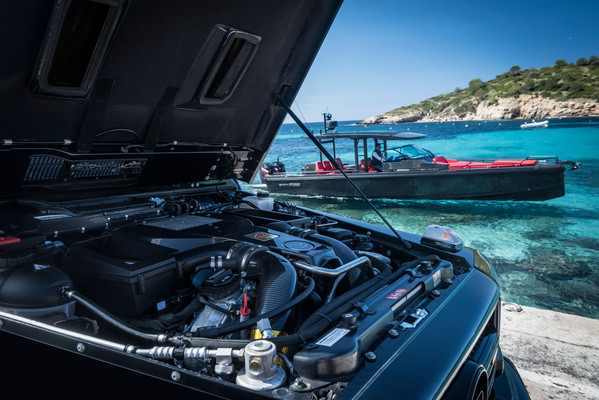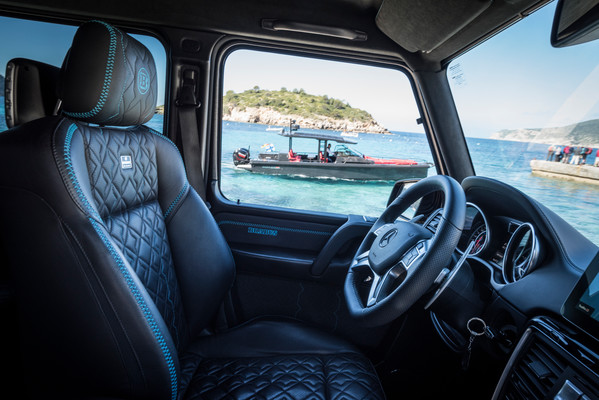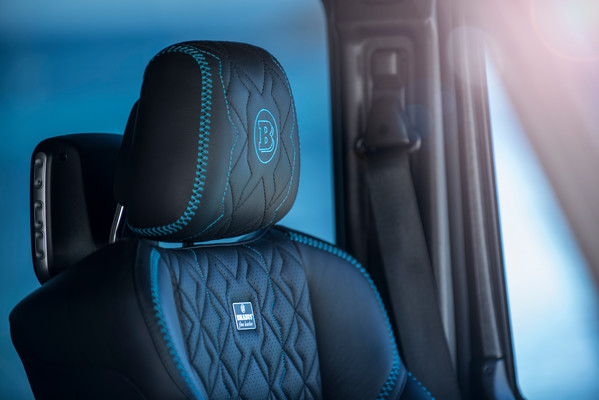 EXTERIOR. Striking looks.
The front spoiler and the special LED lights characterize the face of the off-roader. Black-tinted xenon headlamps and LED daytime running lights help style the unmistakable front view.
The absolute eye-catcher of the BRABUS 850 is the thrilling BRABUS WIDESTAR widebody: The strikingly styled fenders give the off-roader an appearance with great recognition value from the sides as well. The BRABUS signets integrated into both sides light up when the entrance lights are activated. The WIDESTAR rear bumper takes up the unusual design idiom and round off the rear view in perfect style.
WHEELS AND SUSPENSION. Giant.
Lightweight construction and maximum load-bearing capacity are the special traits of the BRABUS Monoblock "PLATINUM EDITION" forged wheels in four exceptional designs. The BRABUS WIDESTAR version offers the optimal space for the large 23-inch hi-tech wheels.
The high-performance tires are supplied by BRABUS technology partners Continental, Pirelli or YOKOHAMA.
For a perfect combination of high ride quality and safe, agile handling, the BRABUS 850 WIDESTAR is equipped with an innovative BRABUS Ride Control suspension and two-way adjustable electrically adjustable shock absorbers.
POWER & SOUND. Violent.
BRABUS 850 – racer inside! The combination of the ultra-powerful BRABUS 850 6.0 Biturbo increased-displacement engine, SPEEDSHIFT PLUS 7G-TRONIC transmission and permanent all-wheel drive delivers performance on the road that used to seem more realistic for a sports car than a mighty off-roader. This engine in a class of its own puts out 625 kW / 850 hp and pushes the all-wheel-drive off-roader from rest to 100 km/h in just 4.0 seconds. The top speed is electronically limited to 260 km/h to protect the tires. A special BRABUS 850 intake module and a naked-carbon hood scoop with "Chequered Flag" design ensure an optimal air supply for the engine thanks to a sophisticated air duct system.
This BRABUS 850 offers impressive sound at the touch of a button: The twin-turbo V8 sounds markedly powerful in 'Sport' mode, while the driver can select the "Coming Home" mode for an unobtrusive, softer sound.
INTERIOR. Distinct to your wishes.
The interior of the BRABUS 850 WIDESTAR is impressive as well: Like every BRABUS supercar, it is fitted with custom multimedia equipment and a BRABUS fine leather interior handcrafted to personal preferences. For illustrative purposes, this masterpiece features especially soft and breathable black BRABUS fine leather with turquois decorative seams and a fine headliner made from Alcantara.
Two adjustable, heated and ventilated bucket seats provide maximum comfort in the rear compartment. The tailor-made multimedia center console features integrated retractable tables, a charger for smartphones, several USB ports and 12-volt outlets, as well as a small refrigerator for refreshments on the road.
DESIGN & EXTERIOR
BRABUS Carbon Package Body
BRABUS LED daytime running lights - below headlamps - black
BRABUS front fascia attachment
BRABUS roof spoiler with integral brake light
BRABUS mirror caps with naked-carbon finish
BRABUS Brand Package Exterior
BRABUS double-B insert front grille
BRABUS logos and emblems
POWER & SOUND
Exhaust Systems
BRABUS exhaust system with actively controlled flaps
Engine (Powerboost)
BRABUS 850 increased-displacement engine
WHEELS & SUSPENSION
Wheels
Forged BRABUS Monoblock R "Platinum Edition" 11J x 23 H2 alloy wheels with 5-double-spoke design
Suspensions / Modules
BRABUS Ride Control special suspension
INTERIOR
BRABUS fine leather Interior
BRABUS fine leather Interior
BRABUS Starry Sky
BRABUS Interior Package Accessories
BRABUS aluminium pedal pads
Performance & Fuel Economy
Technical Data
| | |
| --- | --- |
| Engine size | 5912 cm3 |
| Power | 625 kW / 850 PS |
| Torque | 1450* Nm |
| 0-100 km/h | 4.0 s |
| 0-60 mph | 4.0 s |
| Vmax | 260 km/h / 160 mph |
Fuel Economy
| | |
| --- | --- |
| city | 17,2 l/100km |
| highway | 11,8 l/100km |
| combined | 13,8 l/100km |
| CO2 Emissions | 322 g/km |
Notices
* All stated driving performance figures are approximate values. They depend on vehicle-specific details such as the vehicle model, equipment, curb weight, final-drive ratio, tire/wheel combination, transmission design and aerodynamic equipment of the individual vehicle. Details of performance upgrades and/or performance kits are average values. Deviations of +/- 5% are possible due to test conditions. Details about the total power output of factory engines modified with performance upgrades and/or performance kits are based on the manufacturer specifications in the vehicle title, which themselves can deviate by +/- 5%. BRABUS assumes no liability for reduced outputs of factory engines going beyond this. Subject to technical modifications without notice. The stated figures were determined in accordance with the prescribed measuring method (Directive 80/1268/EEC in the currently valid version). The figures do not refer to an individual vehicle and are not part of the offer, but are solely intended for comparison between different vehicle models.
** All prices valid ex-factory Bottrop.
*** Torque was electronically controlled.
Efficiency & Fuel Economy
Fuel Economy*
city 17,2 l/100km
highway 11,8 l/100km
combined 13,8 l/100km
CO2 322 g/km