Power 625 kW / 850 hp | Torque 1450 Nm | 0-100 km/h 3.8 s | Vmax 320 km/h / 200 mph
Fuel Economy* city 15,8 l/100km | highway 9,7 l/100km | combined 11,9 l/100km | CO2 278 g/km
BRABUS 850 Coupé
A real power pack with dynamic handling: The BRABUS 850 is the most powerful and fastest SUV coupe from BRABUS. The engine produces a peak output of 625 kW / 850 hp and a peak torque of 1,450 Nm and shoots the supercar from rest to 100 km/h in 3.8 seconds. The top speed is electronically limited to an impressive 320 km/h. The SUV is based on the Mercedes GLE 63 4MATIC and powered by a bullish twin-turbo six-liter V8.
The sporty-dynamic aerodynamic-enhancement kit made from carbon lends the SUV a uniquely powerful appearance. Another visual highlight is the tire/wheel combination specially developed in cooperation with Continental: The 23-inch BRABUS PLATINUM EDITION wheels are the jewel in the crown of the exceptional physique. The custom-designed interior impresses with BRABUS fine leather appointments crafted from the finest leather and Alcantara in any desired color.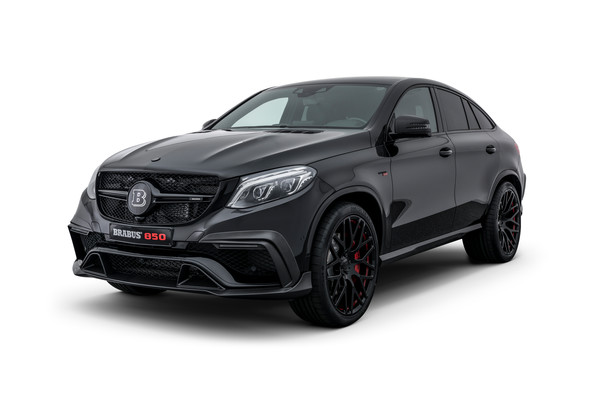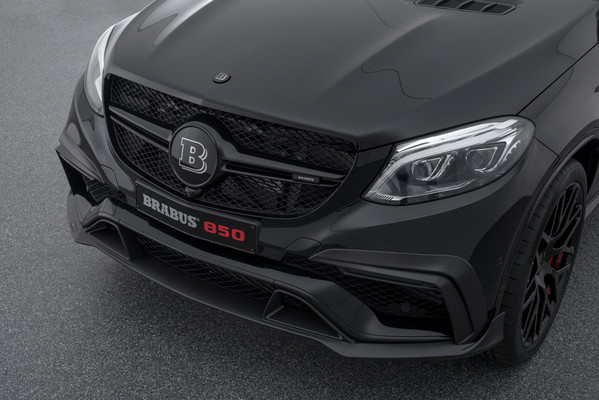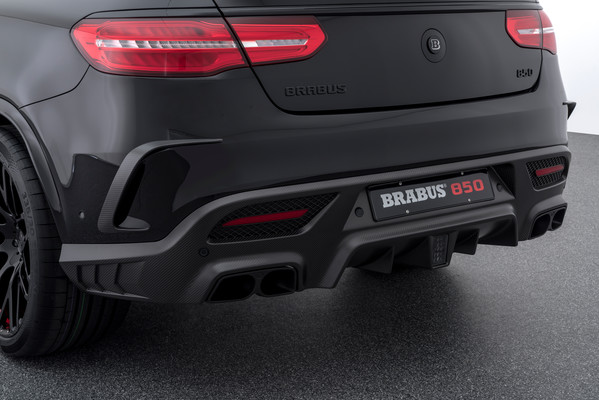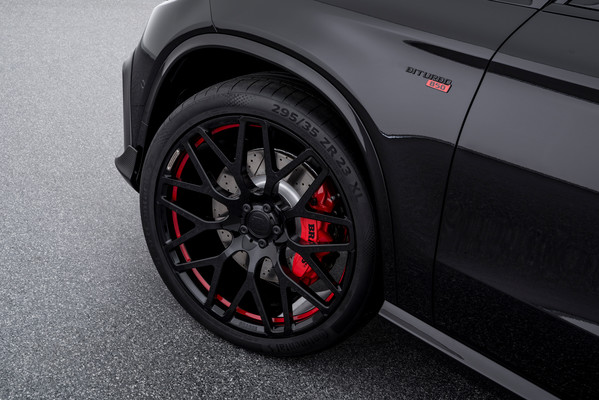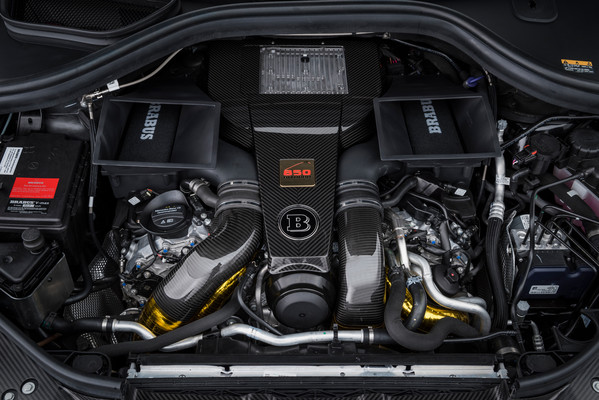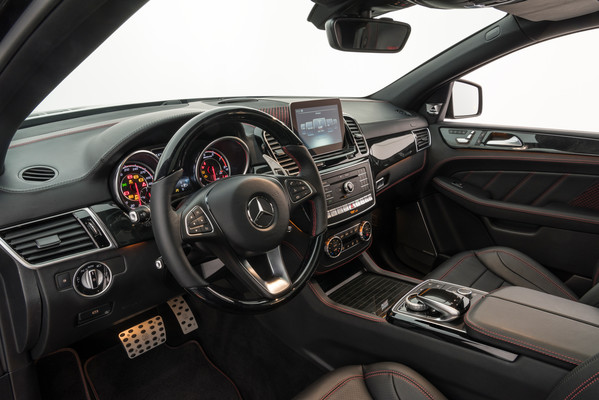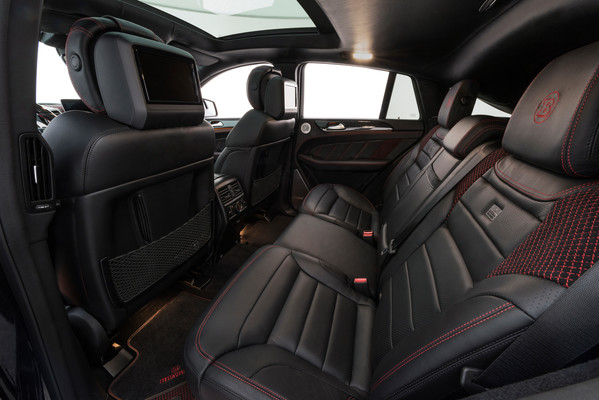 Design & Exterior. Thrilling looks.
The exterior is where thrilling looks meet aerodynamic efficiency: The carbon-fiber aerodynamic-enhancement concept lends the BRABUS 850 a sporty-elegant presence.
The athletic front is emphasized by the front spoiler lip and precise-fit air ducts in the front bumper. Side air vents, rear diffuser and roof spoiler add further attractive highlights and round off the aerodynamic-enhancement concept in perfect style.
Wheels & Chassis. Optimized driving dynamics.
The tailor-made 23-inch BRABUS Monoblock "PLATINUM EDITION" forged wheels put the tremendous performance of the BRABUS 850 optimally on the road. The many available designs of the hi-tech alloy wheels ensure an individual appearance.
The high-performance tires are supplied by BRABUS technology partners Continental, Pirelli or YOKOHAMA.
The highest possible level of driving dynamics is ensured by the perfectly tuned suspension, which also benefits the looks of the BRABUS 850.
POWER & SOUND: BRABUS TURNS IT UP
The sporty highlight of the BRABUS 850 is its twin-turbo eight-cylinder engine. The engine produces a peak output of 625 kW / 850 hp at a low 5,400 rpm and a huge peak torque of 1,450 Nm* between 2,500 and 4,500 rpm. It accelerates the BRABUS 850 from rest to 100 km/h in just 3.8 seconds. The top speed is electronically limited to 320 km/h. The BRABUS 850 intake module ensures an optimal air supply for the engine.
The BRABUS 850 offers impressive sound at the touch of a button: The exhaust note is markedly powerful in 'Sport' mode, while the driver can select the "Coming Home" mode for an unobtrusive, quiet sound.
INTERIOR. AS INDividual as you.
The BRABUS 850 also features a host of exclusive highlights in the interior: The BRABUS upholsterers meticulously turn the finest and breathable BRABUS leather and Alcantara in any desired color by hand into individual interior appointments. The precious-wood and carbon-fiber accent components also offer maximum variety in terms of color and surface finished.
For illustrative purposes, this vehicle features black leather, highlighted with red contrasting seams and piping. The exquisite appointments also include embroidered "850" logos on the head restraints.
An extensive selection of accessories such as, for example, aluminum door-lock pins and pedals or stainless-steel scuff plates with backlit BRABUS logo complete the high-class interior.
DESIGN & EXTERIOR
BRABUS Carbon Package Body
BRABUS front spoiler lip
BRABUS front fascia attachements
BRABUS special painting of all chrome and plastic components in vehicle color
BRABUS rear diffuser
BRABUS rear fascia attachments
BRABUS rear spoiler
BRABUS Brand Package Exterior
BRABUS hood emblem
BRABUS logotype on vehicle sides
BRABUS emblem on hatch
BRABUS logotype on hatch
POWER & SOUND
Exhaust System
BRABUS exhaust system with actively controlled flaps
Engine (Powerboost)
BRABUS 850 increased-displacement engine
WHEELS & Chassis
Wheels
BRABUS Monoblock Y Platinum Edition wheels, anthracite, matte fully polished, undercut in red 23"
Suspensions / Modules
BRABUS ride-height lowering module
INTERIOR
BRABUS fine leather Interior
Every supercar is a custom production and tailored to your preferences. Please contact us to compose your personal configuration.
For illustrative purposes on this supercar:

Special quilting with Alcantara elements
BRABUS Interior Package Accessories
Aluminum pedal pads
Scuff plates
BRABUS RACE aluminum paddle shifters
Aluminum door-lock pins
Performance & Fuel Economy
Technical Data
| | |
| --- | --- |
| Engine size | 5912 cm3 |
| Power | 625 kW / 850 hp |
| Torque | 1450 Nm |
| 0-100 km/h | 3.8 s |
| 0-60 mph | 3.8 s |
| Vmax | 320 km/h / 200 mph |
Fuel Economy
| | |
| --- | --- |
| city | 15,8 l/100km |
| highway | 9,7 l/100km |
| combined | 11,9 l/100km |
| CO2 Emissions | 278 g/km |
Notices
* All stated driving performance figures are approximate values. They depend on vehicle-specific details such as the vehicle model, equipment, curb weight, final-drive ratio, tire/wheel combination, transmission design and aerodynamic equipment of the individual vehicle. Details of performance upgrades and/or performance kits are average values. Deviations of +/- 5% are possible due to test conditions. Details about the total power output of factory engines modified with performance upgrades and/or performance kits are based on the manufacturer specifications in the vehicle title, which themselves can deviate by +/- 5%. BRABUS assumes no liability for reduced outputs of factory engines going beyond this. Subject to technical modifications without notice. The stated figures were determined in accordance with the prescribed measuring method (Directive 80/1268/EEC in the currently valid version). The figures do not refer to an individual vehicle and are not part of the offer, but are solely intended for comparison between different vehicle models.
** All prices valid ex-factory Bottrop.
*** Torque was electronically controlled.
Efficiency & Fuel Economy
Fuel Economy*
city 15,8 l/100km
highway 9,7 l/100km
combined 11,9 l/100km
CO2 278 g/km