Power 441 kW / 600 hp | Torque 800 Nm | 0-100 km/h 3.6 s | Vmax 280 km/h / 174 mph
Fuel Economy* city 14,8 l/100km | highway 10,2 l/100km | combined 11,9 l/100km | CO2 270 g/km
BRABUS 600 Power SUV
BRABUS 600 – The sporty compact SUV rocket based on the GLC 63S impresses with a host of superlatives: The extremely powerful eight-cylinder engine produces a tremendous peak output of 441 kW / 600 hp and a peak torque of 800 Nm. It accelerates the BRABUS 600 from rest to 100 km/h in just 3.6 seconds.
Naked-carbon aerodynamic-enhancement components with sporty-elegant styling and tailor-made BRABUS wheels with diameters up to to 22 inches lend the high-performance 4x4 fascinating looks.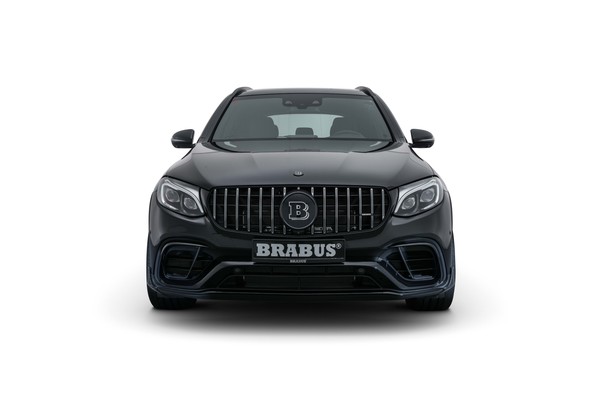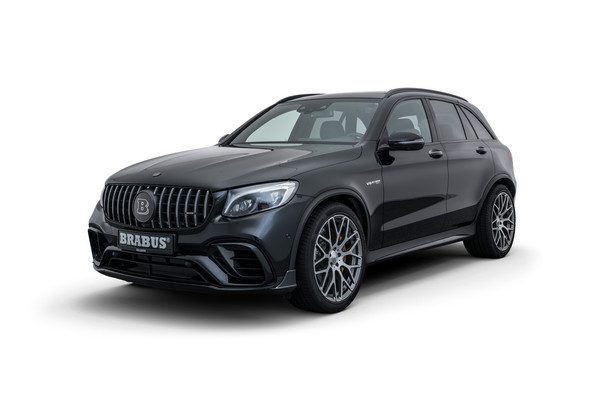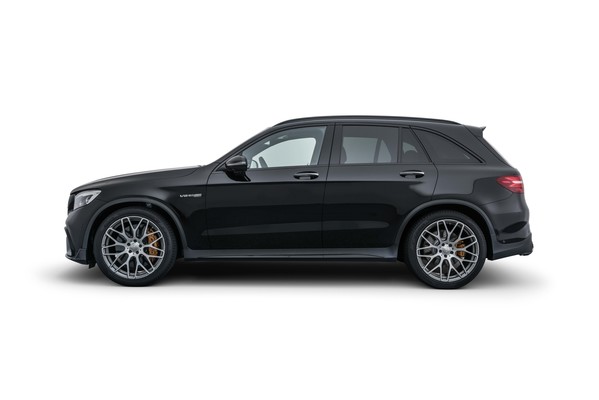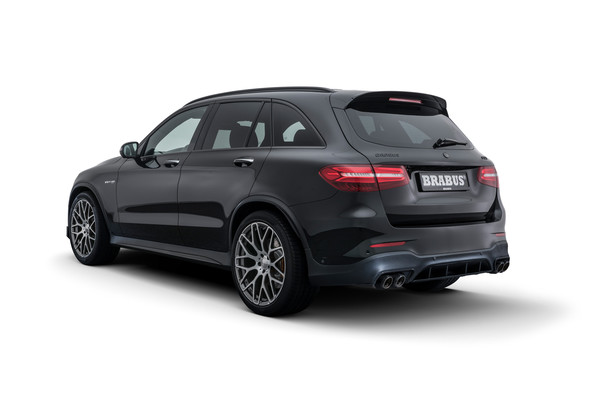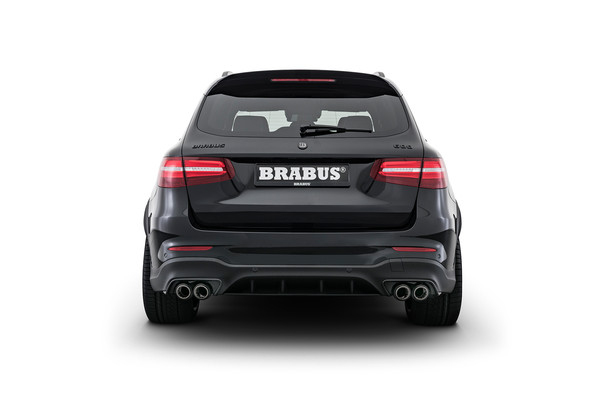 Exterior.
The sporty aerodynamic-enhancement concept gives this supercar a visually attractive touch. The components made from high-quality carbon fiber ensure good aerodynamics and high handling stability.
The carbon front flaps are a major factor in the distinctive look of the BRABUS 600.
The carbon surrounds for the rear fascia perfectly frames the two dual tailpipes of the sport exhaust with actively controlled flaps and puts the finishing touches on the thrilling overall appearance.
Wheels and suspension.
The unmistakable BRABUS looks of course also include tailor-made "PLATINUM EDITION" alloy wheels in the various designs and dimensions with diameters of up to 22 inches.
The high-performance tires are supplied by BRABUS technology partners Continental, Pirelli or YOKOHAMA.
The BRABUS suspension module ensures outstanding ride comfort as well as safe, agile handling.
Power & Sound.
The highlight of the BRABUS 600 is its twin-turbo eight-cylinder engine with 4MATIC all-wheel drive. The engine produces a peak power output of 441 kW / 600 hp at 5,800 rpm and a peak torque of 800 Nm. It accelerates the vehicle from rest to 100 km/h in just 3.6 seconds. The top speed is electronically limited to 280 km/h.
The exhaust note is controlled at the touch of a button: The twin-turbo V8 sounds markedly powerful in 'Sport' mode, while the driver can select the "Coming Home" mode for an unobtrusive, softer sound.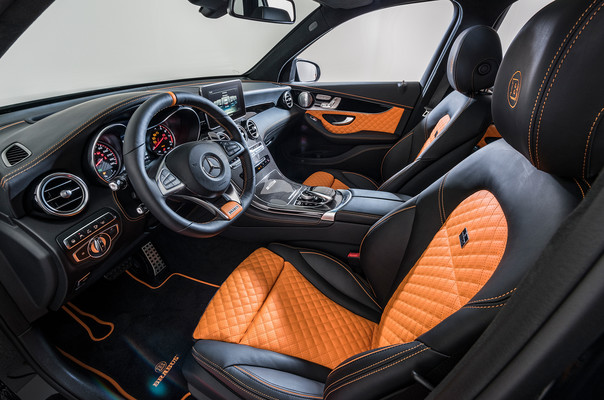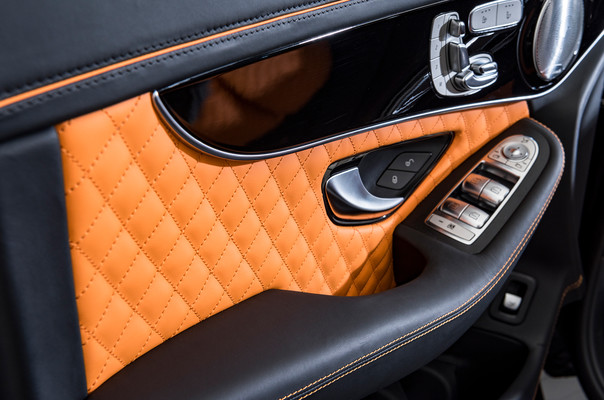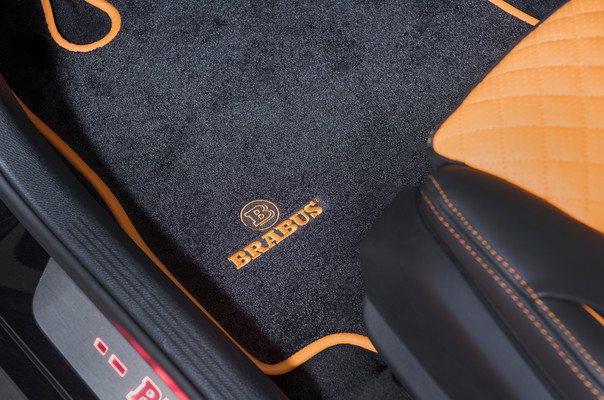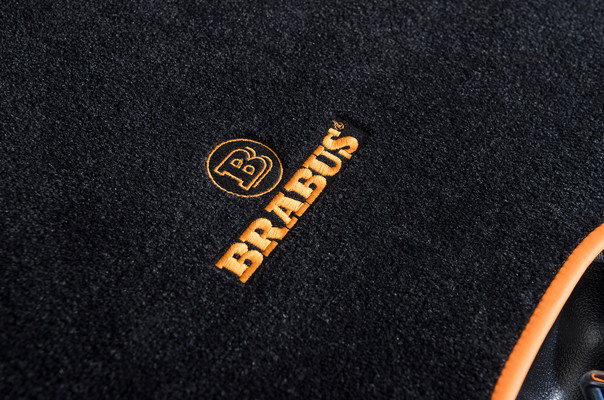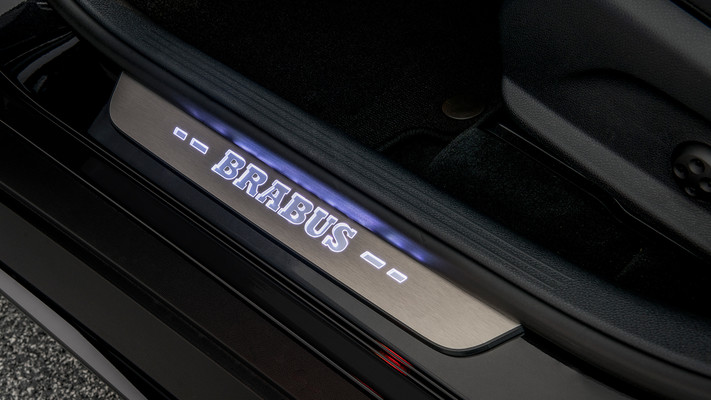 iNterior: individual handmade masterpieces.
The BRABUS 600 also features a host of exclusive highlights in the interior: The BRABUS upholsterers meticulously turn the finest and breathable BRABUS leather and Alcantara in any desired color by hand into individual interior appointments.
For illustrative purposes, this vehicle features black and orange leather, highlighted with contrasting seams.
An extensive selection of accessories such as, for example, aluminum door-lock pins and pedals or stainless-steel scuff plates with backlit BRABUS logo complete the high-class interior.
Equipment Highlights
DESIGN & EXTERIoR
BRABUS Carbon Package Body
BRABUS front fascia attachements
BRABUS rear fascia attachements
BRABUS front fascia inserts
BRABUS Brand Package Exterior
BRABUS emblem hood
BRABUS emblem trunk lid
BRABUS logotype for trunk lid
BRABUS logotype for vehicle sides
POWER & SOUND
PowerXtra (Powerboost)
BRABUS PowerXtra

+66 kW / 90 hp +200 Nm to
441 kW/600 hp 800 Nm
top speed: 280 km/h
Wheels & Suspension
Wheels
BRABUS Monoblock Y 21"
Suspension / Modules
BRABUS suspension
INTERIoR
BRABUS fine leather Interior
Every supercar is a custom production and tailored to your preferences. Please contact us to compose your personal configuration.
For illustrative purposes on this supercar:
Special rhomboid quilting, BRABUS Mastik leather
BRABUS Interior Package Accessories
BRABUS scuff plates illustrated
BRABUS pedal pads
BRABUS paddle shifters
Door lock pins
BRABUS steering wheel
Velours foot mat
Performance & Fuel Economy
Technical Data
| | |
| --- | --- |
| Engine size | 3.982 cm3 |
| Power | 441 kW / 600 hp |
| Torque | 800 Nm |
| 0-100 km/h | 3.6 s |
| 0-60 mph | 3.6 s |
| Vmax | 280 km/h / 174 mph |
Fuel Economy
| | |
| --- | --- |
| city | 14,8 l/100km |
| highway | 10,2 l/100km |
| combined | 11,9 l/100km |
| CO2 Emissions | 270 g/km |
Notices
* Alle angegebenen Fahrleistungen sind Näherungswerte. Sie sind abhängig von fahrzeugspezifischen Details wie Fahrzeugtyp, Ausstattung, Leergewicht, Hinterachsübersetzung, Rad-Reifenkombination, Getriebeausführung und aerodynamischer Ausrüstung des einzelnen Fahrzeugs. Angaben über Leistungssteigerungen und/oder Leistungskits verstehen sich als Durchschnittswerte. Prüfbedingte Abweichungen von +/- 5% sind möglich. Angaben über die Gesamtleistung durch Leistungssteigerung und/oder Leistungskits veränderter Werksmotoren basieren auf den Herstellerangaben im Fahrzeugbrief, die ihrerseits +/- 5% abweichen können. Für darüber hinausgehenden Minderleistungen von Werksmotoren übernimmt BRABUS keine Gewähr. Technische Änderungen vorbehalten. Die angegebenen Werte wurden nach dem vorgeschriebenen Messverfahren (Richtlinie 80/1268/EWG in der gegenwärtig geltenden Fassung) ermittelt. Die Angaben beziehen sich nicht auf ein einzelnes Fahrzeug und sind nicht Bestandteil des Angebots, sondern dienen allein Vergleichszwecken zwischen verschiedenen Fahrzeugtypen.

** Preisangabe gültig ab Werk Bottrop.
*** Das Drehmoment wurde elektronisch reguliert.
Efficiency & Fuel Economy
Fuel Economy*
city 14,8 l/100km
highway 10,2 l/100km
combined 11,9 l/100km
CO2 270 g/km