Power 118 kW / 170 PS | 0-100 km/h 9.0 s | Vmax 200 km/h / 124 mph
Fuel Economy* city - l/100km | highway - l/100km | combined - l/100km | CO2 - g/km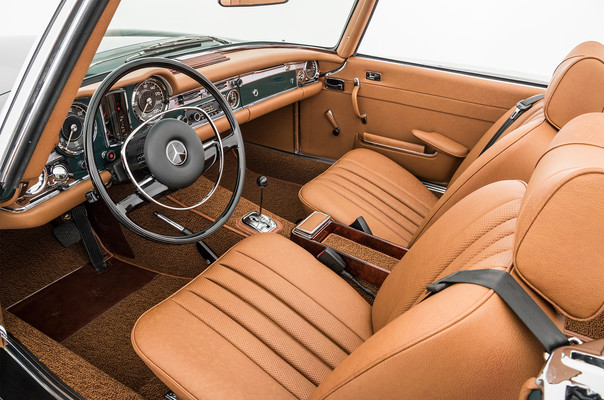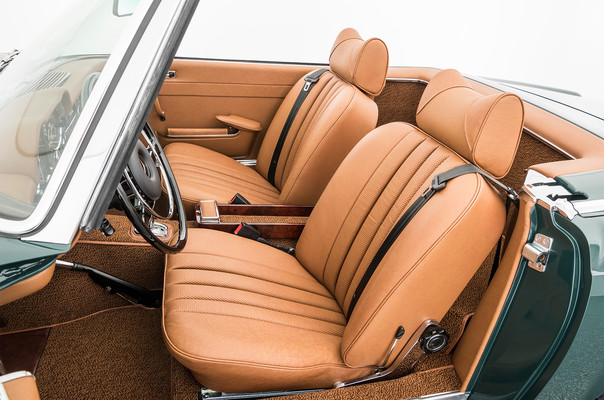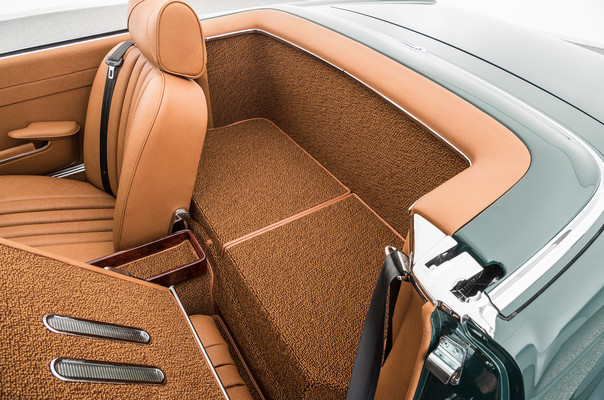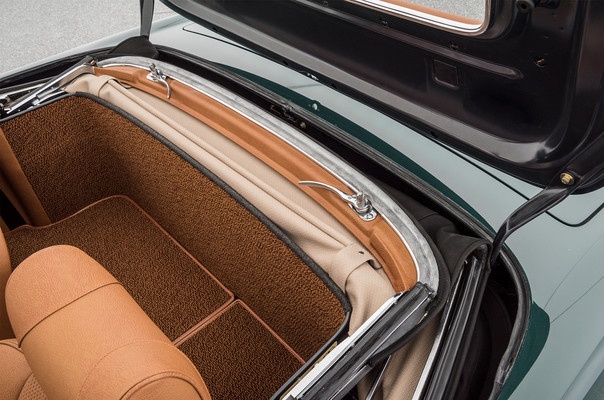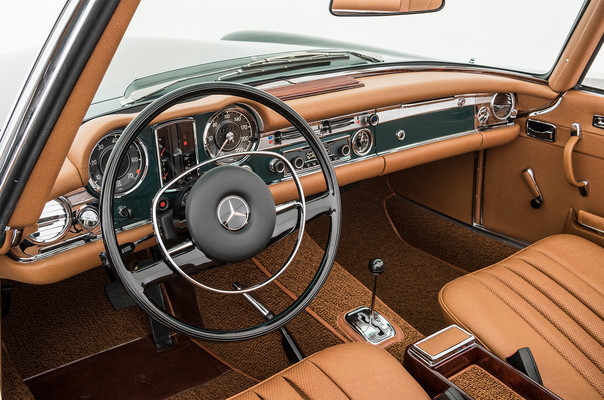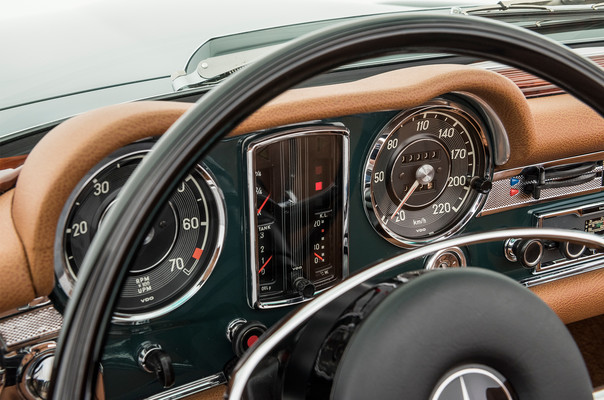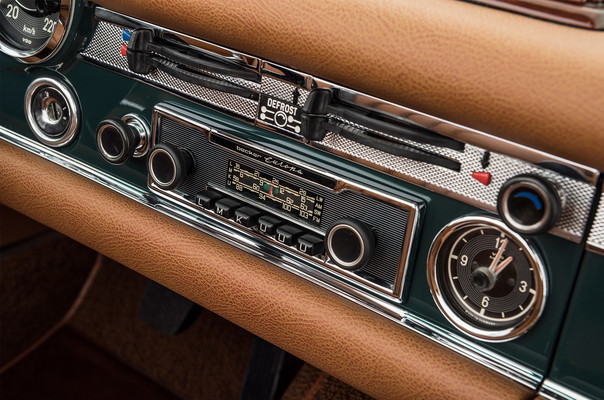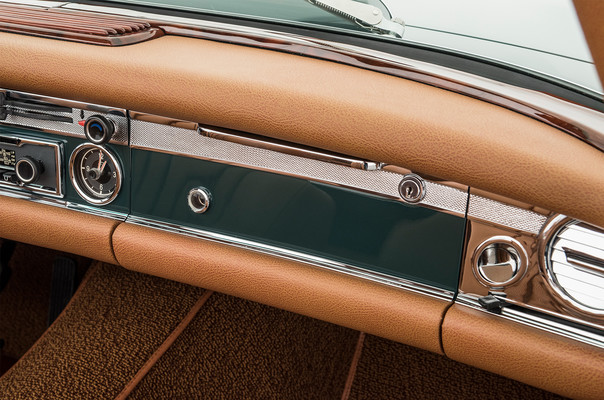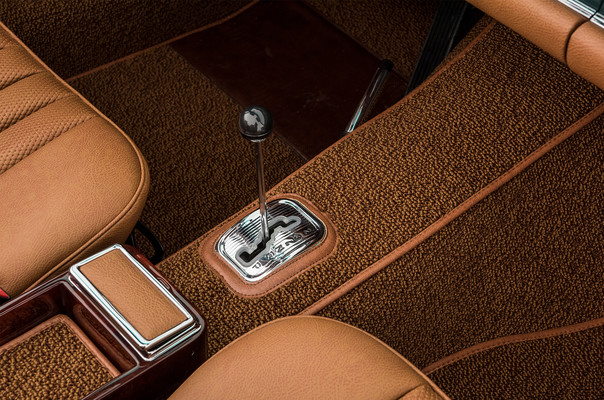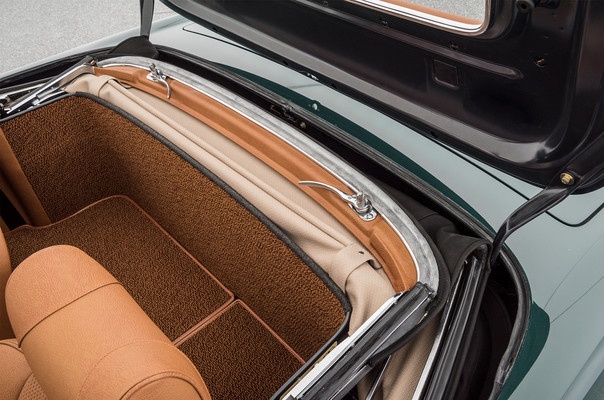 STandard Equipment
Design & ExteriOr
Color: Dark green
Hardtop: Dark green
Soft Top: Fabric black
Hardtop mounted
Automatic gearbox with floor shift
Rear axle with limited-slip differential
Power steering
InteriOr
Upholstery: Leather Cognac
Carpet: Brown
Wood panels: Burled wood
Einzelsitze
Radio Becker
Heat absorbing glass, Windscreen with band filter
front seats with headrests
Brabus Classic – 6 Star RestOration
BRABUS complete restOration
elegant colour-combination between dark green and leather cognac
Complete "6-star" restoration at BRABUS Classic with 2 years warranty
Matching colors/numbers according to Mercedes-Benz data card
Classic Data Certificate with grade 1
BRABUS Classic pre-delivery inspection
BRABUS Classic photobook with restoration and studio pictures
MERCEDEs-benz 280 Sl
Superior power delivery paired with sporty elegance: The Mercedes-Benz Pagoda SL presented at the Geneva Motor Show in March of 1963 caused quite a stir and not only among insiders. The 230 SL was the world's first sports car with an innovative safety body. The further advanced 280 SL came off the production line from 1968 until 1971. At its launch, the two-seater roadster impressed with unparalleled comfort, exceptional performance and unprecedented driving safety for a sports car. Visually, the concave removable coupe top designed by Paul Braque is reminiscent of the upturned roofs of Asian temples – which instantly gave rise to the "Pagoda" moniker. BRABUS now resurrects this legend with the one-of-a-kind BRABUS Classic 6-Star restoration.
Performance & Fuel Economy
Technical Data
| | |
| --- | --- |
| Engine | 6-Cylinder |
| Engine size | 2778 cm3 |
| Power | 118 kW / 170 PS |
| Registration date | 1968 |
| Mileage | - km (after restauration) |
| 0-100 km/h | 9.0 s |
| Vmax | 200 km/h / 124 mph |
Price
| | |
| --- | --- |
| Gross | 298.000,00 EUR |
| Net | 250.420,16 EUR |
Notices
*All listed performance figures are approximate values. They depend on vehicle-specific details such as the vehicle type, equipment, tare weight, rear-axle ratio, wheel-tyre combinations, transmission type and aerodynamic equipment of the specific car. Figures about performance increases and/or performance kits are to be understood as average values. Test-dependent divergences of +/- 5% are possible. Figures about the overall performance of changed factory engines through performance increases and/or performance kits are based on the manufacturer's data listed in the vehicle regristration document. They can vary by +/- 5%. BRABUS does not warrant any further reduced performance of factory engines. Specifications are subject to change without prior notice. These values were determined using the prescribed measurement procedure (directive 80/1268/EEC in its currently valid version). The details are not based on a single vehicle, and do not form a component of the offer, but serve only for purposes of comparison between different vehicle types.
**All prices are quoted ex works.
Efficiency & Fuel Economy
Fuel Economy*
city - l/100km
highway - l/100km
combined - l/100km
CO2 - g/km