Power 68 kW / 92 hp | Torque 180 Nm | 0-100 km/h 10.9 s | Vmax 130 km/h / 81 mph
Fuel Economy* CO2 0 g/km
BRABUS 92R.The Electric Pocket rocket!
City driving reimagined: The BRABUS 92R, based on the all-electric Smart EQ Fortwo Cabrio, is a revolutionary BRABUS supercar made for the city. With its unique, striking appearance defined by a sporty and sophisticated design as well as an eco-friendly electric powertrain rated at 68 kW / 92 horsepower and a top speed of 130 km/h, this luxury two-seater offers a driving experience unlike any other, built in a limited edition of just 50 vehicles.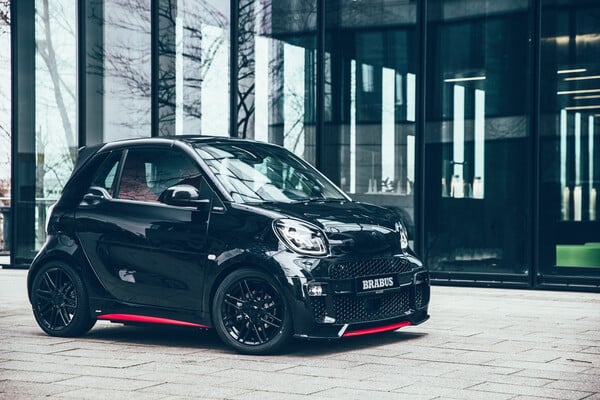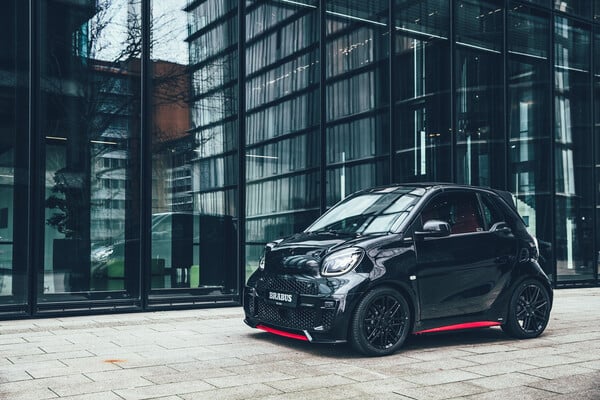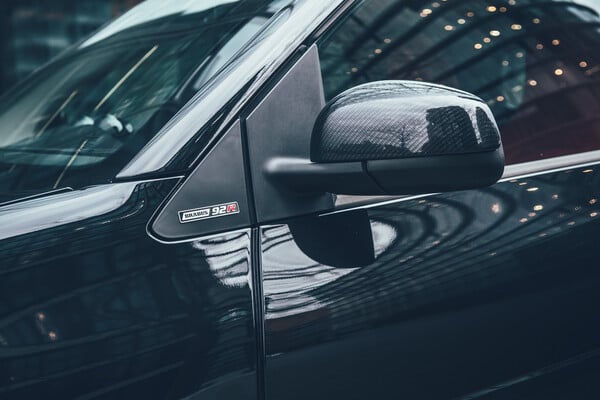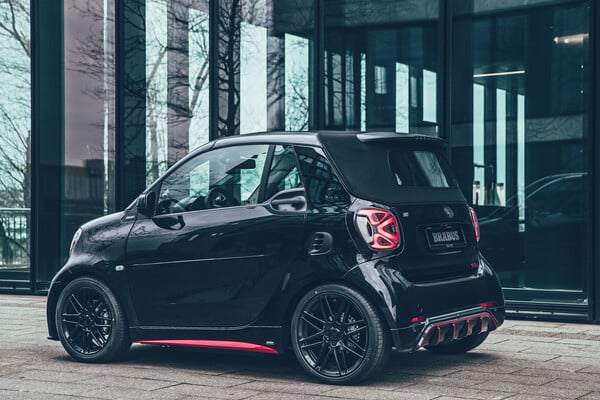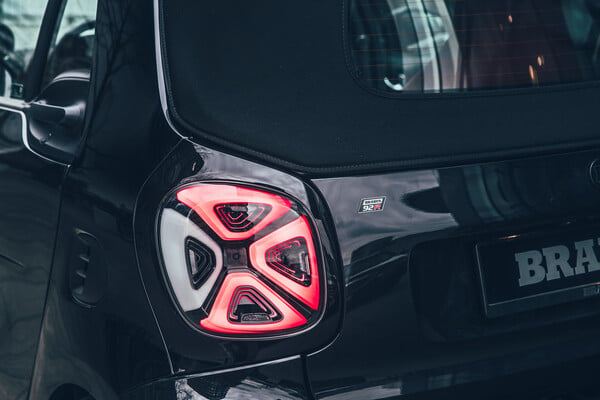 Exterior. Statements.
Aerodynamic efficiency underlined by sporty elegance – matching the thrilling driving experience of the BRABUS 92R is its one of a kind appearance. The exterior design is most notably defined by a range of our signature carbon fiber touches, enhancing the overall looks of the two-seater as well as its core aerodynamics.
From the front fascia to the rear spoiler, the BRABUS 92R is as sophisticated as it as athletic, sure to stand out on the streets with its fresh and unique personality.
Wheels & Chassis. sporty package.
The incomparable driving experience as well as the sporty appearance package of the 92R is rounded off by our special coil-over sports suspension, lowering the car by around 25 millimeters (1 in) and a set of BRABUS Monoblock IX alloy wheels with an eight double spoke design, painted in stunning high-gloss black. An outstanding combination of agility, safe and responsive handling as well as excellent ride quality to ensure that this nimble speed machine is the right car for all occasions of city life!
The optimal high-performance tires are provided by BRABUS technology partner: YOKOHAMA.
Power & Agility. Electrified mobility.
The BRABUS 92R is the ideal combination of superior performance and maximum driving fun. Its all-electric engine configuration produces a power output of 68 kW / 92 hp and a top speed of 130 km/h. In true electric fashion, this staggering city sports car accelerates silently from 0 - 100 km/h (62 mph) in just 10.9 seconds.
On a single battery charge, this two-door thrill seeker has a range of up to 125 kilometers (78 miles), depending on individual driving style
INTERIoR. individual handmade masterpieces.
On the inside, the BRABUS 92R is just as exceptional as the performance and the exterior. The finest red BRABUS leather, accentuated by custom quilted surfaces in the 'Ultimate Ellipse' design, defines the upholstery. Black topstitching and BRABUS logos in both backrests add striking, signature style highlights and the convertible's electric soft-top likewise sports that same bright red to complete this truly outstanding supercar. At BRABUS, individuality is king – further customer requests can be fulfilled with special paint finishes and additional interior upgrades!
Equipment highlights
DESIGN & EXTERIOR
Aerodynamics
BRABUS front spoiler "Ultimate"
BRABUS side panels
BRABUS rear diffusor
Mirror covers in Carbon design
POWER & SOUND
PowerXtra E (Performance Upgrade)
BRABUS Performance Upgrade
Performance: +8 kW / 10 hp on 68 kW / 92 hp
torque: 180 Nm
V-Max: 130 km/h
BRABUS Drive Select with the programs: E - C - S and S+
WHEELS & Chassis
Wheels
BRABUS Monoblock IX
6,0J x 16 ET 42 & 7,0J x 17 ET 43
Tires: 185/50 ZR 18 / 205/40 R 17
Chassis
BRABUS sports suspension

(adjustable)
INTERIoR
BRABUS fine-leather interior
BRABUS fine-leather interior with special quilting
colour: red , seals: black
Interior accents parts painted
BRABUS Interior Accessories
BRABUS entrance panels

-illuminated-

with colour change white to red
BRABUS floor mats with ultimate Logo
BRABUS special quilting
BRABUS gear shift lever
BRABUS handbrake lever
BRABUS pedal pads incl. footrest

with illuminated Logo
Sign of Excellence
Performance & Fuel Economy
Technical Data
| | |
| --- | --- |
| Engine size | - cm3 |
| Power | 68 kW / 92 hp |
| Torque | 180 Nm |
| 0-100 km/h | 10.9 s |
| 0-60 mph | 10.9 s |
| Vmax | 130 km/h / 81 mph |
Power consumption, CO2 emissions and efficiency class: BRABUS 92R based on the smart EQ fortwo cabrio: Power consumption (combined): 13.9 – 15.8 kWh/100 km. Combined CO2 emissions: 0 g/km, efficiency class A+
Notices
* All stated driving performance figures are approximate values. They depend on vehicle-specific details such as the vehicle model, equipment, curb weight, final-drive ratio, tire/wheel combination, transmission design and aerodynamic equipment of the individual vehicle. Details of performance upgrades and/or performance kits are average values. Deviations of +/- 5% are possible due to test conditions. Details about the total power output of factory engines modified with performance upgrades and/or performance kits are based on the manufacturer specifications in the vehicle title, which themselves can deviate by +/- 5%. BRABUS assumes no liability for reduced outputs of factory engines going beyond this. Subject to technical modifications without notice. The stated figures were determined in accordance with the prescribed measuring method (Directive 80/1268/EEC in the currently valid version). The figures do not refer to an individual vehicle and are not part of the offer, but are solely intended for comparison between different vehicle models.


Efficiency & Fuel Economy