Power 662 kW / 900 hp | Torque 1500* Nm | 0-100 km/h 3.7 s | Vmax 350 km/h / 220 mph
Fuel Economy* city 17,1 l/100km | highway 8,6 l/100km | combined 11,9 l/100km | CO2 279 g/km
BRABUS 900
BRABUS 900 – that is the new high-performance reference in the luxury class. The centerpiece of the world's fastest luxury sedan is the BRABUS 900 6.3 V12 Biturbo increased-displacement engine. This powerplant in the bow produces a peak output of 662 kW / 900 hp and a peak torque of 1,500 Nm and accelerates the BRABUS 900 from rest to 100 km/h in impressive 3.7 seconds. The top speed of the vehicle based on the Mercedes S 65 is electronically limited to 350 km/h. This epochal supercar captivates visually with a sophisticated aerodynamic-enhancement concept, 21-inch or 22-inch "PLATINUM EDITION" forged wheels, and an exquisite BRABUS fine leather interior.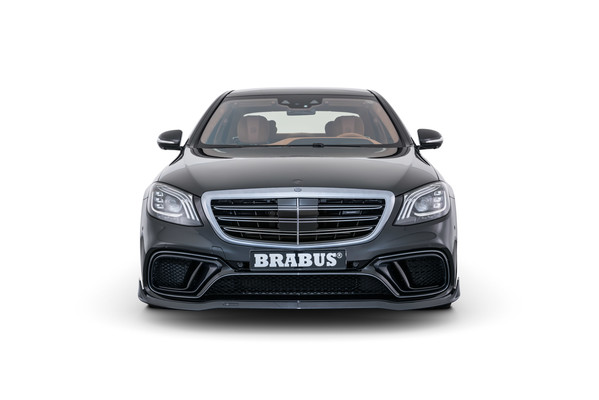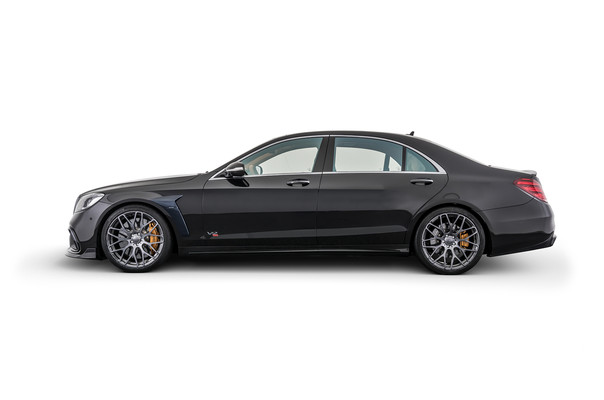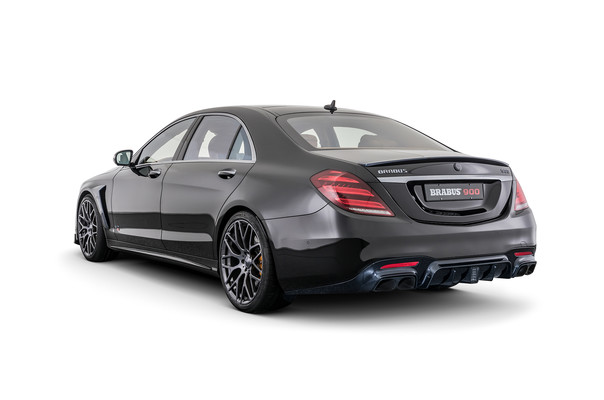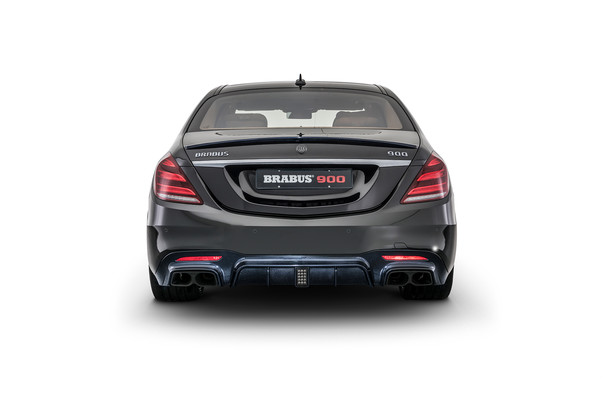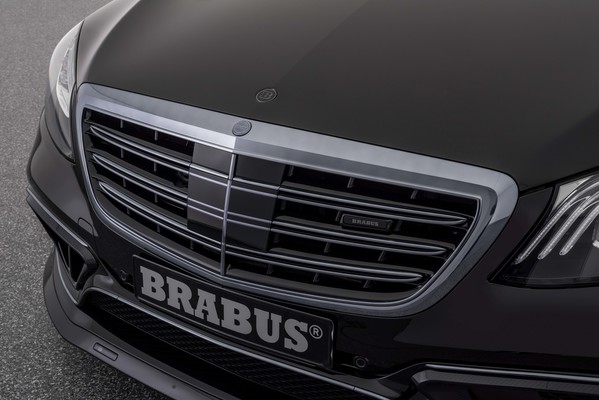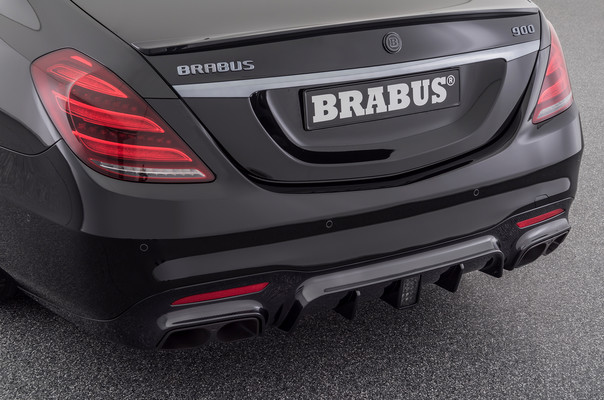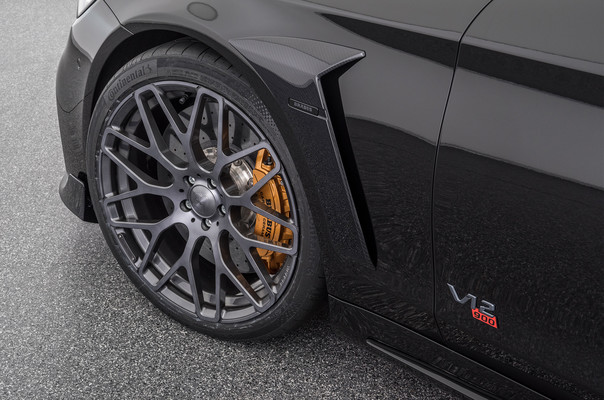 ---
Design & Exterior.
The aerodynamic-enhancement concept of the BRABUS 900 is characterized by high efficiency and thrilling looks. The components, manufactured from carbon fiber as in Formula 1 racing, give the luxury sedan a dynamic appearance and optimal aerodynamic efficiency.
The carbon-fiber front fascia impressively accentuates the sporty-confident face of the BRABUS 900. The stylish overall impression is rounded off in perfect fashion by the elegant side view as well as the rear spoiler lip and rear fascia with integrated diffuser.
Wheels & Chassis
Maximum ride quality, sporty efficiency: The BRABUS Monoblock "Platinum Edition" forged wheels come in a multitude of designs and give the BRABUS 900 a unique flair. The hi-tech wheels with diameters of 21 or 22 inches make perfect use of the available space in the fender wells.
The high-performance tires are supplied by BRABUS technology partners Continental, Pirelli or YOKOHAMA.
The special BRABUS suspension module ensures first-class dynamic handling paired with outstanding ride quality.
Power & Sound
The sporty and dynamic highlight of the BRABUS 900 is the twin-turbo V12 engine. With a peak power output of 662 kW / 900 hp at a low 5,550 rpm and a peak torque of 1,500 Nm at 4,200 rpm, the twin-turbo V12 power pack delivers unrivaled performance figures. The luxury sedan sprints from rest to 100 km/h in just 3.7 seconds and reaches a speed of 200 km/h after just 9.1 seconds. In concert with the top speed of up to 350 km/h, this puts the BRABUS 900 ROCKET on par with to-class full-blooded sports cars. The power is sent to the rear wheels by a seven-speed automatic transmission, which can also be shifted manually with the BRABUS RACE aluminum paddle shifters on the steering wheel.
This BRABUS 900 offers impressive sound at the touch of a button: The twin-turbo V12 sounds markedly powerful in 'Sport' mode, while the driver can select the "Coming Home" mode for an unobtrusive, softer sound.
The BRABUS 900 intake module ensures an optimal air supply for the engine. Precisely programmed mapping for injection and ignition coordinates the perfect interaction of the high-performance components.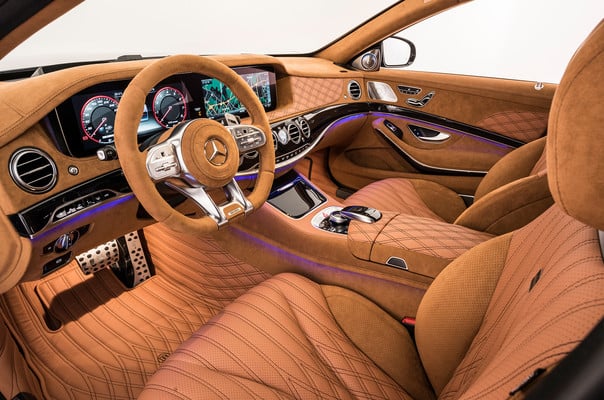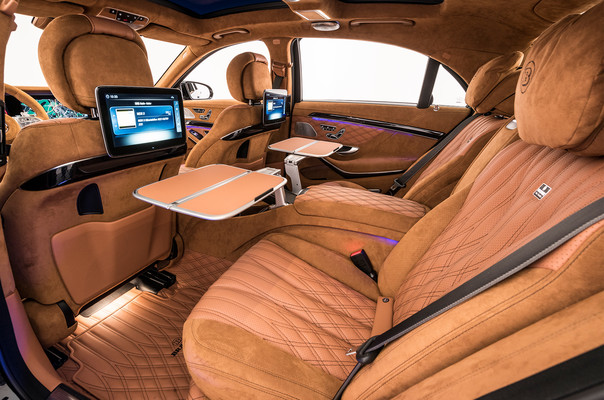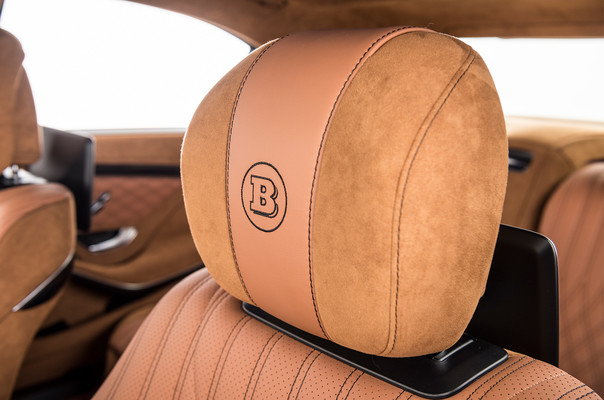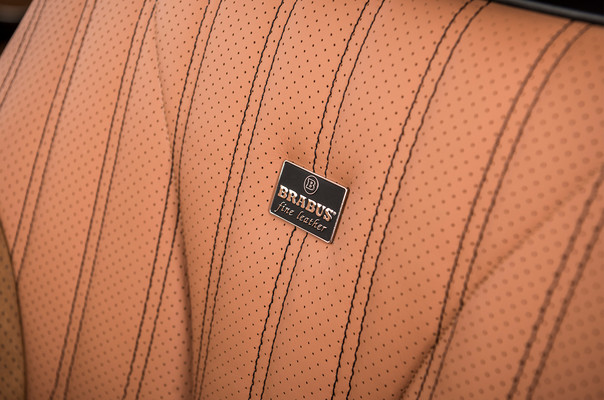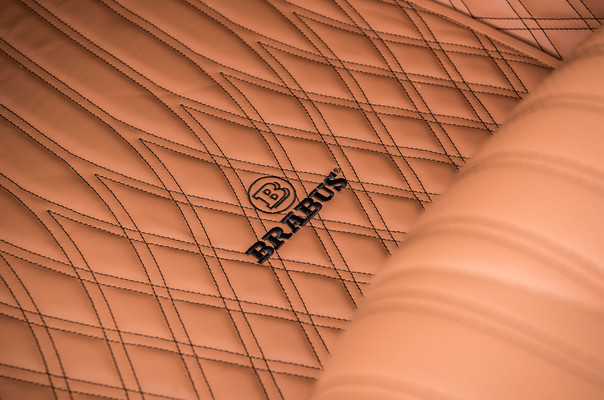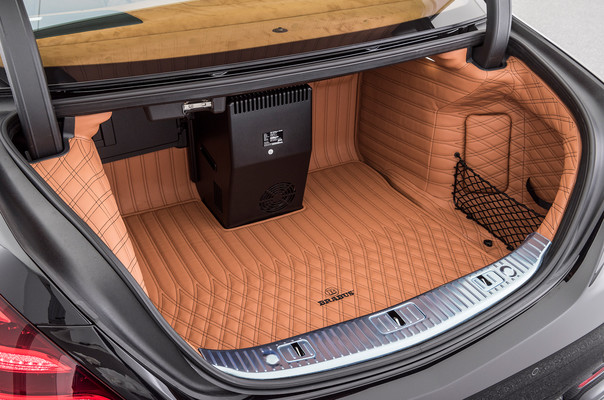 Interior.
The interior of the BRABUS 900 also stands out on account of the evident great love of detail: Every vehicle is fitted with custom leather appointments crafted to personal preferences. This supercar is fitted with especially soft and breathable black and copper-colored BRABUS fine leather for illustrative purposes. The embroidered "900" logos provide an indication of the engine under the hood in the interior as well. Seams and piping in a different color create subtle contrasts. The 'Shadow Gold' glazing on the cockpit elements and the carbon-fiber trim adds further exclusive highlights. Aluminum door pins and pedals add a sporty touch to the interior of this incomparable sedan. An innovative BRABUS infotainment system completes the luxurious interior appointments. This integrated BRABUS "iBusiness" system for telephony, internet and entertainment is controlled with the specially developed BRABUS Remote App.
DESIGN & EXTERIOR
BRABUS Carbon Package Body
BRABUS LED daytime running lights - below headlamps - black
BRABUS front fascia attachments
BRABUS roof spoiler with integral brake light
BRABUS mirror caps with naked-carbon finish
BRABUS Brand Package Exterior
BRABUS emblem on trunk lid
BRABUS hood emblem
BRABUS logotype on vehicle sides
BRABUS logotype on trunk lid
POWER & SOUND
Exhaust Systems
BRABUS exhaust system with actively controlled flaps
Engine (Powerboost)
BRABUS ROCKET 900 increased-displacement engine
WHEELS & Chassis
Wheels
Forged BRABUS Monoblock R "Platinum Edition" 11J x 23 H2 alloy wheels with 5-double-spoke design
Suspensions / Modules
BRABUS Ride Control special suspension
INTERIOR
BRABUS fine leather Interior
BRABUS fine leather Interior
BRABUS Starry Sky
BRABUS Interior Package Accessories
Aluminium pedal pads
Scuff plates illuminated
BRABUS RACE aluminium paddle shifters
Door-lock pins aluminium
Performance & Fuel Economy
Technical Data
| | |
| --- | --- |
| Engine size | 6233 cm3 |
| Power | 662 kW / 900 hp |
| Torque | 1500* Nm |
| 0-100 km/h | 3.7 s |
| 0-200 km/h | 9.1 s |
| 0-60 mph | 3.7 s |
| 0-120 mph | 9.1 s |
| Vmax | 350 km/h / 220 mph |
Fuel Economy
| | |
| --- | --- |
| city | 17,1 l/100km |
| highway | 8,6 l/100km |
| combined | 11,9 l/100km |
| CO2 Emissions | 279 g/km |
Notices
* All stated driving performance figures are approximate values. They depend on vehicle-specific details such as the vehicle model, equipment, curb weight, final-drive ratio, tire/wheel combination, transmission design and aerodynamic equipment of the individual vehicle. Details of performance upgrades and/or performance kits are average values. Deviations of +/- 5% are possible due to test conditions. Details about the total power output of factory engines modified with performance upgrades and/or performance kits are based on the manufacturer specifications in the vehicle title, which themselves can deviate by +/- 5%. BRABUS assumes no liability for reduced outputs of factory engines going beyond this. Subject to technical modifications without notice. The stated figures were determined in accordance with the prescribed measuring method (Directive 80/1268/EEC in the currently valid version). The figures do not refer to an individual vehicle and are not part of the offer, but are solely intended for comparison between different vehicle models.
** All prices valid ex-factory Bottrop.
*** Torque was electronically controlled.
Efficiency & Fuel Economy
Fuel Economy*
city 17,1 l/100km
highway 8,6 l/100km
combined 11,9 l/100km
CO2 279 g/km