Power 588 kW / 800 hp | Torque 1000* Nm | 0-100 km/h 4.1 s | Vmax 240 km/h / 149 mph
Fuel Economy* city 16,5 l/100km | highway 11,1 l/100km | combined 13,1 l/100km | CO2 299 g/km
BRABUS 800 Widestar
Nomen est omen and consequently the new BRABUS 800 WIDESTAR is powered by a four-liter eight-cylinder twin-turbo engine that produces a peak output of 588 kW / 800 hp (789 bhp) and a peak torque of 1,000 Nm (737 lb-ft). This engine gives the off-roader performance capabilities that are absolutely exceptional for a vehicle of this category: The all-wheel-drive car sprints from rest to 100 km/h (62 mph) in just 4.1 seconds. The top speed is electronically limited to 240 km/h (149 mph).
However, the BRABUS 800 WIDESTAR fascinates not only with its driving dynamics, but also with its extravagant BRABUS WIDESTAR widebody version in combination with the 23-inch BRABUS "Platinum Edition" Monoblock hi-tech forged wheels.
A classy BRABUS fine leather interior lends the interior of the SUV an even more attractive ambiance.
Power & Sound. Outstanding Performance.
The result of these modifications gives the BRABUS 800 WIDESTAR its name: An extra 158.2 kW / 215 hp (212 bhp) translate into 588 kW / 800 hp (789 bhp) at 6,600 rpm for the twin-turbo engine. The tuned engine produces significantly more torque: An added 150 Nm (111 lb-ft) mean a proud 1,000 Nm (737 lb-ft) at a low 3,600 rpm. The driving performance is accordingly outstanding for an off-roader: The BRABUS supercar sprints from rest to 100 km/h (62 mph) in just 4.1 seconds. The top speed is electronically limited to 240 km (149 mph) due to the high vehicle weight. The nine-speed automatic transmission can optionally be shifted manually with the ergonomic BRABUS RACE aluminum paddle shifters on the steering wheel.
The installation of the BRABUS stainless-steel sport exhaust system is advisable not only for the BRABUS 800 WIDESTAR supercar, but also for all stock G 63 AMG models. It not only optimizes the performance, but thanks to it actively controlled exhaust flaps, it also features an integrated sound management, which allows the driver to choose between the subtle "Coming Home" mode and the markedly sporty V8 sound in "Sport" mode. The stainless-steel exhaust also adds striking visual highlights with two tailpipes exiting in front of the rear wheels on either side.
Exterior. Appearance with Charisma.
The spectacular appearance of the cross-country vehicle matches its exceptional performance: The combination of BRABUS WIDESTAR widebody version and mighty 23-inch forged wheels sets the five-door vehicle even further apart from the crowd.
The high-performance tires are supplied by BRABUS technology partners Continental or YOKOHAMA.
The fender flares at the front and rear axle add ten centimeters (4 inches) to the width of the current G-Model. In addition, their integrated LEDs illuminate the running boards between the flares as soon as a door handle is pulled or the central locking system is activated via Keyless Go by approaching the vehicle. The BRABUS logos in the fender attachments behind the front flares light up at the same time.
The wider fenders also create space for extremely large wheels and tires. BRABUS offers owners of the widebody version a broad range of tailor-made wheel/tire combinations with diameters from 20 to 23 inches.
Wheels & Chassis. Design meets HighTech.
The most exclusive option for the WIDESTAR version features 23-inch BRABUS Monoblock "Platinum Edition" forged wheels, which offer a perfect mix of lightweight construction and tremendous strength. The size 11Jx23 wheels come in four different BRABUS designs.
The forged BRABUS Monoblock F "BLACK PLATINUM Special Edition" alloys are painted high-gloss black to match their name and are fitted with a "BLACK PLATINUM" badge on the outer flange. High-performance tires of size 305/35 R 23 supplied by BRABUS technology partners Continental or YOKOHAMA were picked as the optimal solution.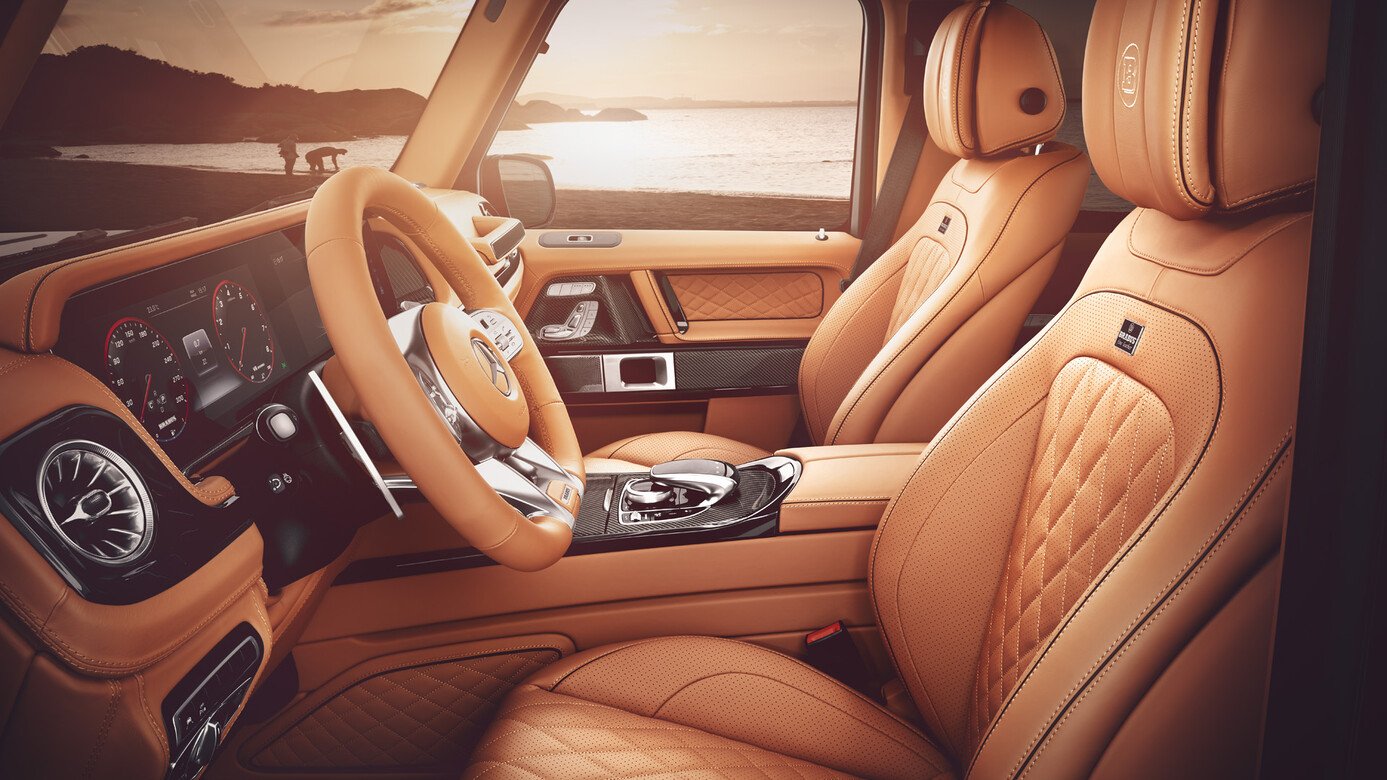 BRABUS CAPETOWN STYLE INTERIEUR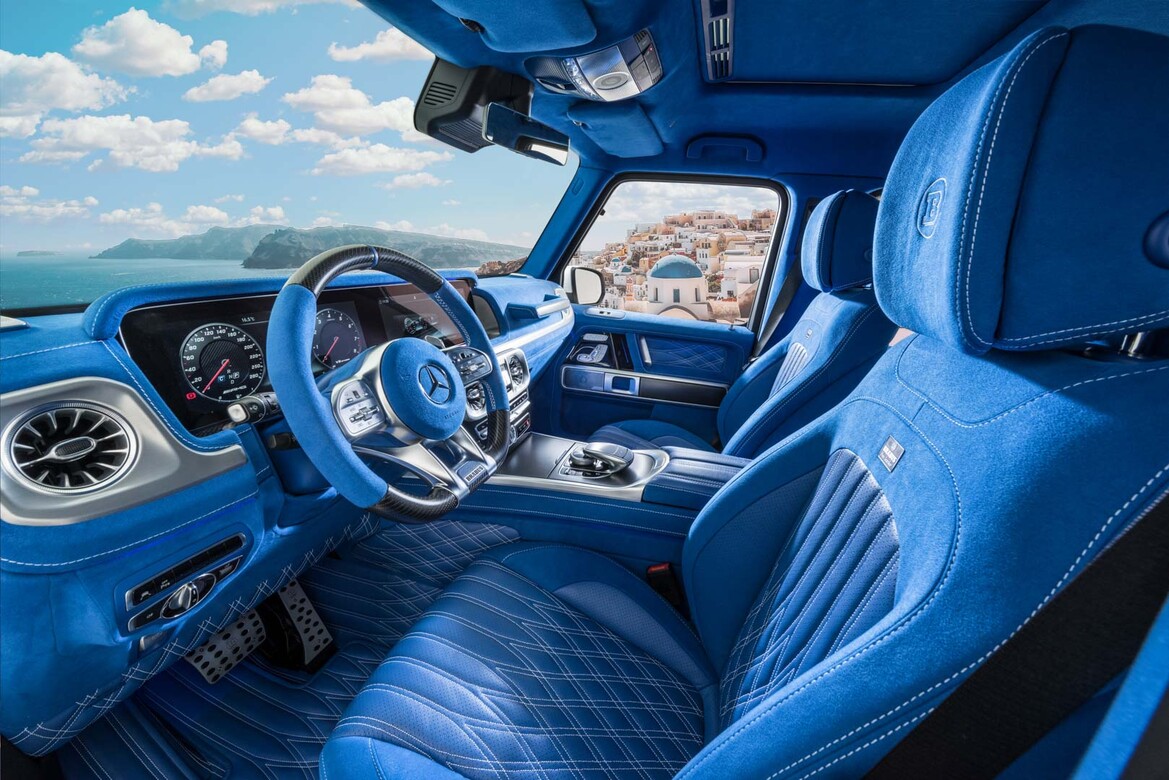 BRABUS SANTORINI STYLE INTERIEUR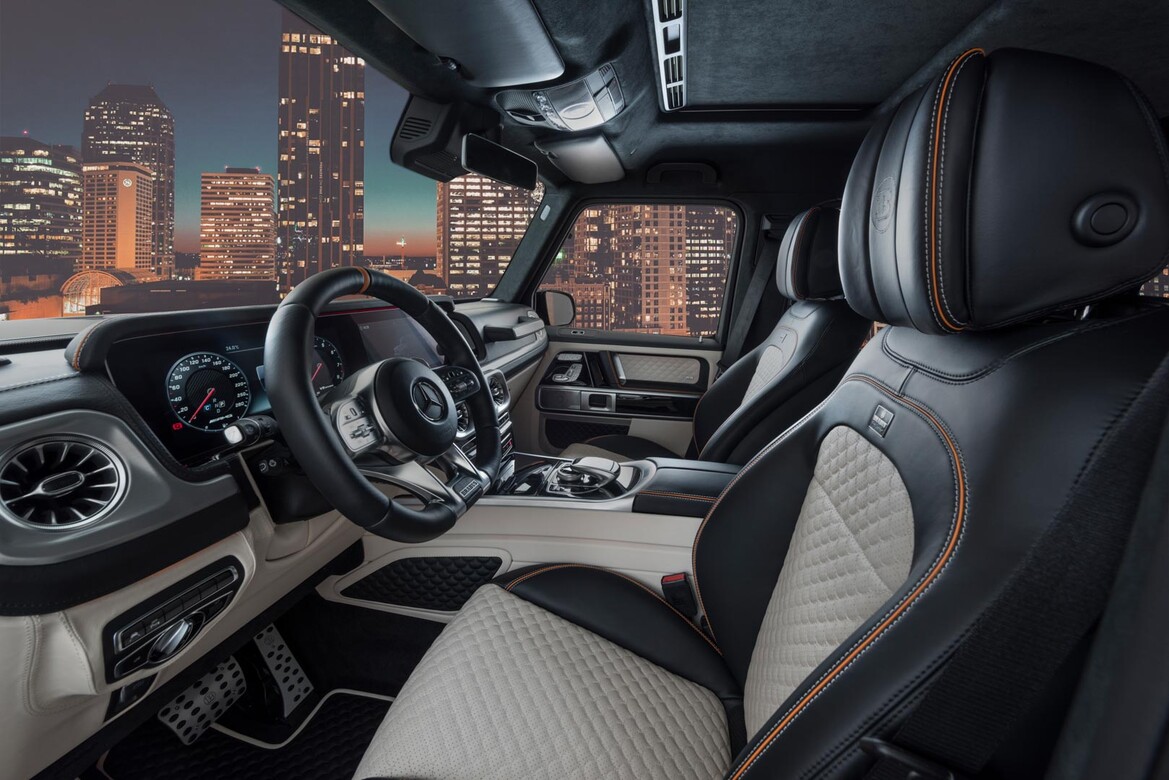 BRABUS UPPER EAST SIDE STYLE INTERIEUR
Interior. individual handmade masterpieces.
BRABUS presents style for individualists.
The extravagant BRABUS fine leather styles impress with exclusivity, endless colour and material combinations and outstanding quality.

Nothing is impossible: From the floor and trunk in quilted leather to the alcantara starry sky – the combinations are endless. Be inspired by worldwide influences and discover our Santorini Style, the Capetown Style and the Upper-East Side Style.
Equipment highlights
Design & Exterior
BRABUS Carbon Package Body
front skirt with design underride element, rear skirt with design underride element, front and rear fender flares (front with integrated LED-illumination)
BRABUS Carbon engine bonnet add-on, glossy
BRABUS Carbon roof top add-on with LED beam lights, glossy
BRABUS Carbon roof top spoiler
BRABUS Carbon spare wheel cover, glossy
BRABUS Brand Package Exterior
BRABUS double-B insert for front grille
BRABUS emblem for radiator grille illuminated
BRABUS Special Equipment
BRABUS special painting of various plastic and chrome parts exterior
BRABUS brake design
BRABUS additional limiting strap for rear doors aperture of 90°
Power & Sound
BRABUS Engine Upgrade PowerXtra B40S-800
Power:
Series:
588 kW (800 hp)
430 kW (585 hp)
Torque:
1.000 Nm at 6.600 r/min.
Exhaust System
BRABUS valve-controlled sports exhaust system
Wheels & Chassis
Wheels
BRABUS Monoblock F in 23"

Tires size: 305/35 R 23
Interior
BRABUS fine leather Interior
Every supercar is a custom production and tailored to your preferences. Please contact us to compose your personal configuration.
For illustrative purposes on this supercar:

BRABUS Cape Town Style fine leather interior

colour: Cuoio, seams and tuck: black consisting of: 2 front seats with headrests, rear seat bench incl. headrests
BRABUS starry night sky
BRABUS Interior Package Accessoires
BRABUS door-lock pins
BRABUS entrance panels in RGD-LED-technology
BRABUS entrance panel trunk door
BRABUS entrance panels in RGD-LED-technology
BRABUS aluminium pedal pads
BRABUS Business & Multimedia Equipment
BRABUS roof unit in rear
BRABUS speedometer 300 km/h
Performance & Fuel Economy
Technical Data
| | |
| --- | --- |
| Engine size | 3.982 cm3 |
| Power | 588 kW / 800 hp |
| Torque | 1000* Nm |
| 0-100 km/h | 4.1 s |
| 0-60 mph | 4.1 s |
| Vmax | 240 km/h / 149 mph |
Fuel Economy
| | |
| --- | --- |
| city | 16,5 l/100km |
| highway | 11,1 l/100km |
| combined | 13,1 l/100km |
| CO2 Emissions | 299 g/km |
Notices
* All stated driving performance figures are approximate values. They depend on vehicle-specific details such as the vehicle model, equipment, curb weight, final-drive ratio, tire/wheel combination, transmission design and aerodynamic equipment of the individual vehicle. Details of performance upgrades and/or performance kits are average values. Deviations of +/- 5% are possible due to test conditions. Details about the total power output of factory engines modified with performance upgrades and/or performance kits are based on the manufacturer specifications in the vehicle title, which themselves can deviate by +/- 5%. BRABUS assumes no liability for reduced outputs of factory engines going beyond this. Subject to technical modifications without notice. The stated figures were determined in accordance with the prescribed measuring method (Directive 80/1268/EEC in the currently valid version). The figures do not refer to an individual vehicle and are not part of the offer, but are solely intended for comparison between different vehicle models.

** Torque was electronically controlled.
Efficiency & Fuel Economy
Fuel Economy*
city 16,5 l/100km
highway 11,1 l/100km
combined 13,1 l/100km
CO2 299 g/km