Power 588 kW / 800 hp | Torque 1000 Nm | 0-100 km/h 3.0 s | Vmax 300 km/h / 190 mph
Fuel Economy* city 15,7 l/100km | highway 9,3 l/100km | combined 11,6 l/100km |
BRABUS 800 based on Mercedes-AMG E 63S 4MATIC
The wolf in sheep's clothing – maximum driving fun in a sporty, elegant limousine. The brand new BRABUS 800, based on the 2021 Mercedes-AMG E 63 Facelift combines a sleek, urbane appearance with superior performance in hallmark BRABUS fashion. Equipped with a 4.0 liter twin-turbocharged V8 producing 588 kW / 800 hp, this sport limousine provides an all-out racetrack feeling without sacrificing its signature, business looks. With a tailor-made carbon aerodynamic enhancement concept, 21-inch high-tech forged wheels and a valve-controlled sports exhaust system, the BRABUS 800 is the best of both worlds!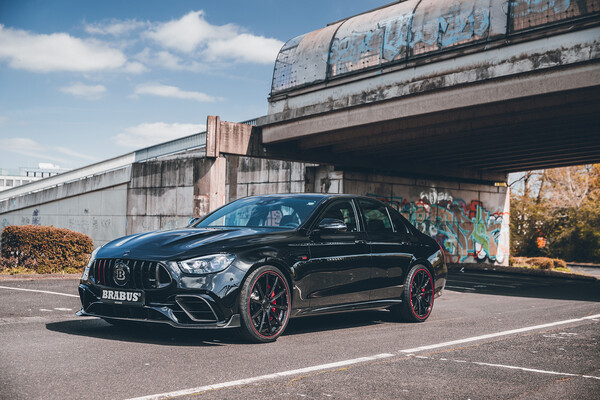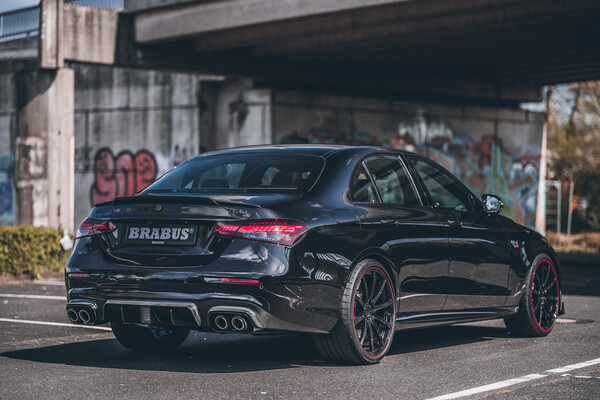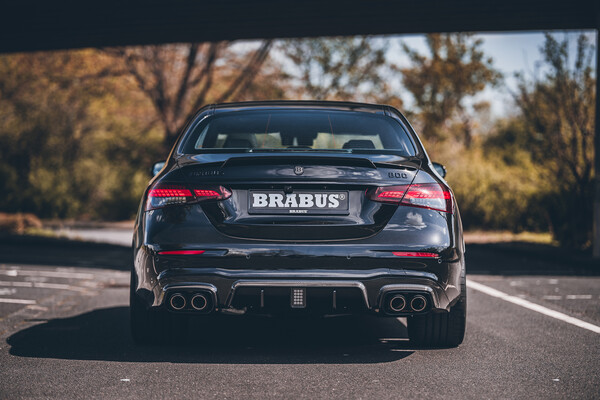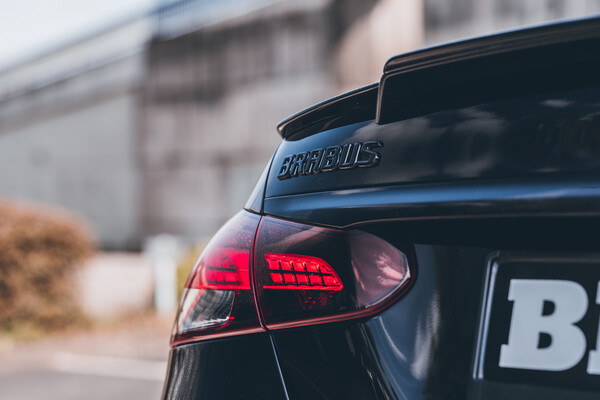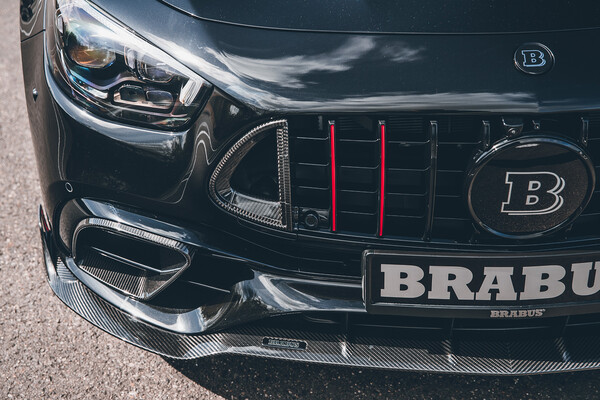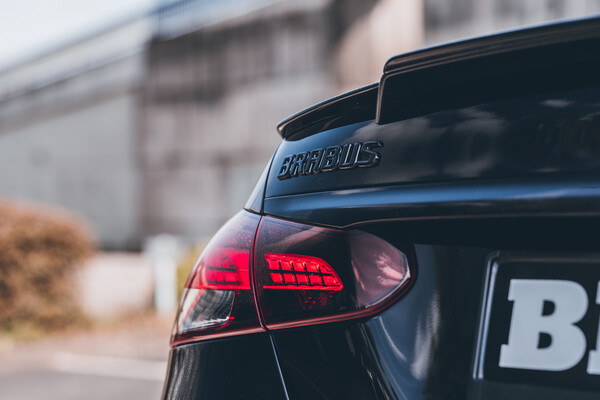 ---
Design & Exterior. WITH THE WIND.
Time for an upgrade – the new exterior design of the BRABUS 800 compliments the uncompromising power of the limousine. Our purpose-built aerodynamic-enhancement concept greatly improves both the looks and the driving experience. In the front, a custom spoiler lip in combination with a set of refined BRABUS air inlets on the left and right gives the car a new, striking face and reduces lift on the front axle which optimizes the ride stability at high speeds. The BRABUS rear spoiler and diffusor, likewise designed for optimal aerodynamic balance, provide further downforce and complete the sporty, elegant appearance of the BRABUS 800 with a unique flair.
wheels & suspension. FORGED PERFORMER.
The exclusive looks of the BRABUS 800 are rounded off by high-tech, forged 21-inch BRABUS Monoblock "PLATINUM EDITION" Z wheels with a ten-spoke design, tailor made and accentuated with red pin striping to match the signature red BRABUS stripes in the grille. With the BRABUS suspension module, the ride height can be adjusted by ten to twenty millimeters depending on the selected drive mode, further improving the handling of the limousine while delivering an exceptional driving experience. The optimal high-performance tires are provided by BRABUS technology partners: Continental, Pirelli and YOKOHAMA.
POWER & SOUND. AT ANY TIME!
Outstanding performance – under the hood, the BRABUS B40S-800 PowerXtra performance upgrade raises the power of the 4.0 liter twin-turbocharged V8 from its standard configuration of 450 kW / 612 hp to its namesake 588 kW / 800 hp, with excellent performance delivery, flawless stability and reliability. Through improved injection and ignition mapping as well as new, specially configured high-performance turbochargers with increased boost pressure and a Nine-speed automatic transmission that can be shifted either automatically or manually using the ergonomically shaped BRABUS RACE aluminum shift paddles on the steering wheel, the BRABUS 800 accelerates from 0 – 100 km / h in just 3.0 seconds, with an electronically limited top speed of 300 km / h.
Of course, in tandem with the performance of a modern sport limousine, the BRABUS 800 also has the fitting acoustics, courtesy of its stainless-steel, valve-controlled BRABUS high-performance exhaust system with carbon tailpipes, which unleashes the full baritone of the V8 with an extra powerful sound and further perfects power delivery by reducing the exhaust backpressure. Additionally, the driver has the option to choose between a variety of different modes and volume levels, ranging from the discreet, very quiet "coming home" mode to the full bore "Race" mode.
Fine leather INTERIoR. CHARACTERIZE IT.
Naturally, no BRABUS conversion would be complete without our signature interior refinements. Headlining the product range for the brand new BRABUS 800 is a fully equipped fine leather interior characterized by stainless steel doorsills with an illuminated BRABUS logo, which changes color to match the ambient lighting in the interior, as well as several sporty accessories such as BRABUS door pins and aluminum pedals. Individual wishes can be fulfilled in the in-house saddlery based entirely on personal preference.
equipment highlights
DESIGN & EXTERIoR
BRABUS front lip in visible carbon glossy
BRABUS front skirt add-on parts in visible carbon glossy
BRABUS front grille add-on parts in visible carbon glossy
BRABUS rear diffusor in visible carbon glossy
BRABUS rear spoiler in visible carbon glossy
BRABUS double-B insert for front grille
BRABUS logo for front grille -illuminated-
BRABUS special painting of all chrome parts in car-colour
BRABUS logo for bonnet
BRABUS logo for rear lid
BRABUS emblem for rear lid
POWER & SOUND
PowerXtra B40S-800 performance increase
Power:
588 kW (800 HP)
Serie: 450kW (612HP)
Torque:
1000 Nm at 3.600 rpm.
Exhaust System
BRABUS valve controlled sports exhaust system
Wheels & suspension
Wheels
BRABUS Monoblock Z light alloy wheels -forged-
Front axle: 10,5J x 21 H2 ET 15 -10- spokedesign-
Tires: 265/30 ZR 21 XL Conti Sportcontact 6
Rear axle: 12 J x 21 H2 ET 50 -10- spokedesign-
Tires: 305/25 ZR 21 XL Conti Sportcontact 6
BRABUS wheel design black with "red" pinstripe
BRABUS brake design
RDK sensor
Suspension / Modules
BRABUS airmatic sports unit

Electronic alignment
INTerior
BRABUS fine leather Interior
Every supercar is a custom production and tailored to your preferences. Please contact us to compose your personal configuration.
BRABUS Interior Package Accessoires
BRABUS entrance panels 2-piece, carbon

glossy

LED technology with colour change
BRABUS aluminium pedal pads
BRABUS doorlock pins 4-pcs.
Performance & Fuel Economy
Technical Data
| | |
| --- | --- |
| Engine size | 3982 cm3 |
| Power | 588 kW / 800 hp |
| Torque | 1000 Nm |
| 0-100 km/h | 3.0 s |
| 0-60 mph | 3.0 s |
| Vmax | 300 km/h / 190 mph |
Fuel Economy
| | |
| --- | --- |
| city | 15,7 l/100km |
| highway | 9,3 l/100km |
| combined | 11,6 l/100km |
Notices
* All stated driving performance figures are approximate values. They depend on vehicle-specific details such as the vehicle model, equipment, curb weight, final-drive ratio, tire/wheel combination, transmission design and aerodynamic equipment of the individual vehicle. Details of performance upgrades and/or performance kits are average values. Deviations of +/- 5% are possible due to test conditions. Details about the total power output of factory engines modified with performance upgrades and/or performance kits are based on the manufacturer specifications in the vehicle title, which themselves can deviate by +/- 5%. BRABUS assumes no liability for reduced outputs of factory engines going beyond this. Subject to technical modifications without notice. The stated figures were determined in accordance with the prescribed measuring method (Directive 80/1268/EEC in the currently valid version). The figures do not refer to an individual vehicle and are not part of the offer, but are solely intended for comparison between different vehicle models.** All prices valid ex-factory Bottrop.*** Torque was electronically controlled.
Efficiency & Fuel Economy
Fuel Economy*
city 15,7 l/100km
highway 9,3 l/100km
combined 11,6 l/100km
CO2 g/km