Power 478 kW / 650 hp | Torque 820* Nm | 0-100 km/h 3.9 s | Vmax 320 km/h / 200 mph
Fuel Economy* city 12,4 l/100km | highway 7,5 l/100km | combined 9,3 l/100km | CO2 218 g/km
BRABUS 650 Cabrio
Sporty elegance meets outstanding technology: The BRABUS 650 Cabrio captivates with sensational inner and external values. With a performance upgrade from stock 375 kW/510 hp to 478 kW/650 hp, the BRABUS 650 Cabrio zooms from rest to 100 km/h in just 3.7 seconds. Tailor-made aerodynamic-enhancement components made from clear-coated carbon at the front, rear and sides of the vehicle emphasize the dynamic styling. The interior concept takes every aesthetic detail into account and leaves nothing to be desired.
The BRABUS 650 Cabrio is available as a complete vehicle or can be built all at once or in stages based on any current Mercedes C 63 S Cabriolet.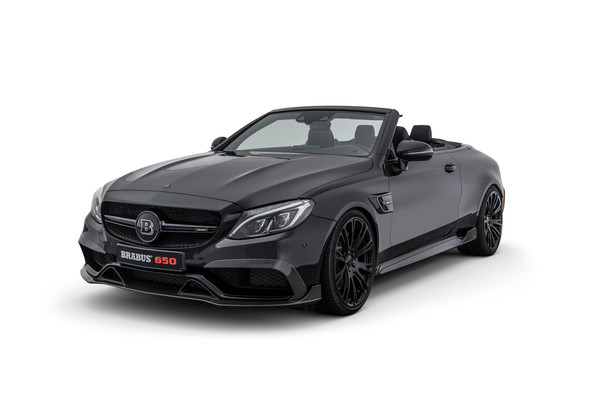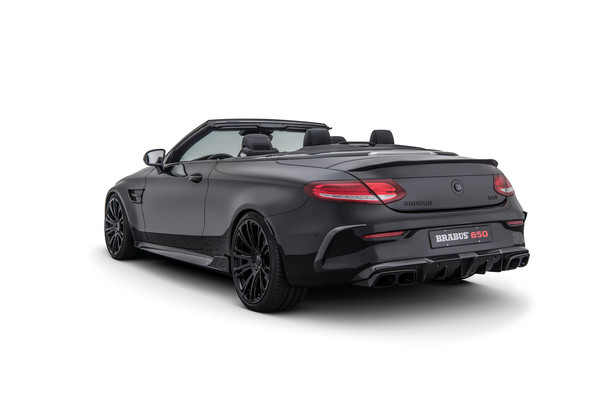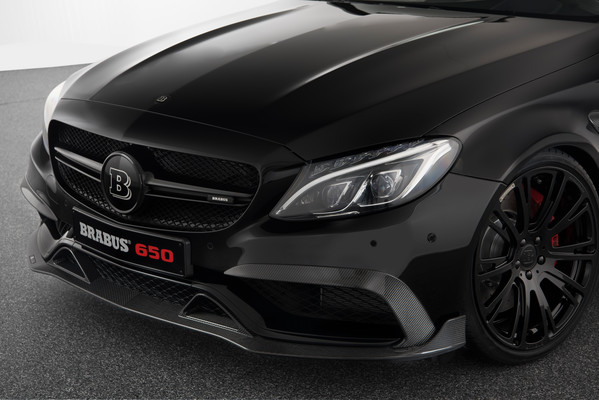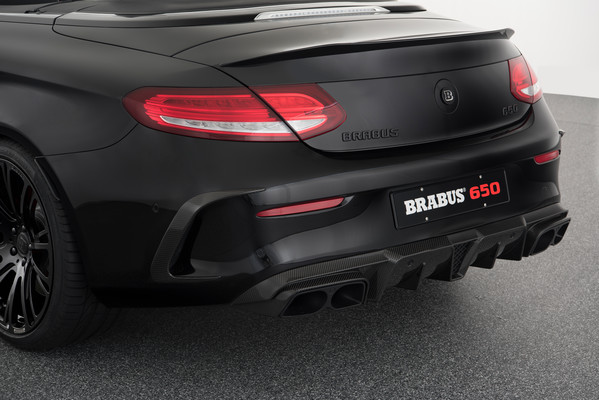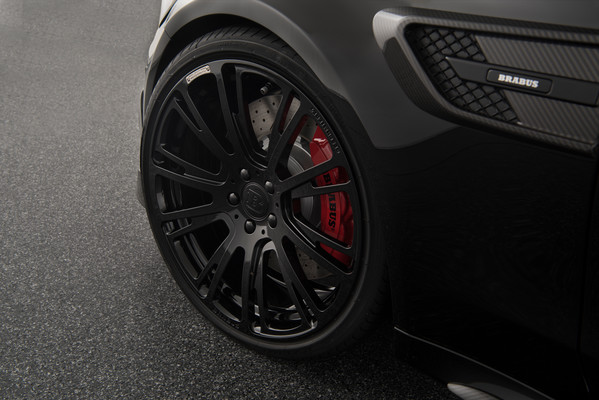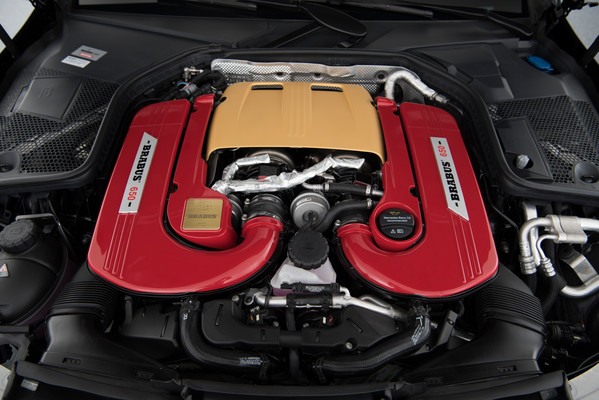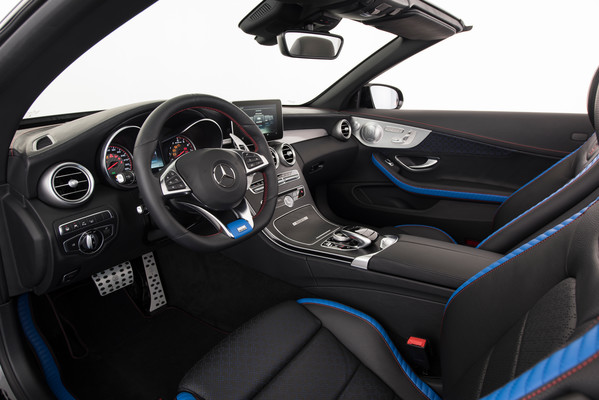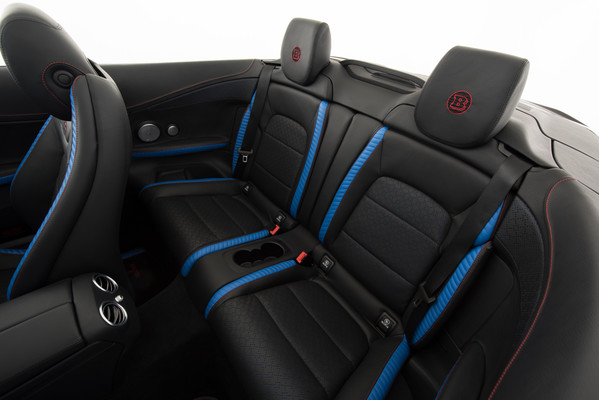 ---
EXTERIOR.
Tailor-made aerodynamic-enhancement components were developed in the wind tunnel specifically for the two-door C 63 models. The two-door receives an even more dynamic face with the BRABUS front spoiler. Its sophisticated shape benefits the aerodynamics at the same time: The spoiler with raised side flaps minimizes front-axle lift at high speeds and thereby further improves the handling stability.
The carbon surrounds for the side air intakes in the front fascia are further sophisticated details. The carbon attachments on the two front fenders further emphasize the sporty and elegant appearance of the two-door. Air deflector elements in front of the rear wheel arches and naked-carbon caps for the two door mirrors were developed to give the sides an even sportier design. An aerodynamic update was also designed for the rear end. The carbon diffuser precisely frames the two dual tailpipes of the BRABUS sport exhaust.
WHEELS AND SUSPENSION.
The convertible runs on BRABUS Monoblock R "Platinum Edition" wheels of size 9Jx20 on the front axle and size 10.5Jx20 in the rear. The black painted hi-tech forged wheels with five double-spokes offer an optimal combination of lightweight construction and strength. They are mounted with high-performance tires of sizes 255/30 ZR 20 at the front and 285/30 ZR 20 on the rear axle.
The high-performance tires are supplied by BRABUS technology partners Continental, Pirelli or YOKOHAMA.
To make the handling of the high-performance convertible even more agile and even safer, BRABUS developed special coil-over sport springs with adjustable ride height, which are combined with the stock RIDE CONTROL shock absorbers with adaptive adjustable damping. This allows the driver not only to choose between three different damper setups, but also to tailor the ride height of the vehicle to personal preferences. The ride height can be lowered at the front and rear axle individually by between 20 and 40 millimeters.
POWER & SOUND.
The C 63 S with its four-liter twin-turbo eight-cylinder engine provides an excellent basis for the BRABUS PowerXtra B40S – 650 performance upgrade. BRABUS developed two special turbochargers with larger compressor unit and special core assembly with reinforced axial bearing for this purpose. In addition, the BRABUS PowerXtra module is integrated into the electronic engine controls of the top-of-the-range convertible of the C-Class. The auxiliary control unit supplies special mapping for the electronic boost pressure control as well as for injection and ignition.
These new parameter in concert with the larger turbos result in an increase in power output from stock 375 kW / 510 hp to 478 kW / 650 hp at a low 5,800 rpm. At the same time, peak torque jumps from 700 to 820 Nm, on tap constantly between 1,750 and 4,500 rpm. In combination with the seven-speed sports transmission, which can alternatively be shifted with the ergonomic BRABUS RACE aluminum paddle shifters on the steering wheel, the BRABUS 650 Cabrio sprints from rest to 100 km/h in just 3.7 seconds. The top speed is electronically limited to 320 km/h.
The driving experience is accompanied acoustically by the BRABUS stainless sport exhaust with actively controlled flaps. It provides electronic control of the exhaust note from the cockpit. Drivers can switch between the subtle "Coming home" mode and a markedly sporty engine sound with open exhaust flaps.
INTERIOR.
The company upholstery shops adds some equally exclusive and sporty highlights on the inside with an exquisite BRABUS fine leather interior crafted from black leather with azure blue decorative elements. The BRABUS interior designer demonstrate their tremendous love of detail with perforations against a blue background on various elements of the seats.
Exclusive BRABUS carbon elements and aluminum pedals and door-lock pins put even more emphasis on the sporty ambitions of the tuned four-seater.
DESIGN & EXTERIOR
BRABUS Carbon Package Body
BRABUS LED daytime running lights - below headlamps - black
BRABUS front fascia attachment carbon
BRABUS front lip carbon
BRABUS rear fascia insert
BRABUS Exterior Brand Package
BRABUS hood emblem
BRABUS logotype on vehicle sides
BRABUS emblem on trunk lid
BRABUS logotype on trunk lid
POWER & SOUND
Exhaust Systems
BRABUS exhaust system with actively controlled flaps
PowerXtra (Powerboost)
BRABUS PowerXtra 650
WHEELS & SUSPENSION
Wheels
BRABUS Monoblock R "Platinum Edition" 9Jx20 (f) und 10.5Jx20 (r), forged
Suspensions / Modules
BRABUS Ride Control special suspension
INTERIOR
BRABUS fine leather Interior
Every supercar is a custom production and tailored to your requests. Please contact us to compose your personal configuration.
For illustrative purposes on this supercar:
Black leather with special quilting design as well as blue piping and seams
BRABUS Interior Package Accessories
Aluminum pedal pads
Backlit scuff plates
BRABUS RACE aluminum paddle shifters
Aluminum door-lock pins
Performance & Fuel Economy
Technical Data
| | |
| --- | --- |
| Engine size | 3982 cm3 |
| Power | 478 kW / 650 hp |
| Torque | 820* Nm |
| 0-100 km/h | 3.9 s |
| 0-60 mph | 3.9 s |
| Vmax | 320 km/h / 200 mph |
Fuel Economy
| | |
| --- | --- |
| city | 12,4 l/100km |
| highway | 7,5 l/100km |
| combined | 9,3 l/100km |
| CO2 Emissions | 218 g/km |
Notices
* All stated driving performance figures are approximate values. They depend on vehicle-specific details such as the vehicle model, equipment, curb weight, final-drive ratio, tire/wheel combination, transmission design and aerodynamic equipment of the individual vehicle. Details of performance upgrades and/or performance kits are average values. Deviations of +/- 5% are possible due to test conditions. Details about the total power output of factory engines modified with performance upgrades and/or performance kits are based on the manufacturer specifications in the vehicle title, which themselves can deviate by +/- 5%. BRABUS assumes no liability for reduced outputs of factory engines going beyond this. Subject to technical modifications without notice. The stated figures were determined in accordance with the prescribed measuring method (Directive 80/1268/EEC in the currently valid version). The figures do not refer to an individual vehicle and are not part of the offer, but are solely intended for comparison between different vehicle models.
** All prices valid ex-factory Bottrop.
*** Torque was electronically controlled.
Efficiency & Fuel Economy
Fuel Economy*
city 12,4 l/100km
highway 7,5 l/100km
combined 9,3 l/100km
CO2 218 g/km