Power 404 kW / 550 hp | Torque 800 Nm | 0-100 km/h 6.7 s | Vmax 210 km/h / 130 mph
Fuel Economy* city 16,3 l/100km | highway 12,3 l/100km | combined 13,8 l/100km | CO2 323 g/km
BRABUS 550 Adventure 4x4²
Ready for adventure?! The luxurious off-roader based on the Mercedes G 550 4x4² cuts a splendid figure not only on elegant boulevards. With its expedition-ready BRABUS ADVENTURE equipment, the most off-road-capable supercar of all times is perfectly prepared for automotive adventures far away from paved roads. The ultra-powerful twin-turbo V8 engine accelerates the extreme off-roader to 100 km/h in just 6.7 seconds. The top speed is limited electronically to 160 or 210 km/h depending on the selected tires.
BRABUS Monoblock HD wheels, an electronically adjustable special suspension and striking exterior components amplify the imposing appearance of the all-wheel-drive adventurer. Precise-fit carbon elements with high-gloss sealant, aluminum components and the luxurious BRABUS fine leather interior with Alcantara highlights complete the spectacular showing.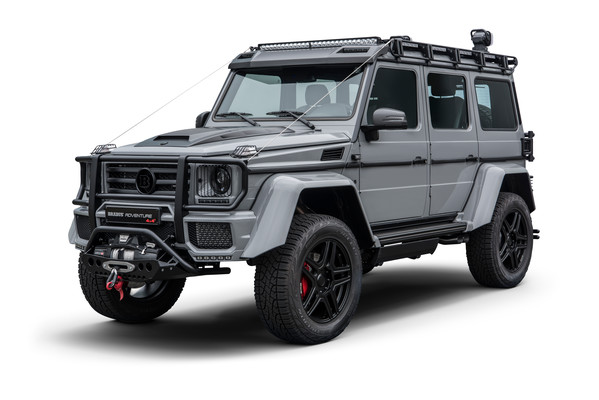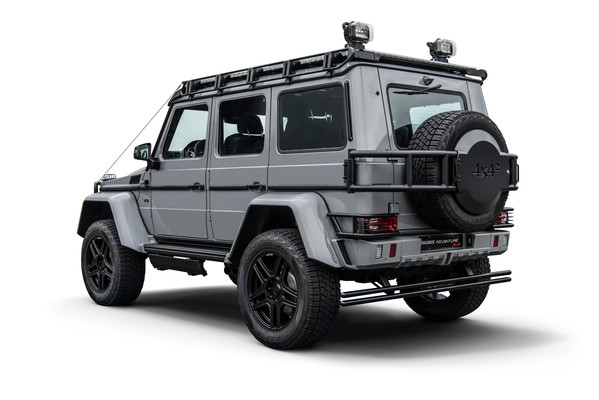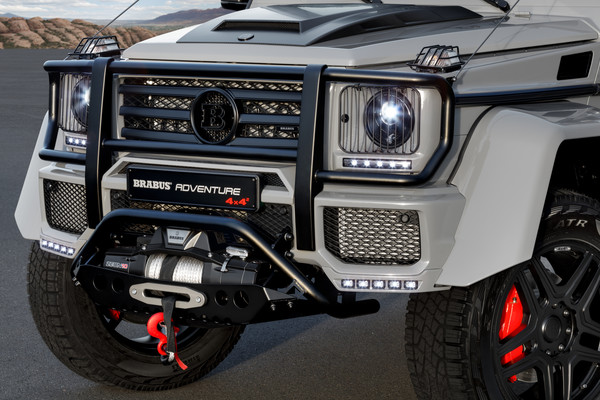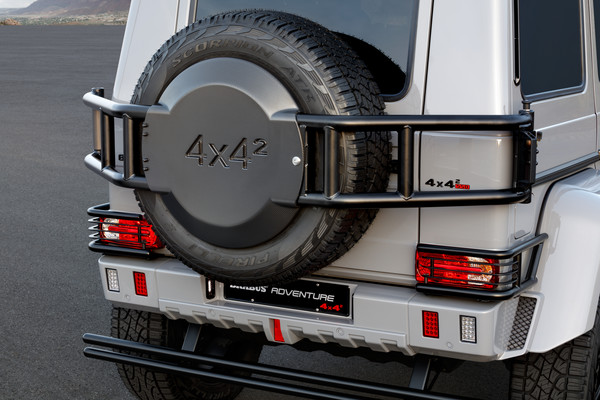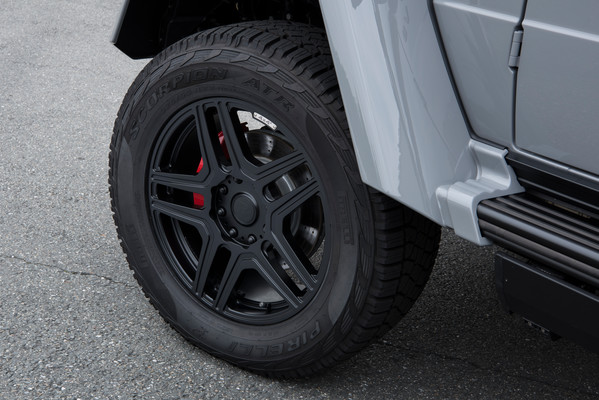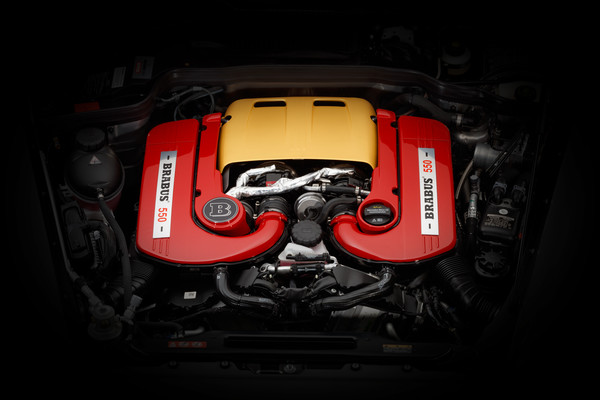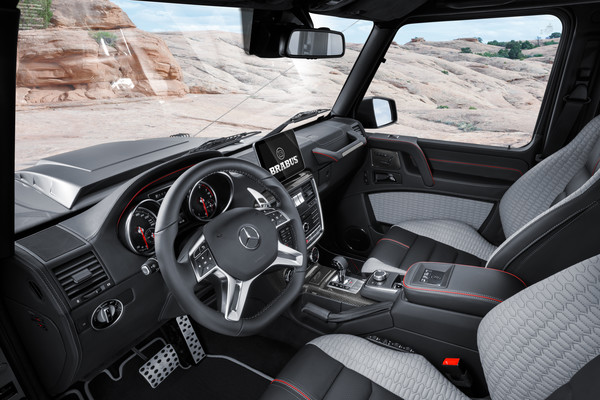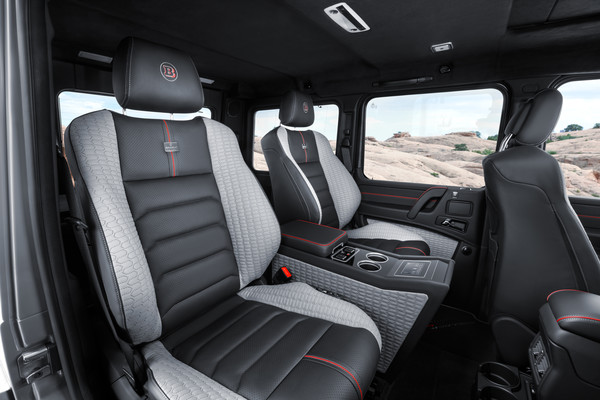 ---
POWER & SOUND. Massive Performance.
The twin-turbo V8 engine fully lives up to the spectacular appearance of the massive off-roader. It produces a peak power output of 404 kW/550 hp at 5,600 rpm and a peak torque of 800 Nm. The BRABUS 550 sprints from rest to 100 km/h in just 6.7 seconds. The top speed is limited electronically to 160 or 210 km/h, depending on the selected tires. The seven-speed automatic transmission can optionally be shifted with the ergonomic aluminum paddle shifters on the steering wheel.
This supercar offers impressive sound at the touch of a button: The V8 engine produces a markedly powerful exhaust note in 'Sport' mode. The "Coming Home" mode can be selected by the driver when a more hushed sound is prudent. The unusual side-pipe design of the exhaust system perfects the striking appearance of the BRABUS 550.
EXTERIOR. Radical Off Road.
Impressive looks, pronounced off-road character – the BRABUS 550 is perfectly steeled for off-road use.
The combination of grille guard, skid plate and front winch immediately catches the eye. The off-road concept of the BRABUS 550 ADVENTURE 4x4² also includes brush guards running from the grille guard to the black roof rack, which carries an auxiliary lighting unit.
The high-performance tires are supplied by BRABUS technology partners Continental, Pirelli or YOKOHAMA.

The black tinted xenon headlamps are protected by steel wire mesh, which emphasizes the combative looks.
WHEELS AND SUSPENSION. Maximum All-Terrain.
Outstanding ride quality even in toughest terrain: The BRABUS Monoblock HD alloys can withstand the most extreme stress and provide maximum traction also far off paved roads.
The electronically adjustable BRABUS special suspension guarantees excellent off-road capabilities. In addition, it allows choosing between four different damper settings as well as between the 'Comfort,' 'Sport,' "Off-Road' and 'Individual' drive modes.
INTERIOR. Hand-Crafted Extravagance.
The BRABUS 550 ADVENTURE 4x4² also sets exclusive and luxurious highlights in the interior: Each vehicle is fitted with a BRABUS fine leather interior tailored to your personal preferences.
This vehicle is fitted with a BRABUS fine leather interior crafted from especially soft and breathable black and gray Mastik leather as an example, which is a perfect fit with the exterior paint finish of the off-roader.
Carbon elements and aluminum components such as pedals, door-lock pins and paddle shifters on the steering wheel round off the luxurious interior appointments of the luxury adventurer.
DESIGN & EXTERIOR
BRABUS Special Accessories
Power-retractable running boards
BRABUS carbon spare wheel cover incl. spare wheel bracket
BRABUS carbon powerdome
BRABUS Carbon Package Body
BRABUS LED daytime running lights - below headlamps - black
BRABUS front fascia attachments
BRABUS roof spoiler with integral brake light
BRABUS mirror caps
BRABUS Adventure Package
BRABUS Brand Package Exterior
BRABUS hood emblem
BRABUS logotype on vehicle sides
BRABUS emblem on trunk lid
BRABUS logotype on trunk lid
POWER & SOUND
Exhaust Systems
BRABUS exhaust system with actively controlled flaps
PowerXtra (Powerboost)
BRABUS PowerXtra 550
WHEELS & SUSPENSION
Wheels
BRABUS Monoblock HD 18"
Suspensions / Modules
BRABUS Special Suspension 4x4² Adventure
INTERIOR
BRABUS fine leather Interior
Every supercar is a custom production and tailored to your requests. Please contact us to compose your personal configuration.
For illustrative purposes on this supercar:
R-Sport Peak special quilting
BRABUS Interior Package Accessories
Aluminum pedal pads
Scuff plates
BRABUS RACE paddle shifters
Aluminum door-lock pins
Performance & Fuel Economy
Technical Data
| | |
| --- | --- |
| Engine size | 3982 cm3 |
| Power | 404 kW / 550 hp |
| Torque | 800 Nm |
| 0-100 km/h | 6.7 s |
| 0-60 mph | 6.7 s |
| Vmax | 210 km/h / 130 mph |
Fuel Economy
| | |
| --- | --- |
| city | 16,3 l/100km |
| highway | 12,3 l/100km |
| combined | 13,8 l/100km |
| CO2 Emissions | 323 g/km |
Notices
* All stated driving performance figures are approximate values. They depend on vehicle-specific details such as the vehicle model, equipment, curb weight, final-drive ratio, tire/wheel combination, transmission design and aerodynamic equipment of the individual vehicle. Details of performance upgrades and/or performance kits are average values. Deviations of +/- 5% are possible due to test conditions. Details about the total power output of factory engines modified with performance upgrades and/or performance kits are based on the manufacturer specifications in the vehicle title, which themselves can deviate by +/- 5%. BRABUS assumes no liability for reduced outputs of factory engines going beyond this. Subject to technical modifications without notice. The stated figures were determined in accordance with the prescribed measuring method (Directive 80/1268/EEC in the currently valid version). The figures do not refer to an individual vehicle and are not part of the offer, but are solely intended for comparison between different vehicle models.
** All prices valid ex-factory Bottrop.
*** Torque was electronically controlled.
Efficiency & Fuel Economy
Fuel Economy*
city 16,3 l/100km
highway 12,3 l/100km
combined 13,8 l/100km
CO2 323 g/km