BRABUS Shadow 900
Black ops Limited Edition '1 OF 37'
Pure Charisma & Power – Awarded with the prestigious Red Dot Design Award in 2020 for its sophisticated, disruptive design and leading role in the genre of high-performance and luxury day boating, the BRABUS Shadow 900 Black Ops Limited Edition is the ultimate incarnation of confident performance, bringing out unparalleled driving pleasure and supreme comfort at heart. Whether you want to experience thrills and chills when safely besting the elements with the BRABUS Shadow 900 Spyder, a full open version, or seeking a truly mesmerizing ride chasing the waves in style with the BRABUS Shadow 900 Sun-Top, this icon series will leave you in awe.
The BRABUS Shadow 900 Black Ops Limited Edition '1 of 37' is hand-built with focus on precision and finish. Fairing, painting and polishing the Limited-Edition version to the quality required is a highly labour-intensive, skilful and painstaking process, with no automation process, which can take up to six weeks to reach the required finish. All Limited-Edition models are exclusively launched in the signature paint scheme Gunmetal Gray, combined with vibrant BRABUS Red exterior seating; a most striking combination.
DESIGN & APPEARANCE. ICONIC.
Unfiltered & Unstoppable – The BRABUS Shadow 900 Spyder and Sun-Top Black Ops are thrilling and competent performance artists, ready to bring you anywhere in the world in style. Technically brilliant and a pinnacle achievement in the luxury sport- boat sector. The unprecedented innovations and striking looks of these stunning 37 footers have been widely recognized, earning the BRABUS Shadowboats one of the most prestigious design awards in the world - the Red Dot Award in the "Product Design" category.
POWER & PERFORMANCE. BEST IN CLASS PERFORMANCE ARTISTS.
Blistering 60+ knots performance - The Shadow 900 range benefits from Mercury Marine's latest dual 450R Verado XL 4.6 litre V8 FourStroke engines with Joystick Piloting for easy docking and manoeuvring. At just 320 kg a piece these masterpieces of technology weigh less than their nearest competitor and have 40 percent more torque than their 400hp equivalent, the perfect engines for the Shadow 900's. The power to weight ratio for each engine is best in class, improving hole-shot acceleration and creating the renowned driving experience of a Shadow 900.
BESPOKE ENIGNEERING. UNIQUE ONBOARD EXPERIENCES.
Taking it all in - Elevating the feeling of space inside, new Gullwing doors for the front lounge provide easy access and interaction with the outdoors. The net result adds an influx of incoming light and makes a unique connection with the natural environment by bringing the outdoors indoors and vice-versa.
Luxurious front cabin – Swathed in 'sport-pattern', cool gray and black BRABUS fine leather with contrasting red accents and stitching, the front cabin with a 'queen size' sleeping accommodation has every level of comfort and more for you to fully enjoy your all-weather adventures out on the water.
Smart-safety and electronics - The BRABUS Shadow 900 features a wide and expansive Simrad® full width, touch-screen 'Glass Helm Information Display' with a customizable, state-of-the-art BRABUS User-Interface, offering a selection of driver-orientated sport modes, access to the boat's main navigation, engine management, on board entertainment and driving-assist features. The Intelligent Steering Module with integrated trim tab, bow thruster and audio controls enables to control the boat even smoother than ever before. In the quest for a more driver-focused, more up to date and seamless looking appearance, the helm area is free of unnecessarily cluttered instrumentarium.
The driver in focus - Introducing a clean and ergonomic helm that resembles a supercar more than anything else. Everything on the dashboard is close to hand, touchscreen technology with selected backlit switches and the newly developed multifunction steering wheel with finger-tip controls, make this one of the most modern looking consoles.
PREMIUM LUXURY. SIGNATURE STYLE.
Sign of Excellence – The helm console is finalized with the exclusive BRABUS Sign of Excellence signed by Constantin Buschmann. This sign symbolizes the promise that each boat is unique, and hand crafted to the highest possible standards by using the finest materials, newest technologies and bespoke engineering.
Signature Style – Exclusive Limited Edition signature Gun Metal Gray paint job, with high labour-intensive fairing, painting and polishing process. The now iconic launch colour scheme '1 of 37' forms a part of a numbered product sequence of just 37 Launch Edition boats. The striking Mercury Racing carbon fibre accent panel kit on both engines is included in the Limited Edition boats.
Technical Data
| | |
| --- | --- |
| Beam | 3,35 m / 9ft 8in |
| Draft to drops | 0,85 m / 2ft 9in |
| Weight | 4100 kg / 9039 lbs (Spyder) 4300 kg / 9480 lbs (Sun-Top) |
| Outboard engines | 2x450hp |
| Top Speed | 111+ km/h / 60+ knots |
| Power | 662 kW / 900 hp |
| Length | 38 ft / 11,73 m |
| | |
| --- | --- |
| Passengers | 10 Cat B / 12 Cat C |
| Berths | 2 persons |
| Classification | B – Offshore, C – Costal |
| Hull design | Twin stepped 20° V "Sharp entry hull" |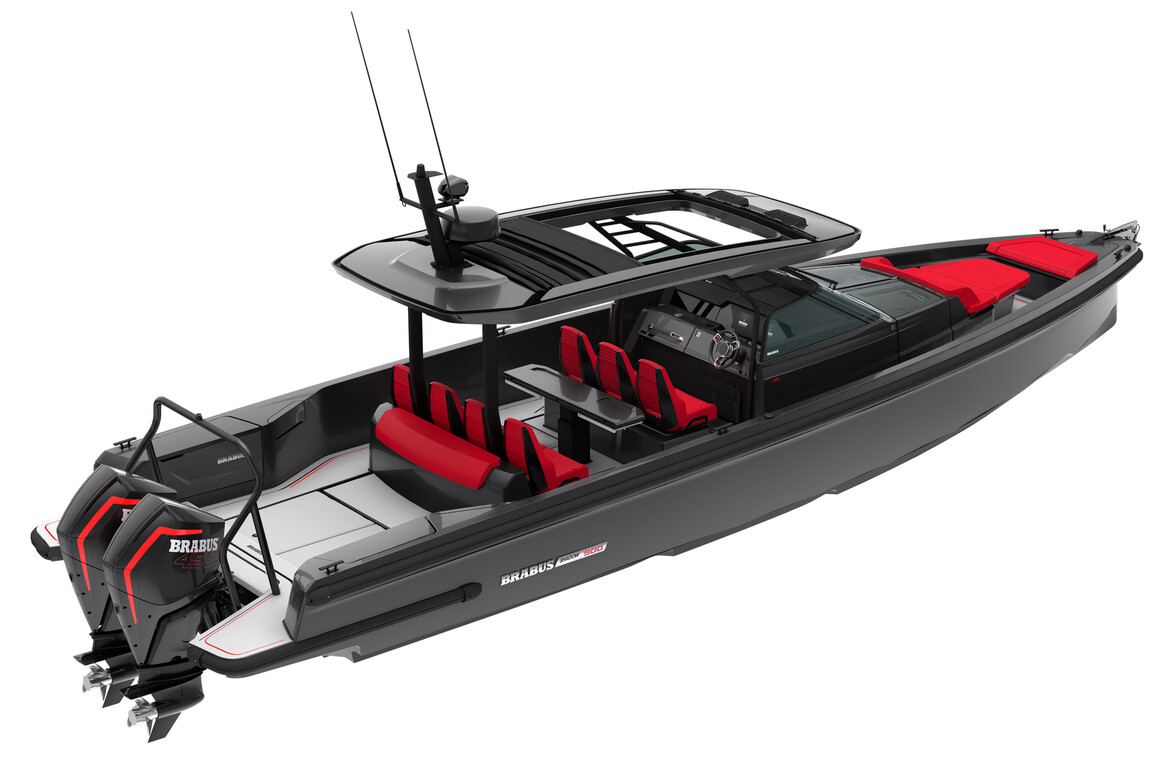 Open Aft Deck Option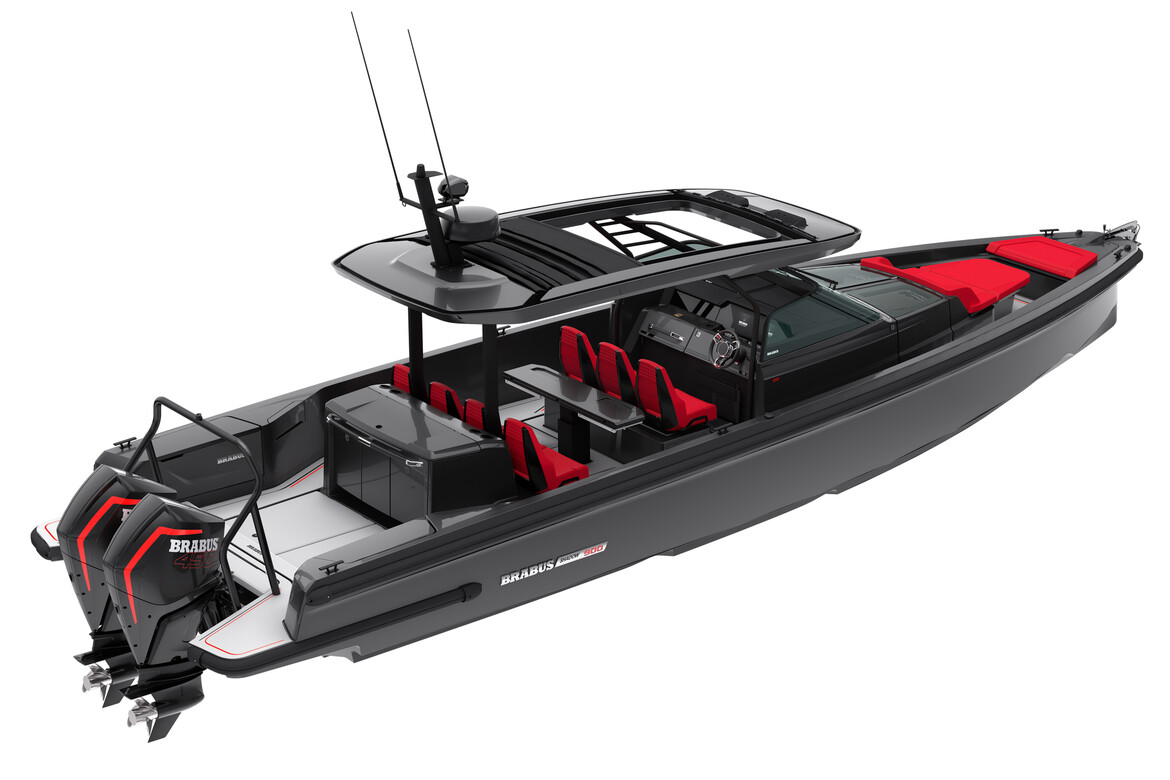 Wet Bar Package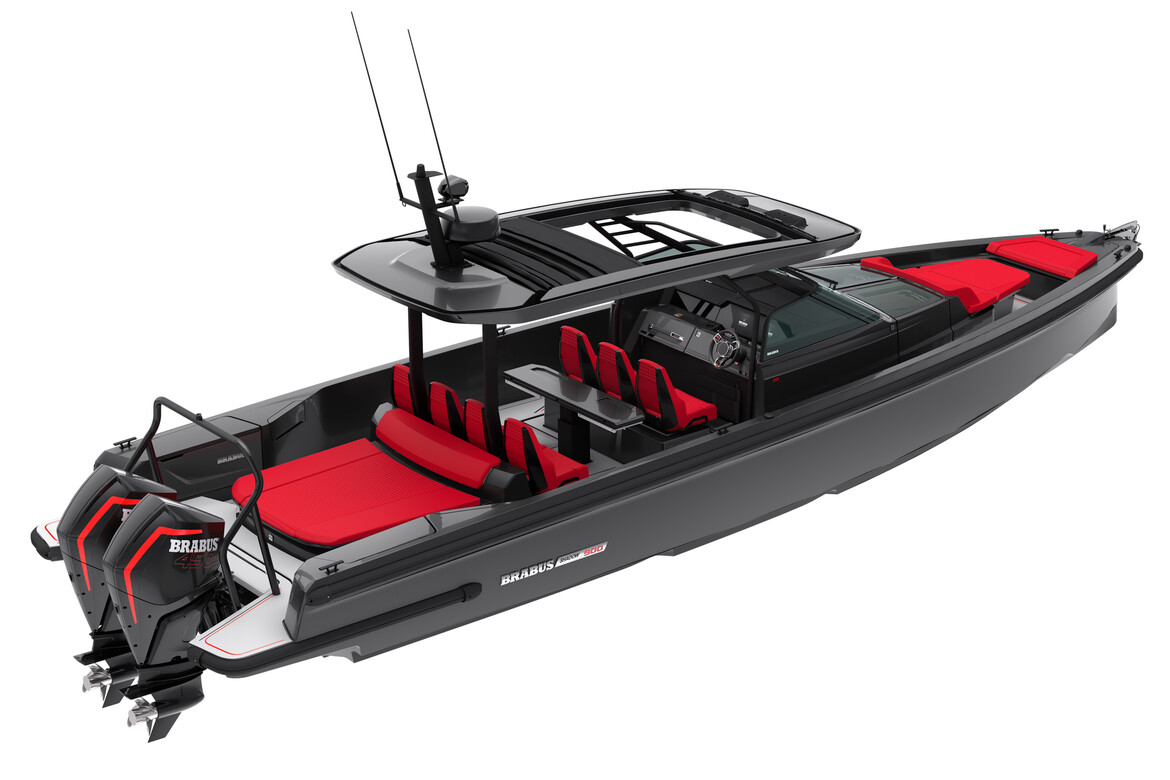 Multi Storage Compartment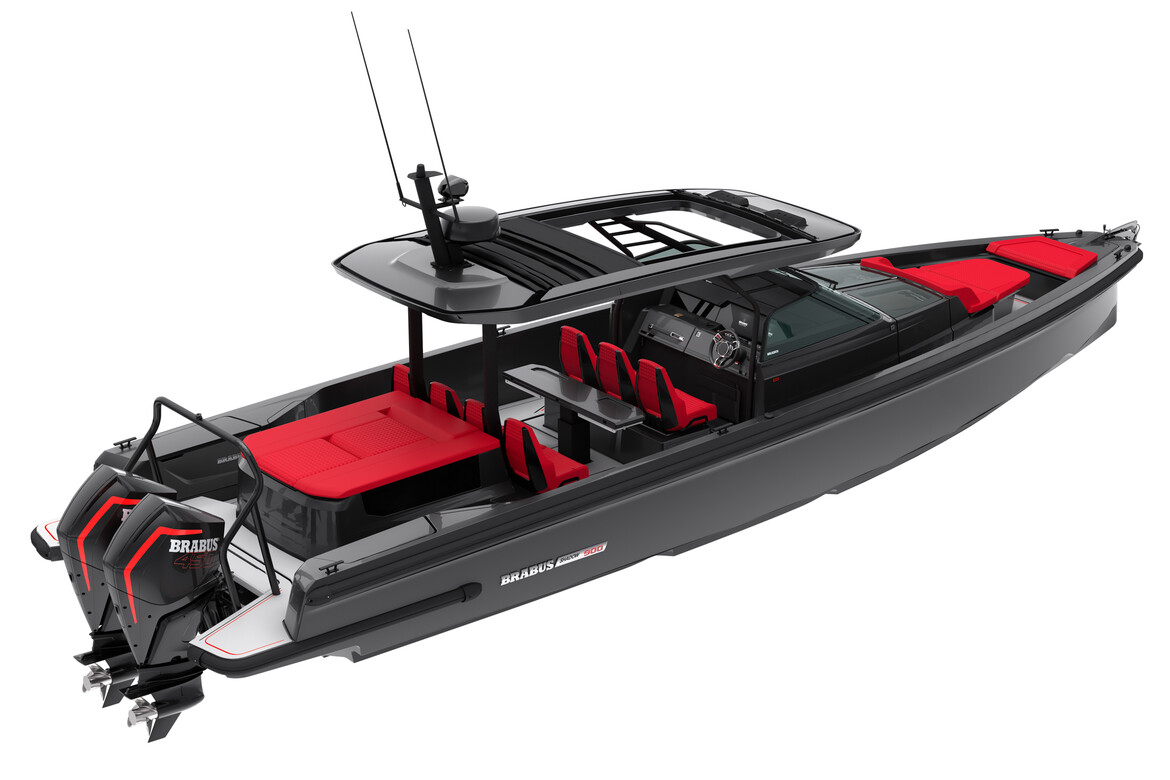 Aft-Cabin Accommodation Package
Shadow 900. Range Brochure
Explore the full range of the BRABUS Shadow 900 superboats